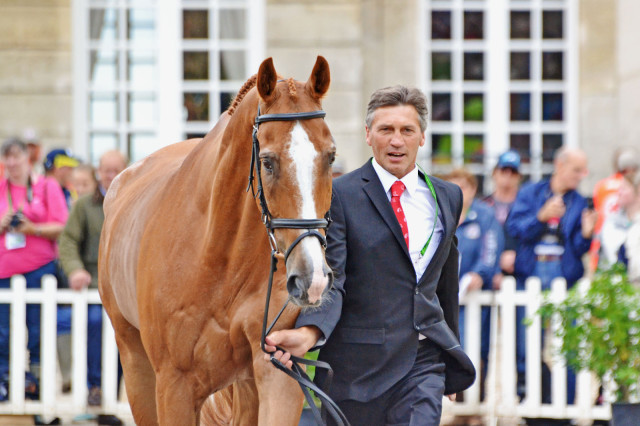 In the latest development in the Andrew Nicholson vs. ESNZ debacle, the six-time Olympian must agree to "good behavior" before being allowed back on the High Performance squad, the New Zealand Herald reports.
We get a few more details on what exactly happened in the falling out at last year's World Equestrian Games, when Andrew voluntarily stepped down from the squad after disagreeing with the team vet's treatment of Nereo following cross country.
An "altercation" reportedly took place between Andrew and team vet Ollie Pynn when Andrew discovered Nereo had been left unattended while on a routine recovery IV drip, which left him worried about "error or sabotage."
Andrew explains: "I did sort of do my nut at the vet for his treatment of my horse at the World Games. I don't apologise for my behaviour when it comes to the well-being of my horse." He goes on to acknowledge: "I possibly could have done it a bit smoother but that's the way I operate. And now I'm in all sorts of trouble for it."
Indeed, that blow up has now cost him his annual training grant of NZ $50,000, and it still remains up in the air as to whether High Performance will place him back on the squad in June when the list is reviewed. Andrew told the Herald that while he would like to return, he also would like "to feel like I'm wanted back in there as well."
William Micklem has written extensively on the falling out between Andrew and ESNZ in his recent columns for EN, which you can read here and here. Andrew served as the key speaker at the International Eventing Forum at Hartpury College on Monday, and William said much of the break-time conversation involved ESNZ's handling of this situation.
"What has happened is not good for our sport as a whole," William writes, "primarily because we need to reward those who treat their horses humanely, and secondly because we need to do everything we can to support and develop our few genuine superstar riders. It is these riders who bring our sport to a wider audience, to the benefit of us all."
What do you think, EN? Has this gone on long enough? Should Andrew have to agree to "good behavior" before being allowed back on the squad? Weigh in with your thoughts is the comments below.
[Top eventer must agree to bond before being reconsidered for inclusion in NZ team for Rio Olympics]