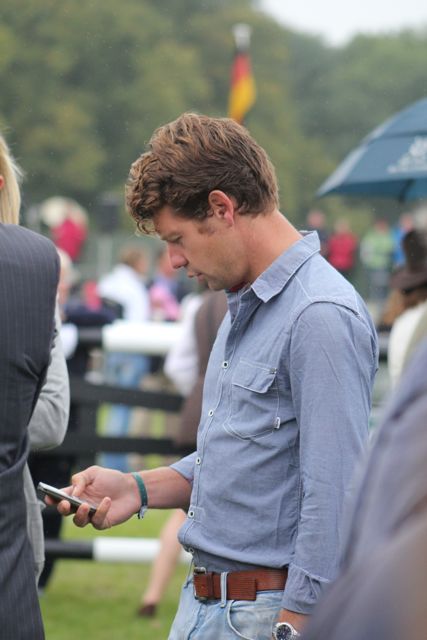 You have 1 message: "You just won Saumur!", photo via Samantha Clark
Team Australia secured their domination of the Saumur CCI3* on Sunday, finishing in 4 of the top 6 placings.  The top of the Saumur leader board looks like it was taken from Adelaide or some other South Pacific competition.  Australia and New Zealand combined to start 13 pairs in the 52 horse field CCI3*–11 of them finished in the top 16.
Chris Burton finished first and second with Haruzac and Holstein Park Leilani respectively and his Aussie team mate Bill Levitt finished 5th and 6th with One Two Many NJ and Hippolyte.  Andrew Nicholson finished third and ninth and Mark Todd secured and all important Olympic qualification with his 7th aboard Grass Valley.
The only clear cross-country on Saturday ride out of 5 North American starters belonged to Canada's Lindsay Pearce and Saniki–they finished in 18th with 4 jumping faults today and moved up 33 spots over the weekend.
Despite a stop on the cross-country and 13 time faults, the USA's Tiana Coudray and Ringwood Magister finished in 11th place thanks to a fabulous dressage ride and a double-clear show jumping performance today.  To put that in perspective, the next highest pair with a stop finished in 20th.  There are two ways to look at Tiana's weekend with respect to Olympic selection–you can focus on the stop or you can say that if they had jumped one more fence successfully they would have won the event with ease.
The jumping phases at Saumur wreaked havoc on the field.  The cross-country featured the always tough combination of technical questions and deep footing, making double-clears a near impossibility.  Only one pair jumped double-clear around the cross-country–Andrew Nicholson and Viscount George.  Just two pairs in the top 10 finishers and just six pairs overall had double-clear show jumping rounds.
Saumur CCI3* Final Placings:
1.Chris Burton and Haruzac (AUS)
2. Chris Burton and Holstein Park Leilani (AUS)
3. Andrew Nicholson and Viscount George (NZL)
4. Donatien Schauly and Pivoine des Touches (FRA)
5. Bill Levett and One Two Many NJ (AUS)
6. Bill Levett and Hippolyte (AUS)
7. Mark Todd and Grass Valley (NZL)
As an encouraging update from Australian Clayton Fredericks, who was hospitalized after a fall on the cross-country yesterday, it appears that Clayton will be fine.  Clayton has posted the following on his Facebook:
"Hi to all those that have been worried about me,
I am absolutely fine, feeling frustrated to be laying here in hospital but is just cautionary as it appeared Lottie stepped right on my stomach. Will be scanned in few days and hopefully on my way and back to London preparations!
Thanks again so much to all of you for the well wishes. Good luck to the guys in Saumur this afternoon.  Jump clear Bill Levett, but best wishes to all Aussie mates.
PS – Bored with hospital already! Although they have given me my own room and I have Internet, so might get bit of the work done I never have time for!!!!"
Incidentally, the only XC video from Saumur I have found posted online so far shows Clayton jumping (looking good) on Saturday prior to his fall:

Good luck to everyone competing around EN today!  Go Clayton and go eventing.
Comments