The Grantham Cup CIC3* at Belton International Horse Trials is underway across the pond in Lincolnshire, England. Britain's Laura Collett and Grand Manoeuvre lead the way on a 39.8 after the first of two dressage days, with a stacked field of 112 horses contesting the class.
Grand Manoeuvre, a 13-year-old Hannoverian gelding owned by Diana and David Chappell, is one of three horses Laura is competing in the CIC3*. They garnered the only sub-40 score of the day, with Piggy French (GBR) and Jesse Campbell (NZL) rounding out the top three.
Grand Manoeuvre leading over night on 39.8 and Cooley Again sitting on 53.2 😊 Let's hope Mr Bass has a chat with Grand Manoeuvre tonight!

— Laura Collett (@CollettEventing) March 31, 2017
Britain-based U.S. rider Katherine Coleman and Back to Business II completed their test today, scoring a 58.7 for 40th position overnight. Belton marks the second three-star outing for Katherine and her 10-year-old Irish Sport Horse mare, following a 7th place finish at Barroca D'Alva in Portugal last month.
Belton H.T. CIC3* Day 1 Dressage Top 10: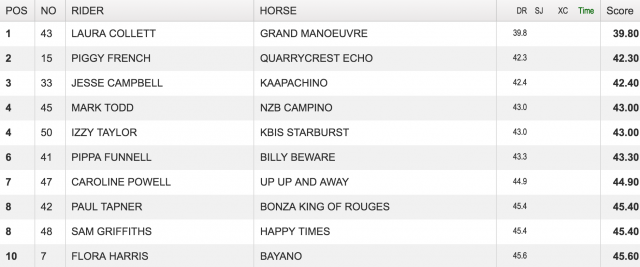 Dressage continues tomorrow, with show jumping and cross country taking place on Sunday. Our friends at CrossCountry App kindly provided this preview:
Belton H.T.: Website, Schedule, Start Times, Live Scores
Comments