We have a jam-packed schedule with six international divisions boasting a record 152 entries here at the MARS EQUESTRIAN Bromont CCI Three-Day Event, and we couldn't have asked for more beautiful conditions to kick off the first day of dressage here in Quebec.
Ellie O'Neal and Sally Cox's Zick Zack lead the CCI3*-L on a 27.0 in the mare's debut at the level. Ellie said she was thrilled that "Rosie," a 10-year-old Swedish Warmblood (Blue Hors Zack X Mercedes, by Master), stayed relaxed and rideable.
"She's really sensitive and hot to ride, so it has to be her way a little bit," Ellie said. "It's finding that balance of getting her to do the more upper-level movements and be relaxed about it and not push her over the edge and be too hot."
Ellie hasn't been to Bromont in seven years, and she said she wanted to return to the venue with Rosie to test the mare's mettle over Derek di Grazia's challenging cross country track.
"I wanted to see where she would be at a tough three-star this year and gauge whether she is ready to move up to Advanced in the fall," Ellie said. "The course is definitely big and it's her first one, but she's a really good cross country horse naturally. She's really fast. I think she's going to go out there and eat it up, but she's green so I'll still take care of her."
Rosie has never picked up more than 2.8 time penalties on cross country in her six international runs and caught the optimum time in three of them, so she will definitely be a speedy horse to watch on Saturday.
Looking to the rest of the CCI3*-L leaderboard, Kylie Lyman and Da Vinci Code, a 12-year-old Irish Sport Horse (Master Imp X Clovers Apollo, by Clover Hill) owned by Joan Nichols, scored 28.3 for second place. "Da Vinci" last completed an international here at Bromont in the CCI4*-L in 2017, when he finished fifth, and has been steadily making a comeback from injury ever since.
Allie Knowles and Business Class, a 9-year-old Irish Sport Horse gelding (Harlequin du Carel X Modela, by Quick Star) owned by Katherine O'Brien, scored 28.7 for third place in the CCI3*-L. Allie and "Oso" are one of the four pairs competing on Erik Duvander's team for the North American Futures Team Challenge.
Click here to view full scores in the CCI3*-L after dressage.
The Rise and Rise of Mike Pendleton
Mike Pendleton and Carlsburg, a 7-year-old Irish Sport Horse (Puissance X Flame and Passion, by Cruising) owned by Boyd Martin and Steve Blauner, lead the CCIU252*-L in the horse's debut at the level. Mike produced "Carl" from a 5-year-old and secured his first international win with the horse in the Plantation Field CCI2*-S last year.
"He's just such a professional," Mike said. "He was a little bit wild when we got here on Monday, and I could hardly hack him down the hacking path. Then yesterday when I took him in the ring for familiarization, he went straight to business. He knew when I got on him this morning that we were going to the test."
Mike has worked as a rider and groom for Boyd Martin since 2013 and has now competed eight different horses at the FEI level for Boyd and his owners — a testament to where a dogged work ethic and persistent gumption can take one in life. (Did we mention Mike also competed Neville Bardos? Lucky guy!)
After spending six weeks in Germany at the end of the 2018 season working for Michael Jung, Mike got the ride on Boyd's former five-star partner Steady Eddie, owned by Denise Lahey and Pierre Colin and George and Gretchen Wintersteen. Mike completed the first CCI3*-S of his career with "Eddie" at Jersey Fresh last month and finished ninth at Virginia in their final run before coming to Bromont to make his CCI3*-L debut.
Mike said he had a solid preparation this week thanks to participating in the inaugural Bromont Rising Program, which offered three days of intensive training for select under-25 athletes with Kerry Millikin, Peter Gray and Doug Payne in the lead-up to competing. (Stay tuned for much more about the program.)
"It's been good to have so much help all week," Mike said. "When Boyd is busy I can be off on my own a little bit, so it's been nice to have a lesson for each ride and have a strategy. It would be awesome to see more events doing this."
Looking to the rest of the CCIU252*-L leaderboard, Alice Roosevelt and Get It Together, a 10-year-old Irish Sport Horse (Deanes San Ciro Hit X The Lapdancer, by Crosstown Dancer) owned by Simon Roosevelt, scored 32.0 for second place.
Ashlyn Dorsey and RF Kinetic, a 13-year-old Hanoverian (Chico's Boy X Fleur R, by First Flair R) owned by Marcel Dorsey, are here all the way from California to contest the mare's first international since 2017, and sit in third on 33.1.
Click here for full scores in the CCIU252*-L after dressage.
The CCIU253*-L and CCI2*-L are wrapping up dressage now, so stay tuned for the full report on those divisions.
(As a side note, please accept my apologies for the lack of photos in reports. This is my first event back taking photos since breaking my arm in April, so I will be shooting dressage sparingly to save it for cross country and show jumping. Please follow JJ Sillman on Facebook for beautiful photos from Bromont. Follow Thehorsepester's YouTube Channel for videos.)
Stay tuned for much more from Bromont. Go Eventing.
#BromontCCI: Website, Entries, Schedule, Dressage Start Times, Live Scores, EN's Coverage, EN's Twitter, EN's Instagram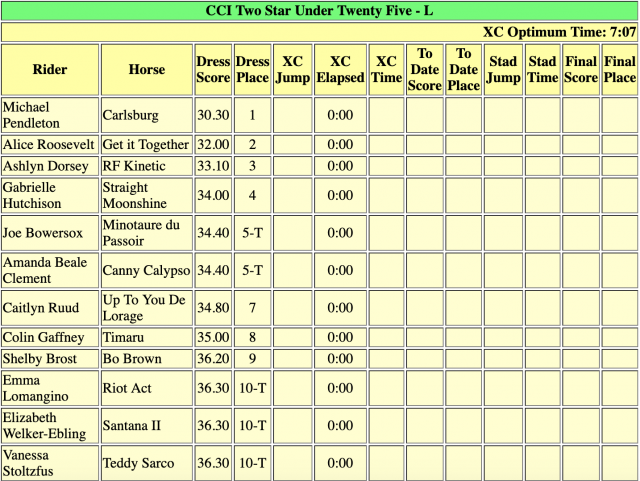 Comments