Coincidentally, the two most happening events in the horse world this week are both seven-letter words that start with a "B" and end with an "ont."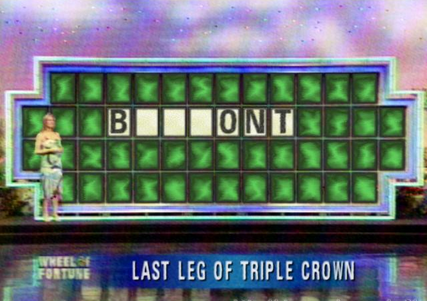 Which is the most exciting? Tough call. On one hand, with the 2015 Belmont we may have a Triple Crown winner on our hands in American Pharoah, a horse so rock star-esque he just inked a major sponsorship deal with Monster Energy Drink this morning. From ESPN: "The deal will give Monster the right to have its logo on the horse's prerace cooling blanket and for the company's Monster girls to surround the horse leading up to the Belmont Stakes."
Scantily clad women + the sport of the kings = I can't even.
On the other hand, we've got Bromont. Not so racy unless you count Jon Holling's infamous 2012 celebratory streaking.
But hey — any half-broke, 3-year-old, genetically gifted racehorse can win $1.5 million and a place in the Triple Crown history books. They don't even really need to know how to turn or stop! But not everyone can win a trophy of a BEAR EATING A SALMON.
God love Canada. And this year's edition of Bromont promises to be even more action-packed than ever. A few reasons why:
For Canadian Pan-Am Team hopefuls, Bromont offers one last chance to give selectors the old razzle-dazzle as the final qualifying competition. The competitor list is teeming with riders who could make the cut and it's still anyone's guess as to who'll end up on the list. The squad will be announced immediately following the conclusion of the event on Sunday. No pressure!
Canadians in the 3*
Waylon Roberts & Kelecyn Cognac
Selena O'Hanlon & Foxwood High
Peter Barry & Kilrodan Abbott
Colleen Loach & Freespirit
Rachel McDonough & Irish Rhythm
Canadians in the 2*
Sable Giesler & Devil Munchkin
Selena O'Hanlon & A First Romance
Matt Kidney & Iceman
Leah Breakey & Master King II
Karl Slezak & Arctic Law
Sean McIntosh & Wild T'Mater
Peter Barry & Kalle 86
Meanwhile, adding to the pressure cooker, last year's top finishers are back for more.
Lauren Kieffer ran away with the 2* last year, sweeping 1st and 2nd with Meadowbrook's Scarlett and Landmark's Monte Carlo. This time around she's got Monte Carlo, a Ms. Mars homebred, in the 3* and I sure wouldn't bet against them.
Ryan Wood was knocking hard on the door in the 2014 CCI1*, finishing in 2nd and 3rd respectively on Woodstock Wallaby and Woodstock Bennett. Both will be looking to one-up themselves, literally, in this year's 2* competition. We're looking forward to watching Ryan clock around the CCI3* as well aboard Fernhill Classic and Mclovin.
Good thing there's no betting in eventing because I would have no idea who to put my money on. As for the Belmont, well, gotta go with American Pharoah. Hope springs eternal! Don't break my heart! Go Triple Crown go!
Keep it locked on Eventing Nation for updates on all the action throughout the week. We're looking at 32 horses in the CCI1*, 34 in the CCI2* and 21 in the CCI3,* and Maggie Deatrik will be up in here soon with her usually disturbingly accurate "By the Numbers" Bromont picks.
The first horse inspection kicks off here in a few moments at 3 p.m. Much, much more to come. Alléz Concours Complet!
Bromont Links: Website, Entry List, Timetable