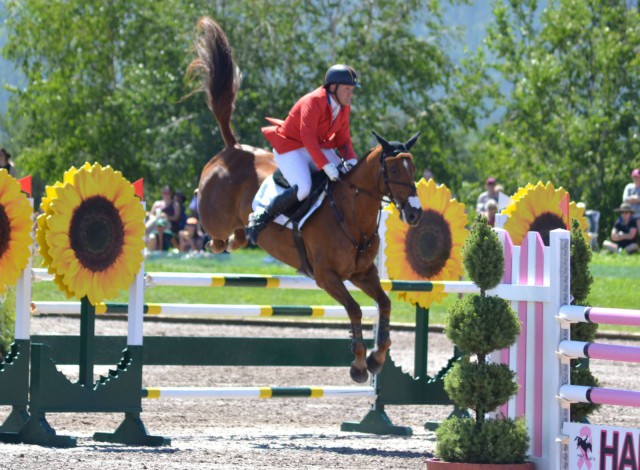 Buck Davidson has been knocking at the door of a Rebecca Farm win for years. In 2011 he finished second on Ballynoe Castle RM. In 2015 he finished third on The Apprentice. In 2016, however, he finally just kicked the door in, winning not one but two FEI divisions: the CCI3* with Copper Beach and the CCI2* with Halimey.
Buck and Copper Beach, Carl Segal and Sherrie Martin's 10-year-old Irish Sport Horse, were second heading into CCI3* show jumping. Just a tenth of a point ahead of them: Hannah Sue Burnett and Under Suspection, a 12-year-old Holsteiner mare owned by Mary Ann Ghadban. No pressure!
They had a hard rub at the very last fence …
… but luck was on their side as the pole stayed put in its cup.
Hannah Sue, unfortunately, must have cashed in all her good-luck points yesterday, when she bounced back from a tough fall on her first CCI3* horse, Cooley Dream, to take the lead on Under Suspection. Gravity got the better of her rattled rail and the resulting four point penalty knocked her into second and launched Buck into the lead.
"I'd never want anything bad happen to anyone else but I am really happy not to be second. And it's great to have my friends here next to me," Buck said, pointing to Burnett and third place finisher Hawley Bennett-Awad.
Hawley Bennett-Awad and Jollybo held fast to their third place position, turning in a double-clear round. It was an emotional finish and a huge comeback for Hawley, who was teary-eyed with happiness at the press conference.
"I have unbelievable people behind me and one of them is Buck. To put my red coat on again is very special," Hawley said.
The top three finishers stopped by the press tent to recap their rides. Warning: You might need a tissue when it comes Hawley's time to speak!
James Alliston with Parker and Ellen Doughty-Hume with Sir Oberon both jumped double-clear rounds to finish fourth and fifth place respectively.
The CCI3* division saw seven finishers, as Buck's second ride Approved Power and Jolie Wentworth's Goodknight were both eliminated at the final horse inspection. Congratulations to all!
Here and on other fronts on Sunday at Rebecca Farm …
Rebecca Farm CCI3* final results:
Rebecca Farm: Website, Schedule, Ride Times & Live Scores, Ride On Video Live Stream, EN's Coverage, Twitter, EN's Instagram
Comments