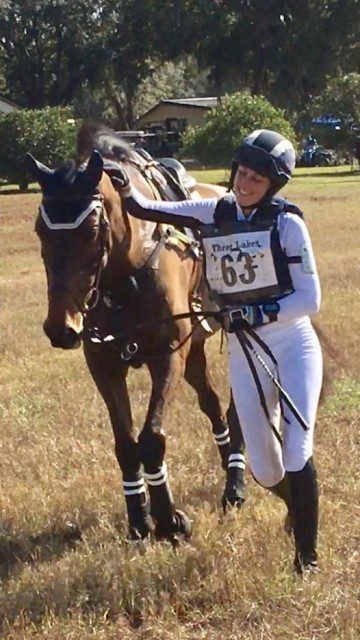 Tim and Nina Gardner's Cambalda officially stepped back into competition this weekend at Three Lakes Horse Trials in Groveland, Florida with super groom Erin Rose in the irons.
After Jennie Brannigan elected to let Cambalda come back into form easily, she thought that handing the reins to Erin, who has been her right hand helper with "Ping" and her other top horses, would be the perfect way to say "thank you".
Erin and Cambalda earned a 27.8 from the judges in the dressage and went on to finish on that score to take home fourth in the Open Novice yesterday, coming home bang on optimum time. It certainly doesn't look like Ping missed a beat, nor did his jockey who was making her return to competition after some time away.
Erin Kathleen Rose and Ping in action!

They came in exactly on the optimum time!!!

Posted by Jennie Brannigan on Saturday, January 14, 2017
Jennie will now focus on preparation for the upcoming Wellington Eventing Showcase next month with her longtime partner, whom she plans to enjoy this year at the three-star and Advanced level.
Hats off to Jennie, the Gardners and all others who had a hand in giving Erin a once in a lifetime spin on Cambalda, congratulations to Erin on a successful weekend, and a hearty welcome back to Cambalda. We look forward to seeing more as the season progresses. Go Eventing!