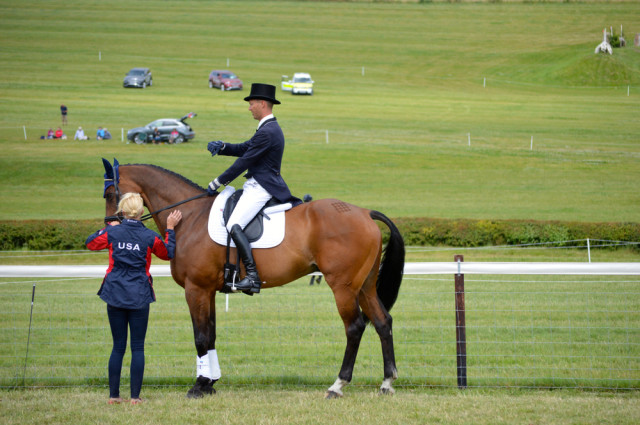 The competition in the CIC3* at Barbury International remains stiff after show jumping today, with the top three going double clear to retain their overnight positions. Andrew Nicholson and Avebury continue their quest for a third win at this event in first place going into cross country, Clark Montgomery and Loughan Glen remain on their dressage score in second, and Mark Todd and Leonidas II will hold down third place overnight.
As Jenni mentioned yesterday, this is a gigantic division, with over 100 horses competing. Less than 10 penalty points currently separate the top 10, so the cross country could potentially prove to be influential with just a few time faults incurred. Many kudos to Clark and Glen for representing the USA in such fine fashion so far this weekend.
Clark also has Universe competing in the CIC3* this weekend, and he told Samantha Clark that Buzz was encouragingly calm for his test yesterday. The pair picked up penalties in the show jumping, but Clark will surely be pleased with the dressage performance from the horse this weekend.
Clark is riding with a wrist brace this weekend after having surgery to repair a break after his fall at Bramham and told Samantha Clark yesterday that he was not experiencing any pain and had been cleared to ride by his doctor.
Clark told PRO that his plan for the weekend is to run Buzz cross country if the footing holds up for cross country and to take Glen to Aachen after just doing dressage and show jumping this weekend. Clark will be using the first two phases as a final prep to ensure that Glen can be competitive in Germany.
After his rides yesterday, Clark caught up with PRO's Samantha Clark to recap his day, including some tidbits on his Novice entry, Garrison Flash, and his thoughts on the dressage with Clark and Buzz. Head over to PRO to read the full interview.
Many thanks to both PRO and Samantha Clark for providing such great coverage at Barbury this weekend.
Barbury Links: [Website] [Live Scores] [PRO Facebook Page] [PRO Blog]