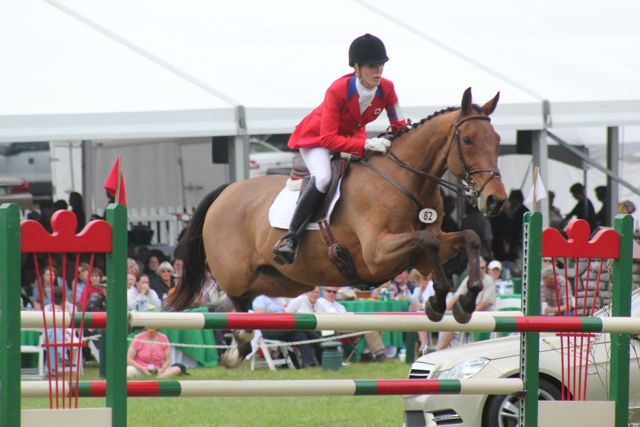 Selena O'Hanlon has just posted on her Facebook page that her veteran partner, Colombo, was diagnosed with an untreatable case of lymphoma, prompting the difficult decision to help him pass peacefully.
Colombo was Selena's first four-star horse, taking her to her debut at the level at Rolex in 2008, where they finished 20th overall. Selena then went on to represent Canada internationally on the silver medal winning 2010 World Equestrian Games team. Colombo was a wonderful horse to watch across country, and it was a privilege to witness his and Selena's partnership in action.
Selena posted the following from both herself and her mother, Morag, on her O'Hanlon Eventing Facebook page:
This past weekend was sad and black for the eventing world. We are all numb with the loss of Jordan McDonald and Benjamin Winter. Our thoughts and hearts are with their families and friends.
We had our own personal pain to deal with on Saturday when we said goodbye to Selena's wonderful long time partner, 'Colombo'. Colombo was a young 20, and we had thought to have him with us for many many years, but sadly he fell to an untreatable lymphoma. I am happy to say we were able, with the gentle aid of Dr Mark Rutherford, to make his passing quiet and dignified here at home.
What can I say about 'Mr C'? He made our dreams come true and he changed our lives forever. His amazing owners, Elaine and Michael Davies' dream of producing a horse and rider combination to represent Canada on the Team. Selena's long held dream of going to the Olympics, and my own dream of going to China and Asia. He took us all with him on his journey and we soared to heights we thought beyond us.
How did a great big fat Swedish Warmblood manage to get the fastest cross country time at the WEG? REALLY? There was a spark of magic in that horse and I thank providence that I was lucky enough to have him touch my life and change it.
Thank you for everything Mr C, You ROCK
Morag
'Colombo' one of the greats!
I have always felt lucky that Colombo and I met. He showed me the way to the top. At the core of it all we simply trusted each other and we reached for the stars.
I expected to have many years to feed him mints and pay him back for his incredible friendship. He was a gentleman and a champion to the very end and I will miss him so much it hurts.
Three cheers for one of the greatest horses in the world. Long live his memories.
Good bye Mr C
Love, Selena
Rest in peace, Colombo, and we send our most sincere condolences to Selena and all who knew and loved her "big, fat Swedish Warmblood."
Comments