It's hard to believe, but it's already about time to wrap up the goodies from our 2nd Annual Vendor Village and close up shop. Luckily, though, there are still a few hours left to shop today. I rounded up a few top picks from the day's discounts for you – you can also click here to see all of Saturday's deals.
I've mentioned these awesome, handmade belts before in my picks, but they're definitely worth another mention. See, I came from hunter/jumper land where I grew up and have always had a taste for a touch of fancy that you might ordinarily associate with a more traditional hunter outfit. The Brooks Belts are a great hybrid of modern flair without straying too far from tradition, so it's a perfect choice for someone who wants just a tasteful pop of color.
Get 15% off your order with Brooks Belts using code EN2021.
😍 Helmet Cam Footage. While we're all patiently waiting for the @KyThreeDayEvent next week, relive this XC with Alexis Goury during Les 5 Etoiles de Pau, France in 2020. Recorded with the Cambox V4 Pro. https://t.co/dI0jr8M8iR pic.twitter.com/Yp7L1FePE8

— Cambox America (@CamboxAmerica) April 16, 2021
I'm a big fan of a good helmet cam. Though I'm not riding much these days, I watch just about every helmet cam that pops up on my YouTube feed, as I feel it's such a great view for learning and observing courses and riding techniques. But of course, there isn't anything quite like taking your own video! There are a lot of great deals happening with Cambox this week:
Cambox V4 Pro full bundle — Cambox V4 Pro + 64 Gb SD Card + 2 additional fasteners + protective case + Cambox cap + power bank + warranty extension $499 instead of $600
Cambox V4 Pro + 64 Gb Memory Card bundle — $475 instead of $525
Cambox V4 Standard + 32 Gb card + 2 velcro fasteners + Cambox Cap — $399 instead of $449
Cambox Origin + 16 Gb SD card + case + cap $199 instead of $276
We eventers love our grippy equipment, and Kerrits remains one of my favorite brands to recommend when someone is searching for a comfortable, grippy breech that doesn't break the bank. The Kerrits GripTek II Full Seat breech is just one choice in the Kerrits' sale this week. With no-slip grip, breathability, stain/water resistance, and more fine details, these are a perfect choice for show season.
You can shop these and other Kerrits deals and save up to 60% off here.
There can really never be too many books on one's shelf, in my humble opinion, and I'm a big fan of mixing entertaining reads with practical ones. Horse & Rider Books is the foremost publisher of books related to horses and training, and you can save 20% off and receive free shipping on your order through today using code "VV21". The above exercise comes from 50 Best Arena Exercises & Patterns by Ann Katrin Querbach.
Thoughtful supplementation of your horse's diet with quality products can help increase her comfort and health, not to mention performance. We've always loved Kentucky Performance Products for their selection of high-quality supplements, and you can save 20% off and receive free shipping on your order this week using code "ENVV2021".
Horses are also expensive to feed (though I can't really judge, so am I, truth be told), so we're eternally appreciative to Legends Horse Feeds, Nutrena Feeds, and ProElite Feeds for providing these coupons – click each image to download the coupon: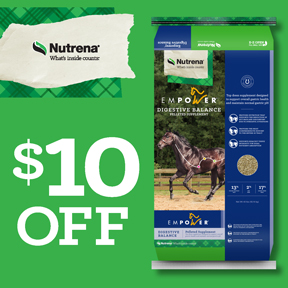 Go shopping and go eventing!

Comments