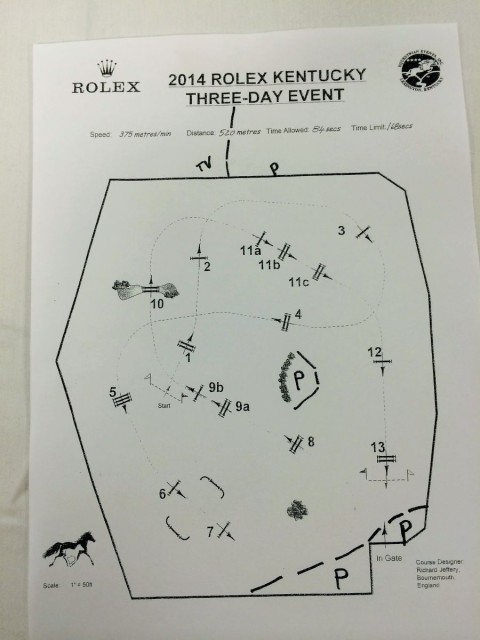 Richard Jeffrey's show jumping course today looks to be a technical beast, and there are plenty of potential bogey fences and challenging questions. Today's course will really test the horses' adjustability, as well as their endurance after yesterday's tough cross country run.
Richard sets the riders up to get a good handle on what to expect from their horse early on, as fence 3 sends the pair straight toward what will be a packed grandstand. Later on, the triple combination (11ABC) will also feed the horses and riders directly toward the grandstand, so riders should have an idea of how the atmosphere is affecting their horses early enough to make some adjustments.
Doug commented that he expects fence 3 to be somewhat of a bogey fence, as it is a simple vertical but the atmosphere may cause some distracted rails early on. He also said that fence 5, a triple bar oxer, may ride interestingly, as it's immediately followed by fences 6 and 7, which will require more technical riding after clearing the triple bar on a forward stride.
Thank you to Doug and Lynn for helping us out with their commentary today. I'm sure they both wish that they were riding this course, and their comments are a huge help to us. In addition, thank you to each and every rider who has given us a few moments of time to chat about the weekend. Best of luck to all competitors today!
Doug Payne's thoughts on the course:
Lynn Symansky's thoughts the course: