It's EN's 12 Days of Christmas! We'll be featuring one of our fabulous sponsors each day for the next 12 days. Some of them are offering an amazing promo code, while some of them are giving away awesome prizes. Be sure to check back each day for your chance to win.
Total Saddle Fit was founded with the intention of bringing intuitive products to the most horses and riders possible through bettering saddle fit and making horses comfortable.  A lot of people that love horses cannot afford new saddles every time their horse changes, so they created products to bridge that gap and get them the best fitting and balanced saddles possible.
The minds behind Total Saddle Fit come from a saddle fitting background, and they continue to develop products they want to use in the field because they make sense and actually work.
We've reviewed a few of the offerings from Total Saddle Fit here on EN, including the Shoulder Relief Girth and the Six Point Half Pad, and we've always been impressed by the quality and the effect they had on our horses.
There are many different options, depending on what your horse needs, offered by Total Saddle Fit. The Six Point Half Pad offers standard and wither relief technology, and the same shimming system is offered in dressage and jumper saddle pads as well.
The wither freedom technology caters to horses who need more wither clearance than what is offered by regular half pads and saddle pads. The wither freedom feature relieves wither and trapezius pressure and creates more pommel clearance under the saddle.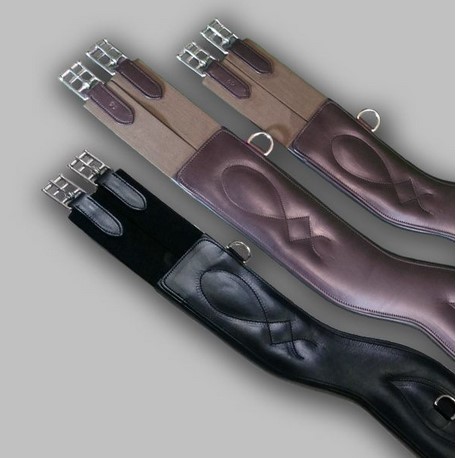 The Shoulder Relief Girth is another ergonomically friendly product offered by Total Saddle Fit. Offered in dressage and jumping sizes, the girth promises correct fit to encourage freer movement and increased comfort under saddle.
You can learn about what customers are saying about their Total Saddle Fit purchases here, and be sure to visit their online store here.
Are you hooked on the Total Saddle Fit mission? Well, you're in luck! We've teamed up with Total Saddle Fit to give away a FREE Six Point Half Pad with Wither Freedom to one lucky winner. Just use the Rafflecopter below to submit your entry. We'll keep entries open until midnight EST tonight and announce the winner in tomorrow's News & Notes.
Disclaimer: Information given in the Rafflecopter widget, including email addresses, may be shared with the corresponding sponsor at their request. You will also be signed up for our weekly EN eNews email newsletter, if you aren't already. Don't worry — you'll just wonder what you've been missing out on — and you can unsubscribe if you don't want it.