Tbh I liked eventing more before Sam Watson and Diarm Byrne of Equiratings came along. EN's in-house statistician Maggie Deatrick really ruined it for me, too. As someone who grew up on movies like Sylvester and International Velvet, I still hold dear some outlandishly romanticized notions of the sport. I wish it were more like the movies, wherein at any given event some dark horse could saunter in from the cow pasture and scoop the big prize out from beneath the noses of the Michael Jungs and Ingrid Klimkes of the world.
But "it's anyone's game" is an outdated notion, if it ever even existed at all. The numbers have always been there, but it's only been in recent years that these human calculators have come along, ruthlessly crunching them like potato chips. In her "By the Numbers" predictions, Maggie tells us who is going to win not just the event, but each phase of the event, with freakish accuracy well before the first horse even canters down the centerline. It's like running wrapped presents through an x-ray machine on Christmas Eve.
I kid, I kid. Among other advancements Equiratings' risk management work has paved the way for a safer sport, the importance of which can't be understated — I'd venture to say they are literally saving lives. And Maggie's columns save me the trouble of photographing all 40 horses in the dressage at events, since I already have a good idea of how the top five are going to land.
I still hanker sometimes, though, for a good surprise. With Sam and Diarm's presentation at this year's virtual USEA Convention, Engineering Success – From Personal Milestones to Team Gold Medals, they delivered some exciting news: there's a solid chance that at the (*knocks on wood*) Tokyo Olympics in 2021, myself — and all you other "dark horse" affectionados out there — might just get our wish. With the new three-person team format it could, truly, be anybody's game. Beyond that though, most results remain a product of design, not chance. So what does it take to win?
Diarm begins with an apology: "We are both so boring. As nerds who are involved in data what we think may be interesting may not be interesting to other people."
You're not wrong, Diarm. The sort of charts and graphs and decimal-point detail that Equiratings deals in could make your eyes glaze over, but all the minutiae adds up to some truly fascinating stuff. Today, he says, they're here to pull the curtain back on the topic of winning (or, he notes, whatever "winning" looks like to you  — maybe it's a top five finish or just a personal best.)
"We get that the sport is not all about winning, and that is not the purpose of this presentation," Diarm says. "But it is a crucial part of sport."
It's also a measurable journey that begins with an honest assessment of where you are right now and an intention of where you want to be. What is the route in between? It's also important to access what the sport looks like at the level you are at. They begin with two graphs using "zone analysis," which Sam explains is a fancy word meaning brackets showing where your finishing score is at:
At the five-star level, you can see that on average about a third of competitors fail to complete — which Sam calls "pretty shocking in an eye-opening way." Another third finishes with on a score over 60, and the final third finishes with a sub-60 score. At the two-star level, the DNF percentage drops to 20%; 20% complete with a score over 60; and the remaining 60% complete with a sub-60 score.
The further down the levels you go, the more achievable a clear round is — and, inversely, the more important your dressage score becomes. "If you want to win at the two- and three-star level, you have to be below a 36 … The current scoring system is set up to reward really good dressage and being adequate in the other two phases. The cross country begins to have more of an impact at five-star."
Eventing is, obviously, a three-phase sport, but while in dressage you can keep lowering your penalty score, in the jumping the best you can do is finish with 0 penalties, which is achievable even if you're just average — you aren't going to earn extra marks for rhythm or style. The key to winning is to start low and not add further penalties in the jumping. "Dressage is the only phase that is about being the best," Sam says. "At the lower levels the jumping phases are even easier."
How to keep the sport from becoming a dressage show? We can either reduce the influence of dressage or increase the influence of show jumping and cross country. Sam proposes a radical solution: What if there was an optimum score for dressage, perhaps 70% (or 30.0, which is a polished test), and you only collected penalty points if you scored poorer than that mark? So everyone with a dressage score of 30.0 or lower heads into jumping on a penalty score of 0. There would likely be several joint leaders after dressage, but nobody would be so far ahead that they could have a couple rails and still win.
Meanwhile, dressage scores continue getting lower and lower across every level each year.
Bad news for me and Princess! The good news is, there is always room for improvement. What are your goals for 2021? What are you trying to achieve?
The problem with the "top five" or "medals" approach, Sam and Diarm explain, is that it's dependent on other people. Depending on who shows up on any given weekend, your finishing score could equal a win or a 10th place — it's relative to the scores of other competitors. "You find these type of goals sometimes, like the thought of a medal, can get you out of bed in the morning, but when you're on your horse you need something more tangible," Sam says. You have to think critically about where you are weak and think purposefully about how to improve.
So what does it take to win? Again, at the lower levels the flashy, dressage-y type of horse has the advantage over the real gallopy, fast horse who is strong on the cross country. The scales shift as you move up the levels, and at the very top of the table the cross country horse begins to gain the advantage.
"There's nothing complex in here, it's just the averages," Diarm says, pulling up the next slides. "We've not done anything fancy. This what winning looks like so it's what do you need to [to win]."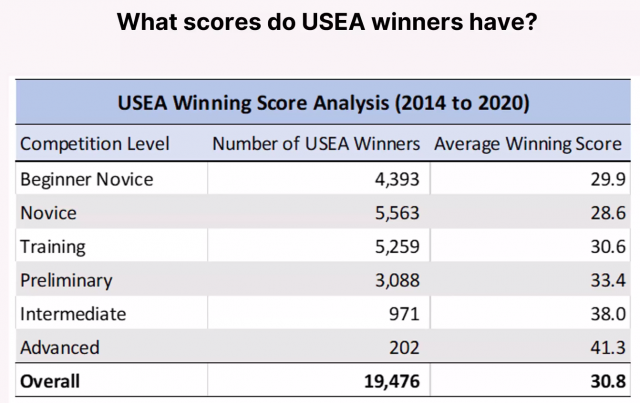 OK, so there it is in black and white: If you want to have a shot at winning a Beginner Novice outing, you've got to be able to achieve a sub-30 dressage test and jump clear. If that's your goal, the next step is to sit down and think about how to get from point A to point B.
When you're in the grind it can be easy to get tunnel vision, but some basic self-analysis can go a long way: "It's so much easier if you take the time to say 'where am I now, and where do I want to get to?'" There a concept called "simple metrics" you can use to that they've found to be quite accurate — Equiratings walks us through the process of calculating here.
"The best thing I have ever done was stop worrying about the outside world, about medals, and instead 'where is this horse now and how do I get to the next step?" Sam says. "You set where you want to get to … you need a clear goal of where to get to have real, measurable, achievable progress." The medal, for Sam, followed.
Unlike the human magic-8 balls guiding this Zoom session, I'm crap at predicting winners. Instead of using my head and statistical logic, I'll lead with my heart every time, always hedging my bets on the underdog. I played Equiratings Eventing Manager prediction game, wherein you "buy" a team of riders for a simulated SAP-powered competition, once and failed spectacularly. Meanwhile, Jenni Autry finished in first or second, I can't recall, which is one of many reasons why she is managing the U.S. Eventing Team while her old pal Leslie is still sitting around in her pajamas writing about horses for the internet.
But after today's Equiratings session, I'm feeling pretty stoked for a shake-up next year at (*knocks on wood, again*) Tokyo. "The sport has changed seismically with the current shift from four rider teams to three rider teams," Diarm says. "Cross country day at Tokyo will be one of the most exciting — or stressful — days that the sport has ever seen."
You can see with this chart that there's quite a big range as for what wins gold, what wins silver, what wins bronze. For the individuals, it's going to be hard to medal if you can't start with a dressage score below 30, but you can help win a team medal.
What's going to be necessary to win a medal in Tokyo is a clean jumping sheet — and this time, it's going to be without the cushion of a drop score. Diarm "lets the analyst out of his cage:"
The data goose is loose! At this point Sam pulls up a program that, well, you just need to be sure to watch the video because my scrawny screenshots are not doing it justice. It demonstrates just how elusive that clean sheet is going to be in Tokyo, how difficult it is going to be to land three clear rounds. "You don't have that discard score, so every team is never off the hook as the three riders go around." There's also a team picker program that is what I imagine the inside of Jenni's brain looks like.
Only six countries have won medals in eventing in the past 50 years since the Moscow Olympics: Australia, France, Germany, Great Britain, New Zealand and the United States. But this year, with the three-person teams, you could see a Sweden, or an Ireland, or a Japan swooping in because you've taken away the drop score. Not making any jumping mistakes, rather than winning the dressage, becomes the medaling prerequisite.
Statistics are great and important but I also love a little wild card. And I get the feeling that Diarm and Sam, for all their statistical savvy, are pretty pumped about the possibility of one, too.
"Britain, maybe the Germans, go in as favorites, and there's a 50% chance they don't even get a medal," Sam says. "It will be unreal to watch."
Well played, dorks! Thanks to Equiratings as always — you can learn more at their website here. The USEA Annual Meeting and Convention will draw to a virtual close tomorrow — click here to view the schedule. Tune in at 2 p.m. EST tomorrow (Saturday, December 12) for the Annual Meeting where we'll learn the winners of this year's awards as well as hear from keynote speakers Liz Halliday-Sharp and Piggy March.
Go Eventing.
Comments