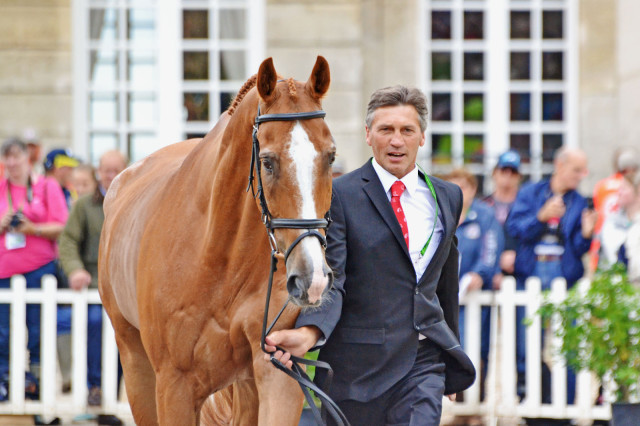 ESNZ Equestrian Chair Chris Hodson recently spoke in a radio interview regarding the absence of Andrew Nicholson from the New Zealand High Performance program, addressing concerns about whether or not efforts were being made on either side to mend fences.
"Every top athlete has difficult moments," Chris said. "All of them without exception, and Andrew is no different."
Chris mentioned a comment Andrew had made in passing recently about riding for Great Britain, a statement which Chris said was "a bad joke." Under Olympic rules, a competitor who changes their country of representation may not compete for their new country within three years of representing their former country:

Therefore, should Andrew express a formal desire to change nationalities, he would be unable to represent the new country at the 2016 Olympics in Rio. "It's a bad joke," Chris said. "I don't know why he made it; it's a bad joke and it can't happen under Olympic rules."
When asked if Andrew's statement had made Chris and ESNZ reconsider their desire to get Andrew back on their squad, Chris said no. "I think it would have been better if he had not made the joke, but knowing Andrew as I do, I'm not surprised. I don't think badly of him at all; I really hope we get him back."
While the equestrian world waits for word on whether or not Andrew and ESNZ will patch things up, Chris said in the interview that ESNZ was working to figure out what steps would be necessary in order to Andrew to reclaim his spot with the High Performance squad.
"What we're doing at this moment, and we should have it finalized next week, is working on the basis that he would be eligible for selection," Chris said. "We'll be telling him what has to happen, and hopefully they will happen and he'll be back in. We have every intention of doing our best to sort it."
We'll provide more updates on this situation as it arises. Will Andrew Nicholson represent New Zealand in Rio? Or will he be conspicuously missing from the opening ceremonies? Weigh in with your predictions in the comments below.
[Chris Hodson Radio Interview]
Comments