What would Luhmühlen be without a sudden and unscheduled downpour? That's exactly how the day began, but to be quite frank, no one was complaining – yesterday, after all, had passed in a sweaty haze, with gaggles of riders wandering around looking a little bit pained in their trot-up tweeds. Today was arguably more pleasant – though with the competition beginning in earnest, the intensity of the mercury levels was liberally topped up by the pressure to put on a good performance.
Though the top spot would change hands – and nations – throughout the day, it settled just three competitors from the conclusion. When it did, few were surprised – and in fact, a robust crowd had gathered to watch Great Britain's Laura Collett and London 52 deliver their test. Rightly so, too: the dynamic duo posted a 25.5, edging into the lead overnight despite losing a touch of their usual sparkle.
"To be honest, he just went a little bit shy, which he's allowed to do, as he's still so green and inexperienced," says Laura of the ten-year-old Holsteiner, who she owns in partnership with Karen Bartlett and Keith Scott, and who only made his international debut two years ago. But in that time, he's made a serious impression: he's won the Blenheim eight-and-nine year old CCI4*-S and the Chatsworth leg of the Event Rider Masters, and been second in Boekelo's CCIO4*-L, Burnham Market, the Grantham Cup at Belton, and the Arville ERM. In essence, the former showjumper – a sales prospect that never left Laura's yard – is something of a child prodigy. Despite blips at Bramham CCI4*-L and Aachen CCI4*-S, which Laura has attributed to her own wobbles under pressure, he's one of the most impressive young up-and-comers on the circuit.
He's also a consummate low-20s horse, and to watch him tackle his first major championship atmosphere and still strike the mid-20s sweet spot was very promising indeed – despite some stage-fright.
"He just dropped off a little, but I'm really pleased with him – you'd rather that than them going the other way," Laura explains. "He kept his head, and he did what he was meant to, even though there were just a few people watching us and then suddenly this grandstand full of people. I just had to remember to keep riding and not back off him, because otherwise, he'll fall in a heap."
Laura, who competes as an individual for the British front this week, has steadily garnered a reputation for being something of a first-phase phenom. But this doesn't just come from having an eye for a good horse – it's just as much about learning what works for each of the characters in her yard. And for London 52 – or Dan, as he's known at home? It's all about trust.
"He's a big trust horse, so if I hold his hand, he's fine," says Laura. "Otherwise, he wants to close his eyes and pretend it's not happening."
Second place is held in tandem by two team riders: France's Thibaut Vallette and his long-time partner Qing du Briot ENE HN sit on 25.8, as do Germany's Kai Rüder and Colani Sunrise. Though the Frenchman and his experienced championship mount, who were part of the gold medal-winning team at the Rio Olympics, are ordinarily well-placed after this phase, Colani Sunrise can be slightly more of a gamble. His scores fluctuate between mid-20s marks, as we saw today, and low-30s, as we saw at Badminton this year and Tryon last year. This, Kai explains, is due to the horse's somewhat mercurial nature.
"Every test he does is better and more forward, but there are still some point when you think, 'maybe next year,'" he says of the thirteen-year-old Oldenburg. "He's a very strong character, and you have to be careful to tell him what he has to do and then let him do it – and you have to hope it's the right thing. He just tends to get overmotivated and overmotorised – he tries too hard, basically, so it's important that I make sure his enthusiastic way of going is in the right shape in all three phases."
Teamwork, Kai stresses, is key.
"[Colani Sunrise] needs the right people around him, like Ida, his groom. She does a great job – she knows when to tell him something, and she knows when to just pat him and tell him he's good," he explains. "Then, in the test, he can have all these big marks – his trot is a highlight now, and his canter, so I only have to bring it home, and it's all coming."
Laura Loge and Karin Donckers, both riding for the Belgian team, also scored a tie – they each posted a 28.8 to sit equal fourth overnight. Though neither Laura nor her horse, Absolut Allegro, have championship experience, they rose to the occasion with aplomb, delivering a mark considerably better than their low-30s average would have suggested. It's rather a different story for Karin who, with her longtime partner Fletcha Van't Verahof, is one of the most experienced competitors in the field and averages a 27.6.
"I'm pleased – the walk could have been better, and the last change, too, but I was riding a bit conservatively," she says with a laugh. "I can't blame the horse at all – I have to blame me! He was focused, relaxed, and rideable, so I could ride him forward into the extensions and then just sit to bring him back. He's fourteen now, and more mature than ever, especially in the dressage – he's confirmed. Now I hope he'll show his experience on cross-country, too!"
Pietro Roman and Barraduff head up a determined Italian offensive on the hunt for a Tokyo ticket, sitting sixth overnight on 29.4. Just behind them, on a score of 29.8, sits leading British team member Piggy French, who rides her Tryon and Strzegom mount Quarrycrest Echo. But although the sub-30 mark is a good one by anyone's standards, it's a surprisingly high one for the ultra-consistent twelve-year-old gelding.
"I thought the test was okay, to be honest – there wasn't a mistake, which is always a bonus," says Piggy. "I just tried to do a clear round, which is always the thing with him. I was quite pleased with the test, so I'm a bit disappointed with the mark – well, quite disappointed, really, that there weren't more marks. But that's a better way around than kicking myself for thinking I'd thrown away marks."
Plus, she points out, "the competition isn't over until it's over, and we'll have to keep fighting until Sunday night."
German individuals filled out the latter part of the top ten, with Nazine Marzahl and Valentine 18 taking eighth place on 30.5 and Anna-Katharine Vogel and DSP Quintana P lying ninth on 32.3. Poland's Malgorzata Cybulska, who makes her senior championship debut as an individual after the dissolution of the team, holds onto overnight tenth with Chenaro 2 on a score of 33.5.
"I think we did some really good work at home that we could show off today," says 21-year-old Malgorzata, who has ridden on four Junior and Young Rider teams previously. "He was responding to my aids and was really focused on me and what I want, so he was able to get a good score."
Though the last-minute withdrawal of Mateusz Kiempa means that Poland only brings forward two riders this week, they're able to use the Europeans as an essential learning curve for their riders. With their Tokyo qualification in the bag – they picked up their ticket at Baborowko – it's all about experience and exposure.
"This and Jardy have been meant to prepare us, and especially for me, I'm a young rider still, so it's my first year in four-star," explains Malgorzata. "It's even more important that I'm here to experience a competition like this, with such great riders all around me. This is really good experience for me."
Pippa Funnell and Majas Hope stepped up to the British team as a last-minute replacement for Tom McEwen and his medal hopeful Toledo de Kerser, who was sidelined at the last minute by a minor injury. So last-minute was the call-up, in fact, that Pippa – who was away from home at a wedding – had only seven hours from the time of her summons until the time of departure.
"It was the morning after the wedding, and I was saying that it was lovely to have a relaxed Sunday morning," she recalls. "My phone had been turned off for the wedding, and when I turned it back on, I had so many missed calls from [chef d'equipe] Dickie Waygood. It was a quick turnaround – the girls at home got everything packed, and [Hickstead director] Lizzie Bunn drove me back so that I could make calls to owners and reroute horses."
Though they sit out of the hunt in seventeenth place on a score of 35.4, Pippa – who won her first gold medal at the European Championships here twenty years ago – was quick to point out that this phase isn't a strong point for the Irish gelding.
"We knew coming here that he's very difficult in this phase, bless him," she says. "He does get arena shy, and he'd be the most difficult horse I've ever ridden on the flat, but we hope we can put it to rights on Saturday and Sunday. You can't ride him for the same feel you do with the others, although he's come a long way – he still just gets nervous in the arena, although fortunately, he doesn't erupt."
Pippa's late call-up also affected the horse's preparation: he was due to head to Burghley, and Pippa had planned to do his most concentrated training in the early days of this week.
"I'm not making excuses, and I'll defend the horse to the hilt – if someone had said two years ago that he'd come close to the Europeans, I'd have laughed. Dressage is my strong phase, and I have a super team of horses, but you can't turn them into Valegro if they're not Valegro."
Still, says Pippa, her role this week isn't to top the leaderboard – as pathfinder, it's to head out first and unpack the questions on course. And to be back on the team? Well, that's something indescribable.
"It's special to be here with Tina Cook, who's a great friend. We've been on lots of teams together, and she understands that sometimes you come to win, and sometimes you come to be part of the team spirit. It's special to come back here twenty years after winning that first gold, too – at my age, it's such an honour to get called up. I won't get many more chances."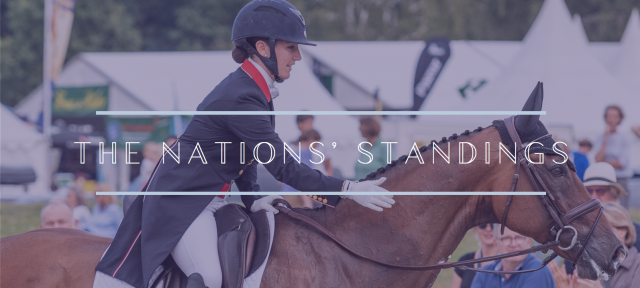 Belgium leads the way – both in the team competition and in the hunt for Tokyo qualification – on an aggregate score of 57.6 after both Laura Loge and Karin Dockers delivered tests earning scores of 28.8. Germany – the hot favourites for team gold after the last-minute withdrawal of Tom McEwen from the British team – sit in second, just 2.8 penalties behind the leaders. France holds onto third, while Italy – one of the eight teams on the hunt for Olympic qualification – lie fourth on 64.3. Great Britain are fifth, though a strong score is well-nigh guaranteed from double Kentucky winners Oliver Townend and Cooley Master Class tomorrow, while Tina Cook and Billy the Red should, in theory, deliver another solid sub-30 – though the gelding has had his occasional wobbles in this phase. Sweden sit third in the race for a Tokyo slot, lying seventh behind Ireland.
Dressage continues from 10.00 a.m. local time/9.00 a.m. BST/4.00 a.m. EST standard time tomorrow. FEI TV will once again be live-streaming all the action, with guest commentary from Lucinda Green – herself a two-time winner of previous European Championships at this venue. Want to make sure you don't miss any of the most important tests? Here are the times for some of the key contenders (they're all in local time, so subtract one hour for British time, or six for EST):
11.30 a.m.: Michael Jung and fischerChipmunk FRH (GER)
11.37 a.m.: Louise Romeike and Waikiki 207 (SWE)
12.07 p.m.: Tina Cook and Billy the Red (GBR)
13.45 p.m.: Kitty King and Vendredi Biats (GBR, individuals)
14.30 p.m.: Tim Lips and Bayro (NED)
15.08 p.m.: Ingrid Klimke and SAP Hale Bob OLD (GER)
15.30 p.m.: Sam Watson and Tullabeg Flamenco (IRE)
15.45 p.m.: Oliver Townend and Cooley Master Class (GBR)
16.00 p.m.: Vittoria Panizzon and Super Cillious (ITA)
Until then – be cool, stay hydrated, and Go Eventing!
#FEIEuros2019: Website, Entries, Form Guide, Live Scoring, Live-Stream Guide, EN's Coverage, EN's Twitter, EN's Instagram