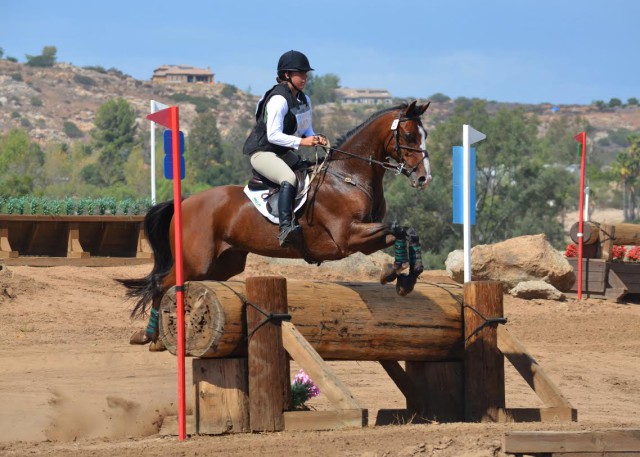 Kaitie Veltkamp has enjoyed multitudes of success with her 13-year-old Dutch Warmblood gelding, Flashpoint D. The gelding had suffered a superficial tendon tear that, with the help and research of an entire team of experts, was rehabbed to the point where he was able to continue competing at the upper levels, but Kaitie knew that every ride aboard "Undie" was a blessing.
Unfortunately, Kaitie announced on her Facebook page this week that she had made the decision to retire her partner in the interest of preserving his soundness. She hopes to be out competing in pure dressage with him, as he is by no means ready to spend the rest of his days in a pasture.
"He's doing his best to convince me that he's fit, happy and ready to go jump stuff," Kaitie said. "It's so heartbreaking, but he's given me so much that I can't complain even for a moment."
Kaitie posted the following statement on her Facebook page:
My little champion, my horse of a lifetime. Thank you for everything you have given to me over the last ten years. You have taken me to places I could only ever dream of the day I first met you at only 11 years old. I don't know how I'm going to tell you that your days of galloping on the course eagerly hunting down your next fence are over.
Your spirit and your passion are so huge but your little body just can not hold up any longer. You have given me everything. You have pushed through the pain for me and for this crazy sport of ours. I will be forever searching for another partner that will give me the same joy you have.
You have given me the best ten years of my life but now this high jumping, fast galloping chapter is over. It's time for you to start a new one enjoying warm, sunny days in a big, green pasture. I love you, Undles. Thank you for everything past, present, and future. You've got a heart of gold, little man. Give your baby sister a pep talk for me, she's got some very big shoes to fill.
Thank you so much to everyone who has helped us on our journey. We have been blessed with the best parents, trainers, farriers, vets, and friends we could have ever asked for. We couldn't have gone even half this distance without your knowledge, love, and support.
Kaitie would like to thank those who have supported her and Undie's endeavors through the year, namely Dayna Lynd-Pugh, Sarah Lorenz, Leslie Law, and Lesley Grant-Law. She also wishes to thank her sponsor, Cur-Ost, for keeping Undie running his best for as long as he could.
We wish Flashpoint D the best of luck in his retirement; meanwhile, we know that Kaitie has a talented young horse on which she'll be focusing for the time being so we can't wait to see more from her in the future.