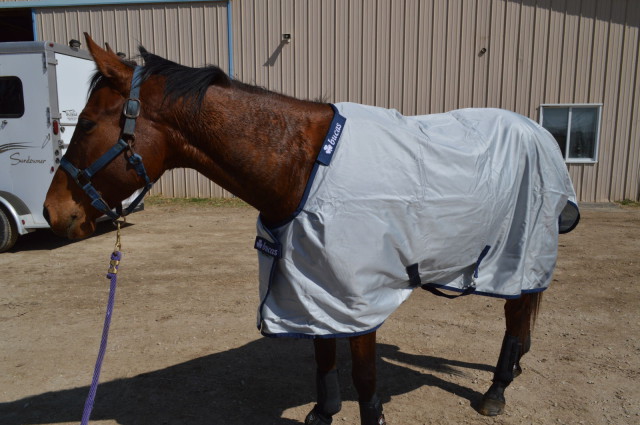 Bucas is a brand you basically can't go a day without seeing these days. Each day, I see a new horse sporting a sleek new Bucas cooler or sheet. Indeed, Bucas is making waves in the blanketing industry, and for good reason.
We recently reviewed the Bucas Power Turnout in its lightweight form, and we were really impressed with the quality and thoughtfulness of the design. While summer may be approaching, there are still a few chilly mornings this month that have prompted me to throw a sheet on — and fall will be here before we know it, unfortunately. Unless you live in California, then this does not apply to you, which we are very envious of.
At any rate, this week we're teaming up with the Bucas team to give away a lightweight Power Turnout, which will be a great addition to anyone's horse wardrobe. How is it that my horse is better dressed than me? There's something wrong with this picture.
Entries will close on Thursday, May 21 at midnight EST and we'll announce the winner in Friday's News & Notes. To enter, simply use the Rafflecopter below to enter up to three times. Good luck!
Disclaimer: Information given in the Rafflecopter widget, including email addresses, may be shared with the corresponding sponsor at their request. You will also be signed up for our weekly EN eNews email newsletter, if you aren't already. Don't worry — you'll just wonder what you've been missing out on — and you can unsubscribe if you don't want it.