Lillian Heard and LCC Barnaby finished on their dressage score in the CIC2* at Fair Hill to win the division. LCC Barnaby is a 6-year-old Irish Sport Horse gelding that Lillian purchased when she was working in Ireland. She moved the horse up to Intermediate this year, and this is his second CIC2* event. Lillian originally planned to just do the dressage this weekend, but it turned out in her favor to complete the event. "I normally don't run him for time because he's a bit strong so I run with time to teach him not to be strong, but I thought today since we are headed to (the CCI2* at) Jersey Fresh I should try to run for time and not try it for the first time at Jersey, and he was really good about it," Lillian said. "It was one of our best cross country rounds together. He's pretty green but he's really bold and a really good boy. Every time I bring him out he's better and better."
Colleen Rutledge and her newest ride, Escot 6, finished in second after moving up from sixth after dressage. This was Escot's first two-star event, and Colleen brought him home this weekend clear with just a handful of time. Colleen acquired "Monkey" from Mara DePuy recently, and this is her third event with him.
In the Advanced, Phillip Dutton's second catch ride, Otis Barbotiere, led from start to finish. Boyd posted a video of Phillip and Otis on cross country on his Facebook page, and the pair certainly look right at home together. I'm sure Boyd is positively itching to get back in the saddle full time, but he can rest assured that his horses are enjoying a wonderful late spring campaign with P-Dutty in the irons.
Sally Cousins and Westerly enjoyed a nice bump up the leaderboard with the quickest cross country ride of the day, adding 9.6 time to move from fifth after show jumping to second overall. Robin Walker and Freedoms Light also deserve a big shout-out after jumping from 12th to 3rd after cross country in the horse's second Advanced event.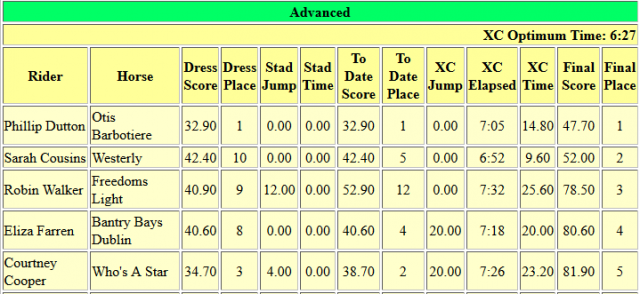 Fair Hill International H.T. [Website] [Ride Times] [Live Scores]
In Louisiana, Heather Morris is having a great weekend at Holly Hills, picking up wins in both the Intermediate and Open Preliminary divisions aboard Patent Pending and Charlie Tango. The Intermediate course looked like it rode well overall, with all pairs coming home with some time and just a few 20s popping up for some riders.
Holly Hill Spring H.T. [Website] [Live Scores]