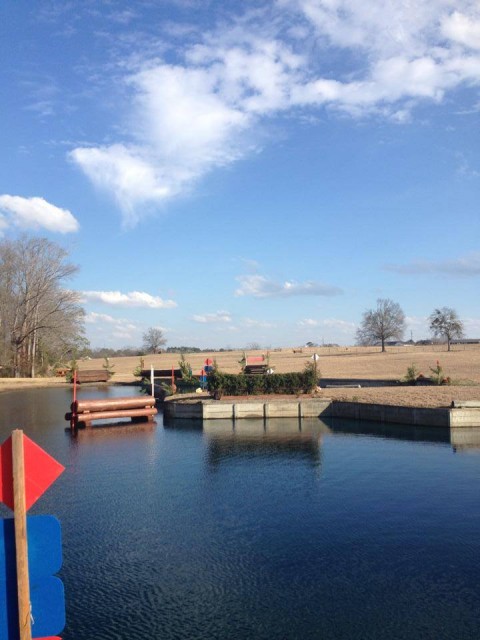 It's Pine Top Advanced weekend! This will be the first big test for many pairs at the start of the season, so keep an eye out for a competitive dressage competition and some fast cross country rounds. Jenni is on site to bring us updates from Georgia this weekend, so keep it locked here for much more.
Events This Weekend:
Pine Top Spring Advanced HT [Website] [Ride Times] [Live Scores]
Update 7:03 a.m.: Start times for Friday have been delayed one hour due to a storm system moving in to the area. In-barn inspections for the CIC horses will still be held at the original times. Keep an eye on EN's Facebook and Twitter for updates. 
Friday News:
In the wake of the weather that recently struck Aiken, the Sporting Days Farm Horse Trials needs help getting the grounds and cross country course cleaned up. The Montmorenci Volunteer Fire Company has been tirelessly working to help clear the roads and clean up the area, enabling emergency and road crews to access the areas they need to. This Sunday, February 23, Sporting Days Farm will be hosting a cleanup day. The Montmorenci Volunteer Fire Company will be assisting, and volunteers will be provided lunch by property owner Joannah Hall Glass. The work day will run from 12:30 pm until 3:30 pm, and interested volunteers are asked to RSVP to [email protected] with contact information and any dietary needs.
Courtney King-Dye has given birth to a baby girl. After suffering a traumatic brain injury in 2010, Courtney spent much time rehabilitating. We are thrilled to report that Courtney said that she had an easy pregnancy in her blog. Congratulations to Courtney and husband Jason! [Courtney King-Dye Becomes a Mom]
Are you a racing fan? West Point Thoroughbreds is sponsoring a great contest for those of you who follow the Derby trail (or even if you don't!). All you have to do is choose the winners of 17 races throughout the Derby prep season, and you can grab a piece of $2,500 in prizes, as well as some bragging rights. To start playing, click here.
Silva Martin and her fellow USA teammates certainly utilized their dressage skillz this week. Team USA 1 took the gold medal in the 2014 CDIO Wellington Nations Cup yesterday. Canada's team 1 took silver, Spain took bronze, and the USA's team 2 ended up in fourth overall. Congratulations to our dressage counterparts! [CDIO Wellington Results]
Are you auditing the George Morris clinic at Bridle Creek Farm next week? The schedule and groupings of riders has been posted. It looks like this will be a great clinic to catch if you are in the area. Auditing spots are still available. [George Morris Clinic Schedule]
Ben Maher and Cella are the best showjumping pair in the world. The team amassed a 1,718 FEI points during their 2013 campaign, coming out on top of Germany's Ludger Beerbaum and Chaman, who accumulated 1,675 points. Ben is also currently the leading rider at the Winter Equestrian Festival in Wellington, Fl. [Maher and Cella Are World's Best]
Best of the Blogs:
Silva writes about her Nations Cup experience.
Friday Video Break:
Here's a fun helmet cam video of a show jumping round.