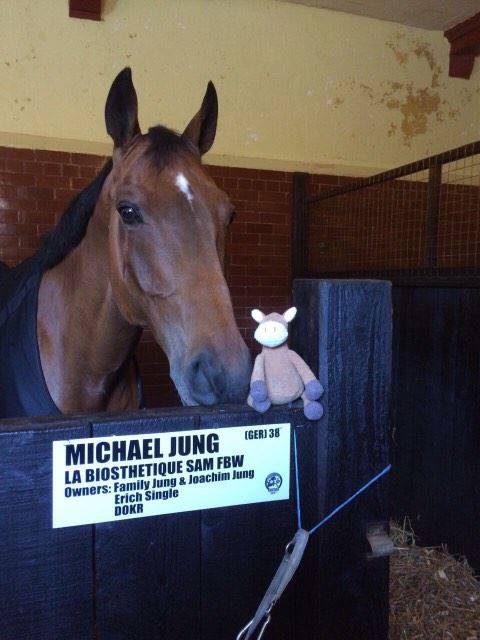 Sorry, don't try to make plans with me for tomorrow, I'll be too busy glued to my live stream (if it works FINGERS CROSSED) of Badminton cross country. There's nothing like a little adrenaline rush from watching four-star cross country rides, and two weekends in a row! Today we have the three final riders from the US, as well as some pretty highly rated riders from other countries as well.
Elisa Wallace and Simply Priceless: 10:10 a.m. BST/5 a.m. EST
Kathryn Robinson and Let It Bee: 10:42 a.m. BST/5:42 a.m. EST
Lauren Kieffer and Veronica: 3:54 p.m. BST/10:54 a.m. EST
#MMBHT Links: Website, Entries, Ride Times, Schedule, Live Scores, Course Preview, EN's Coverage, Watch Live, EN's Twitter, EN's Instagram
U.S. Weekend Preview:
MCTA H.T. [Website] [Entry Status/Ride Times/Live Results]
Heart of the Carolinas 3DE & H.T. [Website] [Entry Status] [Live Scores]
Poplar Place H.T. [Website] [Entry Status] [Ride Times] [Live Scores]
Penny Oaks H.T. [Website] [Entry Status] [Ride Times] [Live Scores]
The Event at Skyline H.T. [Entry Status/Ride Times/Live Scores]
News From Around the Globe:
Top quality photos from Shannon Brinkman and quotes from the leaders and US riders? Don't mind if I do! [COTH]
Andrew Hoy doesn't think Fence 22, a bullfinch, belongs on the course at Badminton. What's a bullfinch, you ask? Good question, as it's a rather old style fence that we don't really see anymore on courses anywhere. It's a fence with a big tall soft brush, not trimmed, that the horses have to push through over the main jumpable obstacle. Some riders are rather concerned about it, and others not so much. [Does the Bullfinch Have a Place on Cross Country?]
Figuring out what bits are permitted for FEI and USEF/USEA competitions is a constant source of headache for all riders. With all the new and cool technology coming out these days with bits and bridles, it can seem a little daunting. It's a good idea to brush up on your rulebook, and check out the illustrations before heading to your big show. Due to an uptick in inquiries, the USEA has provided clarifications here for your perusal. [Legal Bits for Dressage]
Hot on Horse Nation: How To Be The Best Adult Amateur You Can Be
KER ClockIt™ Sport Session of the Week – Interval Training
In this week's KER ClockIt Sport session, an eventer is using interval training to increase his horse's level of fitness. He starts with a warm-up to lead into higher speed work. As you can see, the horse's heart rate increases every time the rider increases speed.
KER researchers have performed numerous treadmill studies to measure work intensity as measured by oxygen consumption, heart rate, and lactate production. These studies have shown that increasing speed by 35m/min on a level treadmill increases a horse's heart rate by 6 bpm. You can get the same effect by adding a 1% grade.
To see a detailed report like the one above, go to the KER ClockIt website and log in to your account. Once you are signed in, you can view your detailed sessions under the "Sessions" tab.
Comments