Thanks to a combination of stellar riding, school spirit and chinchilla karma (it's real!),  the University of Georgia Eventing Team put victory on a leash at the very first USEA Intercollegiate Eventing Championship.
Ten teams contested the Championship, which was held in conjunction with Virginia Horse Trials in Lexington, Va. The Clemson Tigers held the lead heading into the final day of competition, with the UGA Red Team nipping at their heels, but the Bulldogs ultimately pulled ahead for the win.
The squad was comprised of three Seniors competing at Training — Devon Olivier, Emily Cox and Kaitlyn Ruff — and Sophomore Emily Cardin in Novice.
"We knew going into that we'd need to really bring it if we wanted to be competitive," explained Emily Cardin, who placed third in the Novice Rider division with her 12-year-old Trakehner/Thoroughbred gelding Schwalbestrum.
It was cross country day for everyone on the team and of their three top-placed riders, two went double clear, putting the pressure on Emily and "Storm" to deliver a solid performance. With Auburn tailing them by less than two points, there was little room for error.
"It was nerve wracking for me to say the least, but our double clear round ended up solidifying the team's score and moving us up to first place by a fraction of a point!" Emily said.
An interview with the winning team from the VHT Facebook page:

In addition to clinching the overall Championship, UGA also won the Spirit Award. The team pulled out all the stops to show their Bulldog pride, from matching gear and stall decor to equine war paint.
"We went all out," said Team President Emily Cox. "We wore all our matching gear and we did something special for cross-country; we covered our horses in paint."
More importantly even than looking like a team, UGA functioned like a team.
"The spirit and the support our Eventing Team possesses is absolutely incredible," Emily Cardin said. "Every rider had someone helping her tack up, warm up, taking photos of her rides, and cheering for her when she finishes a course. It's something that you'll see at every college challenge the Dawgs attend. Every member who supports her teammates is valued and supported in return!"
As a prize for the Spirit Award, VHT very kindly refunded the entries of all eight members of the two-team UGA squad.
Clemson (Samantha Hay, Anna Fogerty, Junior Sarah Pyne and Alex Peterson) earned the Reserve Championship.
Rounding out the top three teams was Auburn (Andrea Glazer, Sallie Johnson, Kayley Bush and Lydia Kennedy).
Congratulations to all the teams, thanks to the generous sponsors who sent them home with prizes by the armful, and a big high-five to the USEA for seeing this great program through from fledgling to fruition.
"History is being made here with the first ever intercollegiate eventing championship. I can't wait to look back and think how this is the day it all started," said USEA CEO Rob Burk. "The college riders that are here this weekend are the future of the sport, and the USEA is proud to partner with the Virginia Horse Center to make this possible for intercollegiate eventing and for the sport as a whole."
We see you sneaking around out there, Rob!
Event Organizer Amy Bowles added, "I've officiated at young rider championships all around the world, and the camaraderie I saw here rivals those events." The Championship will return to the Virginia Horse Center in 2017, and with such huge participation in the program's inaugural event we can't wait to see where next year takes intercollegiate eventing! Learn more about the USEA Intercollegiate Eventing Program here.
Oh, and one more thing, UGA: Tell Fetty his friends at EN say hello!
USEA Intercollegiate Championship Final Scores:
Other big winners of the weekend include Hannah Sue Burnett, who took the top two spots in the CIC2*. Her winning ride — the pair led from start to finish — was Cooley Dream, an 8-year-old Irish Sport Horse gelding owned by Cooley Dream, LLC.
VHT CIC2* Top 10: 
In the CCI1* Alana Regan and Ice Blue, an 8-year-old Belgian Warmblood mare owned by Terri Hulse, jumped their way up the leaderboard to win their first CCI1* attempt.
VHT CCI1* Top 10: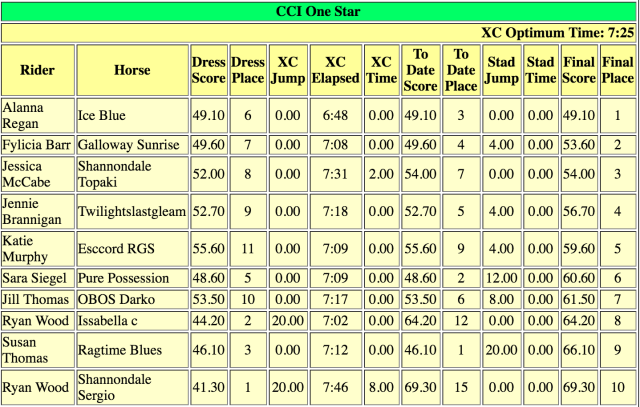 The CCI1*Junior/Young rider division was topped by Ellis Rold and Fernhill Spring Lightly, her own 10-year-old Irish Sport Horse gelding who was previously campaigned by Fernhill founder Carol Gee herself.
VHT JR/YR CCI1* Top 10: 
#VHT: [Website] [Final Results]