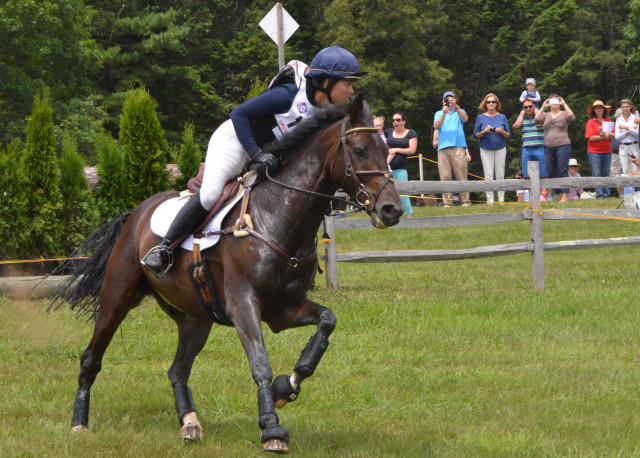 Groton House Farm in South Hamilton, Massachusetts, hosted its 38th annual horse trials this past weekend beginning June 26, offering Novice through Intermediate/Preliminary divisions. This popular Area I event, known for sticking to tradition, usually follows the three-day format of eventing. This year, however, things went a little differently when the forecast for stadium jumping day began to look miserable.
Dressage was completed on Friday as usual, and as of Saturday morning the rest of the event was scheduled to proceed as normal, with cross country running that day and stadium jumping being held on Sunday. But shortly after the first horse left the start box, the imposing weather forecast for Sunday became too potentially dangerous to ignore.
"The forecast was for a 100 percent chance of heavy rain all day and 25-40 mph winds," Ann Getchell, owner of Groton House Farm and organizer of the horse trials, said. "The track would have been dangerous, not to mention the footing destroyed. Trailers would be stuck in the stabling and parking areas. The choice was either to cancel Sunday completely, in which case competitors wouldn't have completions, or try to get it all done Saturday."
Ann said that when she first heard that the ground jury was considering trying to run stadium jumping that day, "I didn't believe it could be done. However, everyone who would be involved — scheduler, secretary, scoring, stadium jumping chairman and crew — were game and wanted to give it a try, so we decided to give it a go."
With the safety of both human and equine competitors being the foremost concern, the quick decision was made to run stadium jumping on Saturday concurrently with cross country.
The new schedule was announced soon after the decision was made: The Intermediate/Preliminary and Preliminary divisions would stadium jump beginning at 11 a.m. prior to cross country; Novice and Training stadium jumping would be held at 1:30 p.m. and 4:30 p.m., respectively, after cross country was completed for those divisions.
One-day or two-day events have become commonplace in our sport; however, they're usually planned in advance and not scheduled on the fly. Word of the schedule change was quickly dispersed via the PA system, flyers in the stables, emails, phone calls, text messages and social media.
David Wilson, owner of Flying High Stables, also in South Hamilton, shuts down his Saturday morning lesson program every year in order to bring a large contingent of volunteers — his students — to help out at the event on cross country day. "They also have an appreciation for the fact that it's our way of giving back to the sport we love," David said. Flying High's help came in very handy when stadium jumping and cross country started running concurrently.
"It was epic," David said. "The way this all went down is at the heart of why I am an eventer and eventing coach. Everyone pitched in. People were approaching our stabling coordinator to offer their help. I feel so fortunate to be a part of Groton House — great volunteers, organizing committee, ground jury, technical delegate, competitors, Ann Getchell and the Winthrop family."
Babette Lenna, the head trainer at Gathering Farm in South Hamilton, trucked in a total of 15 horses and had plenty to do between coaching her students and riding her own two horses.
"It was a tight time table but we got it done," Babette said. "While I was finishing coaching the Novice group for their cross country, my assistant Asheley Ireland was back at the barns organizing getting the horses ready to get on the trailer as soon as I got back to the barn.  I wouldn't say I gave my first horse the longest warm-up he has ever had, but, again, we got it done, and everything is good practice."
In their 38-year history, Groton House Farm has only had to cancel their horse trials once before in 2006, a particularly nasty year for flooding in the area. At that time, GHF was running events on two consecutive weekends, offering different divisions at each.
"We had to cancel GHF I, but it cleared a little during the week, and we thought we could get away with it for GHF II," Ann said. "However, it poured again, and somehow we managed to get stadium jumping — including a patron's tent — moved up to the sand ring (where cross country warm up usually takes place)."
Cross country and stadium day itself turned out to be a beautiful 70-something degree day with the sun making an appearance after lunch just in time for Lenna, the first Intermediate/Preliminary rider of the day, to gallop the GHF cross-country course. Spectators gathered at the water complex, as they do to each year, on the lawn or under the sponsor and patron's tent and cheered as she galloped up the hill and away from the water.
"I can't thank the organizers at Groton House enough for what they pulled off," Babette said. "Throughout the day they kept everyone up to date as much as they could, and that is a huge thing, too. They had to change as they went, and this is not easy to do. I'm so thankful for their efforts!"
Less than 24 hours later, the sponsor and patron's tent collapsed under the heavy rain and wind. "Waking up Sunday morning, all I could think was, 'Thank goodness they made the decision that they made,'" Babette said. "It was a split-second decision that saved the horses, the riders, the ground, the spectators, the grooms, the sponsors, the parents, the volunteers, and everyone else involved in pulling off that event a lot of destruction. I think the decision was brilliant."
"All I can say is that we have fantastic, experienced and dedicated volunteers who are ready to take on any challenge to make it work," Ann said. "The officials were great, and everyone pulled together to get it done. It was a good decision, and almost everyone got on the road Saturday evening (after the competitors party!)"
Go Groton House Farm, and Go Eventing! Keep scrolling for photos of some of the division winners courtesy of Joan Davis/Flatlandsfoto.
[Groton House Farm Final Scores]
Comments