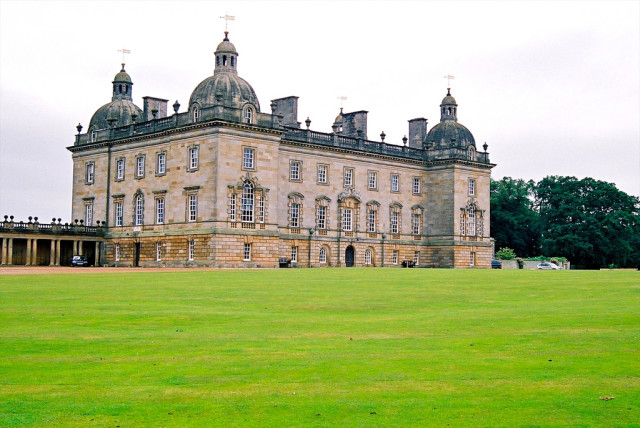 It was an eventful day of withdrawals, straggler dressage scores trickling in, and decisive time faults and rails in show jumping at the Houghton International CICO*** in Great Britain. While ultimately no one was able to come anywhere close to Gemma Tattersall's eye-popping dressage score of 32.7, it was a moot point when Gemma ultimately withdrew Chico Bella P from the competition.
This was apparently always the plan for Gemma and Chico, as the pair had planned to make Branham their final trial before Olympic selections.
"I've withdrawn before showjumping because the ground is slightly firm for her," Gemma told Musketeer News. "There's a small event down in South America this summer that we hope to go to!"
That made American Liz Halliday-Sharp and Fernhill by Night our overnight leaders before the last twenty-five dressage rides Saturday morning, but Nicola Wilson and One Two Many were able to bump Liz into second with an impressive 11th hour score of 36.3.
Other final dressage pairs to rattle the leaderboard were Bettina Hoy and Seigneur Medicott who sneaked into the top five with a 39.2, and Frenchman Matthieu Van Landeghem on Trouble Fete Ene HN  grabbed hold of the sixth slot with a  40.4.
And finally (sorry USA, no 4th rider) last @FEI_Global Nations Cup rider, GER @BettinaHoy #HoughtonIntHT pic.twitter.com/K3MrW5zvN4

— Musketeer Events (@MusketeerEvents) May 28, 2016
Bettina Hoy of Germany, last team rider of the day. Via Musketeer Events on Twitter
Show Jumping
Nicola Wilson was faultless not only with One Two Many, but also on Annie Clover, who had been sitting in 5th prior to show jumping. These two critical clear rounds put Nicola into first and second, with a mere .3 lead on Matthieu, whose clear round raised him up three spots to third.
The poles were on Liz Halliday-Sharp's side today and she and Fernhill by Night had a beautifully clear round, but picked up  four time faults to drop her a few spots to seventh. Less than five points separate second through fifteenth, so our best-placed American is still very much in the hunt!
Brit Laura Collett, and Aussies Sam Griffiths and Andrew Hoy were able to move into fourth, fifth, and sixth respectively thanks to clear rounds.
American Katherine Coleman and Longwood added just one rail to give them a total score of 61.7, moving them from 85th to 74th.
The final American pair of the day, Tiana Coudray and Sambuca F collected nine faults in the ring for a current score of 62.9, which has them sitting in 78th.
Nations Cup Standings
In the Nations Cup standings, Australia currently reigns victorious with a score of 131.9, bumping Germany off the top spot they had held after dressage by 3.6 points. Great Britain is in third after each member of the all-women team jumped fast and clear.
The French are holding down fourth place after New Zealand dropped to fifth with a 142.2. Team USA is holding on in front of the last Nations Cup team, the Netherlands, with a 167.5
Cross Country begins at 11 a.m. local time (7 a.m. EST) on Sunday. Swing back to EN tomorrow for the final report!
Full Nations Cup Standings After Show Jumping:
1. Australia — 131.9
2. Germany — 135.5
3. Great Britain — 137.6
4. France — 138.0
5. New Zealand — 142.2
6. USA — 167.5
7. The Netherlands — 170.0
CICO3* Top 20 After Show Jumping:
#HoughtonIntHT: Website, Timetable, Dressage Ride Times, Results, Course Walk
Go Eventing.
correction: An earlier version of this story incorrectly stated that Liz Halliday-Sharp had a rail down in show jumping, which was incorrect. Our apologies to Liz and Blackie for the mistake!