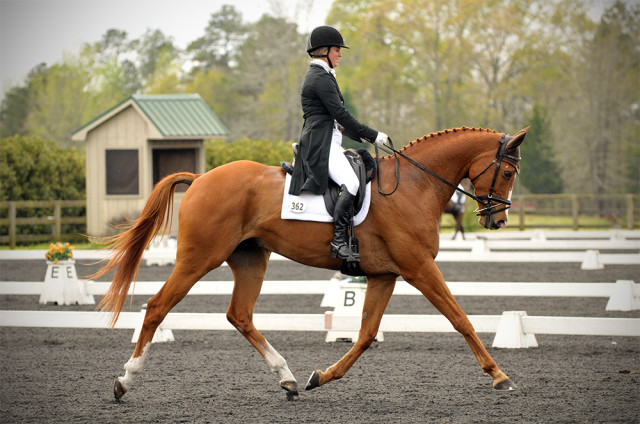 Poplar Place Farm in Hamilton, Ga. is hosting close to 250 horses for their annual March Horse Trials, which welcomes national divisions from Beginner Novice through Advanced and a CIC*, CIC2* and CIC3*. The event also features an Adult Team Challenge and Intercollegiate Team Challenge.
Coming into the arena as the penultimate CIC3* combination, Katie Ruppel and her 12-year-old Thoroughbred gelding Houdini laid down a light, flashy test that kept Katie beaming throughout. A 37.1 gives them a commanding lead going into the jumping phases tomorrow.
Nilson Moreira da Silva (BRA) and Muggle, a 12-year-old Thoroughbred cross owned by Nilson and The Phoenix Syndicate, are second with a 48.2. Joe Meyer (NZL) and South Paw, a 9-year-old Hanoverian/Thoroughbred stallion owned by Joe and Ruth Meyer and Nora McDonald Yaney, wrapped up the division with a 48.6, putting them in third place. Joe is also ninth in the same division on a 52.4 with Clip Clop.
In the CIC2*, Karl Slezak (CAN) and Fernhill Wishes put in a very relaxed and obedient test. They were the only pair in the division of 23 starters to crack into the the 30s and are the overnight leaders with a score of 37.8. Fernhill Wishes is a 7-year-old Irish Sport Horse owned by Karl and Kirk Hoppner.
Karl and Fernhill Wishes finished ninth in the CIC2* at Red Hills this year and were Intermediate/Preliminary winners at Rocking Horse in January. Imported from Ireland as a 4-year-old, the gelding has made an impressive climb up the levels since his first Training level horse trials in February 2015.
Leslie Law (GBR) and his and Carmen Anderson's stunning grey gelding Call the Law, another 7-year-old Irish Sport Horse, is second in the two-star with a 42.2. Amanda Beale Clement, 16, and Susie Beale's 13-year-old Thoroughbred Peter Pan scored a 45.2 to secure third place in their first two-star appearance together.
Maren Foster and Caribbean Soul are at the top of the CIC* leaderboard with a 43.4. Maren has brought the now 9-year-old Thoroughbred mare up from the Novice level. This is their second FEI appearance having completed the Red Hills CIC* earlier this month. Dani Sussman and Dani and Kristin Martin's Howard County Hank are second in the CIC* on a 48.9. Haley Curry and Resolute Protector round out the top three with a 49.2.
Due to inclement weather incoming on Sunday, tomorrow's schedule has been altered so that the FEI divisions will complete both show jumping and cross country in one day. Stay tuned for much more from Poplar Place including a virtual course walk of the CIC3* cross country and a special volunteer spotlight.
Poplar Place Farm CIC & H.T. [Website] [Live Scores] [EN Coverage]