Once more unto the breach, dearest pals – we're back and heading straight into the final session of dressage here at the Land Rover Kentucky Three-Day Event.
Here's a recap of this morning's scores – you can get the full run-down of the action on the morning report, ably penned by our intrepid lead writer, Shelby Allen. Or, catch up with a browse through this morning's open thread. We'll be getting underway shortly with our first rider in the ring, Lancaster, ridden by Waylon Roberts.
Let's do this thang!
#LRK3DE: Website, Schedule, Entries & Drawn Order, Live Scores, How to Watch Live, USEF Network, Horse & Country TV, EN's Coverage, EN's Instagram, EN's Twitter
3.20 p.m.
3.17 p.m.
Cross-country kicks off at 10.30 a.m. tomorrow – we'll be bringing you everything you need to know, plus a jam-packed afternoon report, soon.
3.10 p.m. 
That's it for dressage here at the 2019 Land Rover Kentucky Three-Day Event! Here's the top ten going into tomorrow's main event:
3.07 p.m.
A 33 for Lauren and Vermiculus, which puts her in 12th and 13th place on her two horses as we move ahead to the cross-country.
3.06 p.m. 
An unplanned flying change on the final centerline mars what is otherwise a very good test for Lauren Kieffer and Vermiculus.
3.05 p.m.
3.03 p.m.
Boyd's score is updated to 27.9. He moves into third, while Felix Vogg slips down to fourth.
3.01 p.m.
Our last horse and rider combination to perform their dressage test is Lauren Kieffer and Vermiculus. Lauren's riding with bridged reins – an interesting technique to stabilise the contact, and one which we tend to associate much more with cross-country than dressage.
2.58 p.m.
A quick high-five between Buck and Lauren Kieffer as he walks out and she trots in. Buck scores a 35.9 with Copper Beach.
2.57 p.m.
Argh! Some real issues with the final change, but a nice trip up the last centreline and a lovely, decisive halt.
2.56 p.m.
Wow, what an extended canter! Copper Beach is a slightly heavier type, very Irish-looking, and he charges across the arena like a war horse. Beautiful change at the end, too.
2.54 p.m.
Copper Beach is one of those horses you just want to have a sit on yourself – he looks so kind and game, and he's a lovely stamp.
2.52 p.m.
Buck Davidson is back in the ring as our penultimate competitor, this time riding Copper Beach.
2.51 p.m.
Equal third for Boyd Martin and Tsetserleg! He's on 28 – the same as Felix Vogg, who also trains with Boyd's wife, Silva. She's obviously paid attention to EquiRatings, who tell us that 28 is the magic number for winning a five-star.
2.50 p.m.
2.49 p.m.
2.47 p.m.
Tsetserleg looks so much like his sire, Windfall. But he also has occasional flashes of another smart little black horse – the great Charisma.
2.45 p.m.
Boyd Martin is in the ring now with his WEG mount, Tsetserleg. It's looking very smart so far.
2.42 p.m.
It's a 35.5 for Doug Payne and Vandiver – "maybe he'd have scored a couple marks better if he'd worn a belt," remarks his friend Will Faudree.
2.41 p.m.
39.6 for Sharon White and Cooley On Show.
2.39 p.m.
A bit frustrating, this test – some really super moments, and then some bits where it just doesn't go quite right. But we see a lovely stretchy circle from him.
2.35 p.m.
Interesting to see Doug Payne's method of using a double bridle with Vandiver – he holds the snaffle rein between his thumb and forefinger, like a driving rein.
2.32 p.m.
Cooley On Show looks like he really enjoys the canter half-passes – they're quite big, bouncy, and playful. Unfortunately his stretchy circle doesn't deliver – he remains high through the base of his neck.
2.29 p.m.
Sharon White and Cooley On Show in now. This is such an impressive horse, with a huge amount of presence, but today he looks a bit fussy. We're seeing some head shaking and a tendency to come above the bit.
2.27 p.m.
35.6 for Hawley Bennett-Awad and Jollybo, the last of our Canadian competitors. That's a full mark better than their average.
2.23 p.m.
Tim Price and Xavier Faer's score has been reviewed and adjusted to 30.9.
2.22 p.m.
The final session is a go.
Hawley Bennett-Awad brings back Jollybo for their third straight start at Kentucky. These two have a 5* average of 36.64 and a personal best of 32.7 for the level. @HBEventing @KYThreedayEvent #dressagedaytwo

— Eventing Nation (@eventingnation) April 26, 2019
1.53 p.m. 
Oliver's score now confirmed as 24.1! I've never even managed that at Training level.
1.52 p.m.
Love that Oliver would be relaxed enough to try and sell a horse to a Pony Clubber in the arena.

— Nico Morgan (@nicomorgan) April 26, 2019
1.51 p.m.
We're onto the next coffee break now – our next rider will be Hawley Bennett-Awad. She rides Jollybo at 2.20 p.m.
1.50 p.m.
1.49 p.m.
1.48 p.m.
"He was a good boy in there – a little bit lazy, if anything, but at the same time he's been in there and done his job again, so I'm very happy," says Oliver. I totally just misheard the rest of what he said – apparently he sold a horse to the mother of one of the Pony Club kids. He didn't, in fact, call her mother a horse. #fakenews
1.47 p.m.
It'll be a 32.5 and into 8th for Phillip and Z.
1.46 p.m.
A nice finish to the test, but poor Z looks a bit shellshocked by all the applause!
1.45 p.m.
A slightly more conservative lengthening this time, and a slightly less quality change, too.
1.44 p.m. 
Nice canter lengthening and a clean, round change in the corner. Z wants to leave his quarters behind as he begins the half-pass, but Phillip quickly corrects him.
1.43 p.m.
Good trot half-passes! They're very correct. The horse looks as though he might be settling into his work now.
1.42 p.m.
Not the best entrance – Z looks a bit tense and doesn't halt quite square.
1.41 p.m.
Phillip Dutton and Z heading in now. Phillip is, of course, the last American to win Kentucky – he took the title with Connaught back in 2008. He'll be riding with a country's hopes on his shoulders today.
1.40 p.m.
Sorry, not sorry.
1.39 p.m.
They've done it! 24.4 for reigning champions Oliver Townend and Cooley Master Class!
1.38 p.m.
Confirmed score of 41.8 for Jessica Phoenix and Bogue Sound.
1.37 p.m.
Good changes! The down transition on the final centreline looks very elevated, too. And the crowd goes MAD – but will it be enough to usurp Piggy's lead?
1.36 p.m. 
Whoops! A spook in the corner could be costly. But Oliver and Coolio haven't let it phase them at all. Oliver really lets the horse reach in the stretchy circle.
1.34 p.m.
Tim Price's scores for his second change will be reviewed at the end of the day for a marking discrepancy. His score could change as a result.
1.33 p.m.
Coolio really is a consummate performer. They put a 28.7 on the board last year – they'll be aiming for better this year.
1.32 p.m.
Who wants to put a fiver on this? Let's make betting on dressage a thing.
1.31 p.m.
HERE WE GO. Our reigning Kentucky champions are heading in the ring. It's Townend time.
1.29 p.m.
What a happy sort of chap Bogue Sound seems! He and Jessica Phoenix are all smiles as they head to the bit check.
1.28 p.m.
1.25 p.m. 
Jessica Phoenix and Bogue Sound now in for Canada – they're showing us some nice work so far, but Bogue Sound has his tongue out throughout. That could be costly for them.
1.23 p.m.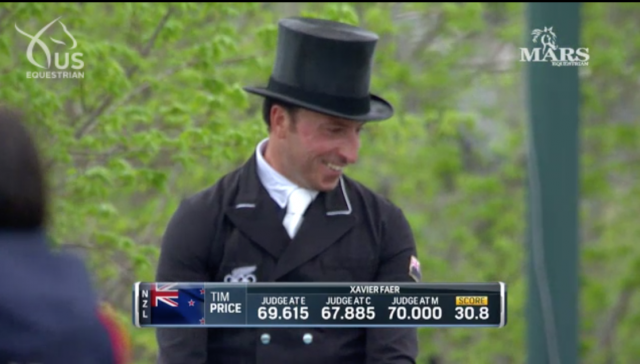 30.8 for Tim Price and Xavier Faer – they move into third place, below Felix Vogg and Colero.
1.21 p.m. 
Nice finish to Tim and Hugo's test. We'll bring you their score shortly.
1.20 p.m.
The next change isn't quite as clean. Hugo anticipates it and bobbles.
1.19 p.m. 
Hugo comes above the contact for a moment in the rein-back – that's the first little problem we've seen. Now we're into the canter work, which is looking cadenced; the first change and half-pass look good.
1.18 p.m. 
Nice and accurate so far – Tim might seem like the most laid-back man in the world, but he doesn't miss a tick. That's so crucial for Hugo – he's not flash, so he must be correct to be competitive.
1.17 p.m. 
Xavier Faer – known at home as Hugo – can be a bit of a tricky character in this phase, but he's also very capable on his day – he was third at Badminton a few years back after three brilliant performances. Fun fact: he's also a half-brother to Jonelle Price's Luhmühlen winner Faerie Dianimo.
1.16 p.m.
1.15 p.m.
39.6 for Matt Flynn and Wizzerd.
1.14 p.m.
Next in will be Tim Price and Xavier Faer. Tim is the reigning Burghley champion, and is here to chase the second leg of the Rolex Grand Slam – and crucial points in his quest for the premiere place on the world rankings.
1.12 p.m.
This is a five-star debut for both Matt and Wizzerd. We're seeing that pressure get to them slightly – Wizzerd isn't making the changes easy for Matt. But he's obviously a very classy horse – it'll be exciting to see what they go on to do this weekend.
1.09 p.m. 
The #ladzclub is out in force at the start of this final session – now we're seeing Matt Flynn and Wizzerd in the ring. Wizzerd's tiny button plaits look incredible!
1.07 p.m.
32.7 puts Waylon and Lancaster into equal sixth with Hallie Coon and Celien. That's almost bang on their average.
1.05 p.m.
Waylon has got a jolly good cheering section in the stands! #Beatlemania
1.04 p.m.
Very tidy half-pass steps and a nice stretchy circle from Lancaster – but his tension is showing through in places as he comes above the bridle and darts forward.
12.57 p.m.
Waylon Roberts and Lancaster head down the centreline – they're another of our competitors representing Canada here this week.
Comments