As we established earlier today via this word association game, four out of four Rolex riders associate the words "selfie" and "hashtag" with Laine Ashker. Girl has over 6,000 Instagram followers (@laineyeah) and has perfected the art of pursing her lips while staring coyly into the lens of a camera.
So it's no wonder approximately one zillion fans showed up for a "selfie opp" with Laine at the Equiflexsleeve booth during the lunch break today.
Naturally, there was a great deal of selfie-taking, including the use of a device known as the "selfie stick" typically reserved for professional selfie-takers.
There were free-flowing bubbles — Laine's currently sitting in second place behind Michael Jung on a 44.2, after all.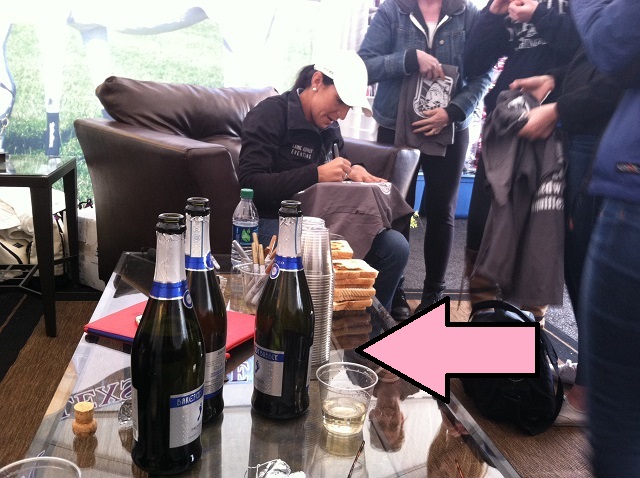 And last but not least, there was a little dog in a pink fur-lined coat. #becausewhynot
But there was one selfie surprise that I'm pretty sure nobody saw coming.
Selfie. Toaster.
I know. I didn't know such a thing even existed, either. BUT IT'S REAL, GUYS. Apparently you send in a selfie to the manufacturer, The Selfie Toaster, and they send you a custom selfie insert in the likeness of your face.
Boom. Laine's face on a piece of toast. (Naturally, Chinch had to get in on the action.)
Earlier this morning on the Open Thread, John joked, "Lainey and Al will be piloting the first ever selfie helmet cam on Saturday." Don't know about that, but she will be in it to win it come cross-country day — and she says the course looks to be right up Al's alley. She kindly took a few moments to chat with us post celebrity mobbing about her test and her game plan going forward.

Here's wishing Laine the best of luck throughout the weekend! Having snuggled the EN Chinch, she's got a big dose of EN karma heading her way.
Check out additional pics from Laine's Equiflexsleeve appearance on Facebook and Twitter. Learn more about these innovative compression sleeves, which employ a proprietary blend of multi-tensioned fibers infused with antimicrobial technology for therapeutic joint support, by visiting their website here.
Go Laine. Go Eventing!