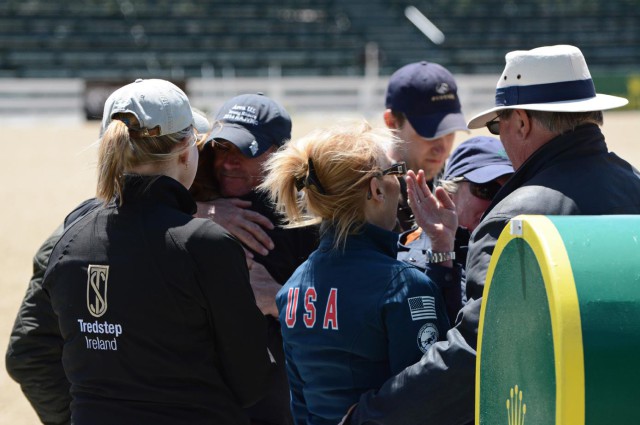 Welcome to Rolex day one, afternoon edition!
The USEF Network will be streaming live all day today for those in the U.S. and Canada, and you can click here for times and options for watching if you are not in North America.
A cold and windy morning led to some fresh horses here at the Kentucky Horse Park for the early Rolex rides. We'll see how the weather and the scoreboard evolve right here on the afternoon open thread. Refresh this page frequently for the latest updates from dressage this morning, and don't forget to follow us on Twitter for live scores and commentary. Go Rolex!
#RK3DE: Website, Entries, Schedule, Ride Times, Live Scores, How to Watch Live, EN's Coverage, Ultimate Guide to Rolex, Twitter, Instagram
—
Your top 10 after the first day of dressage at #RK3DE: pic.twitter.com/h7P4AYbSzF

— Eventing Nation (@eventingnation) April 23, 2015
4:39 pm ET: One more gif of Good Knight getting some love.

4:33 pm ET: Jolie Wentworth and Good Knight capped off a great day of dressage with a test punctuated by excellent counter-canter work. They head into cross-country on 51.2.

58 for Boyd Martin and Crackerjack #eventinglive #RK3DE

— Eventing Nation (@eventingnation) April 23, 2015
4:27 pm ET: In dressage, we want to ride close to the rail, especially into and out of our corners, but Boyd and Cracker Jack got a bit too close, hitting the rail a few times throughout their test. Boyd and Cracker Jack will head into Saturday on a 58.
Patch says, "I did it!" #RK3DE #eventinglive pic.twitter.com/98zRG5Tokj

— Eventing Nation (@eventingnation) April 23, 2015
4:11 pm ET: Sharon had a much improved ride aboard Wundermaske this year. The only real issue in the test occurred when Sharon went off course to tack on a couple of unfortunate points, but she got right back into the test like the true professional that she is. Sharon capped the test with 4 awesome changes for a 57.2.

@BDJEventing being a good ambassador asks the ring gate girl to pickup the trash in the middle of the ring #RK3DE

— Eventing Husband (@EventingHusband) April 23, 2015
4:04 pm ET: Buck has taken his time developing the lovely Petite Flower. Their path together includes bringing her to Rolex last year for just the dressage. Petite Flower looked to get tenser and tenser as the wind and atmosphere took their toll.

3:57 pm ET: With 3 rides at Rolex, Phillip Dutton is one of the USA's best hopes to reclaim the Rolex crown. Phillip will go into the weekend with Fernhill Cubalawn on 50.7.

3:49 pm ET: Get a horse for free, take it to Rolex. Just another day in eventing for Angela Grzywinski. Between Rolex rookies, free horses, and fist-timers over 50 years old, this has been an afternoon full of inspiring four-star moments.

3:38 pm ET: California's Bunnie Sexton is competing in her first four-star at over 50 years old. All of us with hopes of riding in a first four-star someday can take hope that it is never too late to pursue the dream. Bunnie rode a very tense "Echo" through some challenging changes, and they will head into the weekend on 69.0.

Austin O'Connor and Balham Houdini score 57.8 #RK3DE #eventinglive pic.twitter.com/r6xC2HZW3q

— Eventing Nation (@eventingnation) April 23, 2015
@FWeventing chats with reporters after his #RK3DE test #eventinglive #WheresWhittington pic.twitter.com/MJzseFyQD1

— Eventing Nation (@eventingnation) April 23, 2015
Sheer lunacy! https://t.co/XHco9Md5fB

— samantha clark (@samanthalclark) April 23, 2015
3:28 pm ET: The story of @Rol*xHusband, now @EventingHusband in the Twitter-verse

3:23 pm ET: As the last break starts here at Rolex, I want to give one last shout-out to John Kyle, the tubby talker himself, the golden pipes incarnate, for awesome commentary on the USEF Network, along with John's guest commentators. I'm having a fantastic time listening along from deep inside the KHP Media Center, and I'm sure the rest of EN is enjoying the commentary as well, all over North America. Sorry, Europe, I'm not sure who is doing the FEI TV commentary, but I doubt they are as good [Update: Apparently FEI TV just uses JK and his guests as their commentators too — brilliant!]. Guest commentator Liz Halliday-Sharp made a great point that even horses with experience at the biggest competitions Europe can find the KHP grand stands an intimidating environment — there's nothing quite like this venue in eventing.

3:17 pm ET: Ellen Doughty-Hume will have to work hard to top her weekend at Rolex last year, after getting married on the grounds of the Kentucky Horse Park in 2015. The hope for Ellen this weekend is a completion, and we'll all be cheering her on.

Ellen Doughty-Hume and Sir Oberon in the ring now. Ellen rode down the aisle last year on "Obie." #Rolex15 #RK3DE pic.twitter.com/91Oyv90NTY

— Practical Horseman (@prachorseman) April 23, 2015
3:11 pm ET: Jennie Jarnstrom of Sweden's Rolex ended much too soon today when disobedience by Cape Town forced the Ground Jury to ring her out of the arena. Of course, Cape Town stood like an angel as Jennie spoke with Ground Jury President Angela Tucker after the bell had been rung. We have all been there. I just hate to see Jennie going through it after all of hope and hard work that is the road to Rolex.

@JimmieHSchramm signs autographs after her #RK3DE debut with Bellamy #eventinglive pic.twitter.com/F0veqFeAzl

— Eventing Nation (@eventingnation) April 23, 2015
3:00 pm ET: Emily Cammock of New Zealand and her first time four-star horse Dambala worked their way through a couple early bobbles, including the dreaded arena-rail-hoof-knocking-spook to finish a solid test, capped off with several nice flying changes.

Jimmie Schramm & Bellamy score 63.7 pic.twitter.com/QSyjZSQqNG

— USEF Network (@USEFNetwork) April 23, 2015
2:55 pm ET: Bit check time for Jimmie Schramm and Bellamy after delivering a 63.7. Jimmie was emotional after her first Rolex dressage ride. The awesome rookies roll on throughout this afternoon in Kentucky.
Dom warms up Jimmie for her #RolexRookies debut #RK3DE pic.twitter.com/zoI534UsyU

— Eventing Nation (@eventingnation) April 23, 2015
2:39 pm ET: Francis Whittington of Great Britain came to Kentucky expecting great results aboard Easy Target. Easy Target is owned by Mrs. Catherine Witt, who also owns last year's Rolex Champion, Bay My Hero. Francis was likely hoping for a stronger score, but he will go into the weekend in striking distance with a 48.2.

2:34 pm ET: Lisa Barry did a good job of keeping a fit-looking FIS Prince Charming paying attention to her aids. Lisa was all smiles after her test, and for good reason.

2:21 pm ET: West-coasters Barb Crabo and Eveready are seeking their first four-star completion after a string of good three-star results out west. Barb rode an extremely accurate test to put herself in a great position on a 53.7.

Rick Wallace reacts to his daughter Elisa's dressage test with Simply Priceless in her #RK3DE debut. 4th place! pic.twitter.com/p0FY4gWbQm

— Eventing Nation (@eventingnation) April 23, 2015
2:17 pm ET: So far this afternoon, Rolex rookies have been laying down tests that would please veterans. Most notably, Elisa Wallace moved into temporary 4th aboard Simply Priceless with a 50.8. Love seeing the Rolex rookies enjoying themselves!

Lean back, Chinch!!! pic.twitter.com/GgN6t3YHag

— Eventing Nation (@eventingnation) April 23, 2015
Sara Kozumplik Murphy and Fly Me Courageous 65.3 #RK3DE

— UK Eventing Blog (@UKEventingBlog) April 23, 2015
2:02 pm ET: Flowing shoulder-ins showed off Fly Me Courageous' athleticism on the flat as part of a well-ridden test by Sara Kozumplik Murphy. Sara is catch riding this horse for a student this weekend, so completion is surely the goal. They struggled with a few understandable moments of miscommunication as Sara tried to package her horse. Sara will move on having ridden a test that should make her proud.

Lift your eyes, Hawley! #ohbuck #catchride #whateventersdointheirsparetime pic.twitter.com/OGqw5DfAsT

— Eventing Nation (@eventingnation) April 23, 2015
Leah Lang-Gluscic & AP Prime score 68.3 pic.twitter.com/eoYVCTS4z4

— USEF Network (@USEFNetwork) April 23, 2015
1:51 pm ET: I remember the first time Leah emailed me about guest writing for EN. She was an investment banker turned full-time eventer who had just quit her job to pursue the eventing dream. And here she is riding at the highest level of our sport just a few years later. I know I won't be alone in cheering this pair on for the rest of the weekend. 54's across the board left Leah and her Illinois OTTB, AP Prime, with a 68.3, provisionally.

Need a cuddle, Phillip Dutton? #snugglebuddy #chinchlove #goeventing pic.twitter.com/pOhpqAkfI8

— Eventing Nation (@eventingnation) April 23, 2015
1:46 pm ET: My life's work is finally complete.

1:44 pm ET: Fan-favorite Elisa Wallace used her experience calming mustangs to ride Simply Priceless to a wonderful quiet test. Simply Priceless got better and better for Elisa and didn't give the judges a moment's opportunity to take points away. Team Wallace should be thrilled with their score of 50.7. What a Rolex debut!

"Just another day at the office." – Last minute pep talk from KOC to Rookie Elisa Wallace. #RK3DE

— Eventing Nation (@eventingnation) April 23, 2015
In their first time in Rolex Stadium, Canadian Cody Sturgess and Imperial Melody receive a provisional score of 59.900. #Rolex15 #RK3DE

— Practical Horseman (@prachorseman) April 23, 2015
1:34 pm ET: The mare show continues as the 15 hand, 3 inch Imperial Melody was presented by Cody Sturgess of Canada. I'm not familiar with Cody, but USEF Network guest commentator Will Coleman was singing this mare's praises on the cross-country, so I'm excited to watch this pair on Saturday.
65.7 for Julie Norman and Consensus #RK3DE #eventinglive pic.twitter.com/qbPEAf6xzj

— Eventing Nation (@eventingnation) April 23, 2015
#RK3DE scores so far: pic.twitter.com/FZGeDSOyrh

— Eventing Nation (@eventingnation) April 23, 2015
1:26 pm ET: It's hard to see the conditions on the USEF Network feed, but commentator John Kyle and guest commentator Will Coleman are doing a great job of explaining what the riders are dealing with. Wind + cold air + an impressive setting in the KHP main arena are challenging pairs to communicate well despite the tough context. Coleman pointed out that many of the horses competing this weekend are coming from areas that have been warm recently, including Florida, Virginia, and California.
59.100 is the provisional score for Sally Cousins and Tsunami. #Rolex15 #RK3DE

— Practical Horseman (@prachorseman) April 23, 2015
1:22 pm ET: Sally Cousins rode Tsunami with veteran poise, dialing back the aids and riding a bit conservatively to preserve the best score possible in an environment that has caused more than one horse to lose focus today.

1:16 pm ET: Starting after the lunch break, Caitlin Siliman had to work hard to keep Catch A Star focused. The mare perhaps was keyed up by the wind and atmosphere at the grand stands. Caitlin redeemed as many points as she possibly could with a very correct position, especially in the canter work. This fan-favorite pair will go into the cross-country with a 70.3 and the entire Rolex crowd cheering them on.
Go Eventing.