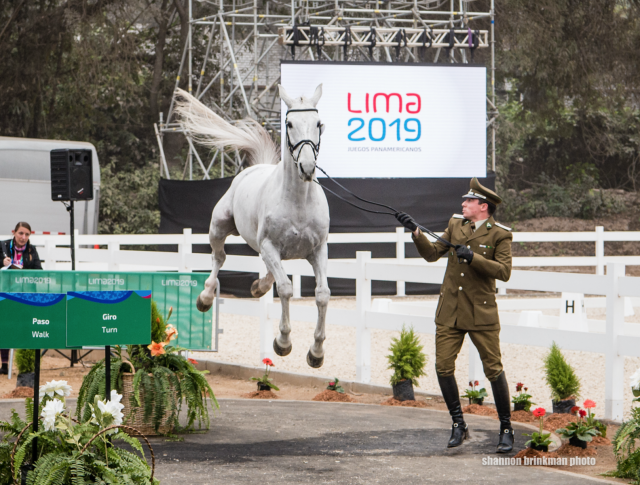 This Chilean horse is all of us on the eve of the 2019 Pan American Games. Photo by Shannon Brinkman.
Did you know that humans are the only animals who have an obsession with shiny objects? There's a popular misconception that magpies do as well, but science says that's garbage, and barracuda are only attracted to sparkly things because they mistake them for delicious fish dinner. Humans, on the other hand, are drawn to all that glitters — from disco balls to diamond rings — like moths to a flame (to reference a bit of nature mythology that IS legit, as you know if you've ever seen those suicidal ding-dongs nosedive straight into a campfire.)
This week, no one is feeling the magnetic pull toward shiny objects stronger than the 10 eventing teams contesting the 2019 Pan American Games in Lima, Peru. A gold or silver medal means 2020 Tokyo Olympic qualification, and since no countries from FEI Olympic Group D (North America) and E (Central and South America) qualified at the 2018 WEG Tryon, those medals are going to be a at a premium in Peru.
Who'll be setting off the Lima airport metal detectors with their new gold jewelry come next Monday? We'll find out soon enough, as eventing is officially underway.
Forty-six horses, including five U.S. and four Canadian combinations, presented at the first horse inspection this morning at Equestrian Club Militar La Molina. Three horses were sent to the holding box: Jhonatan Fabian Rodriguez's Caipirina from Colombia, Carlos Villarroel's Quilano from Chile and Ricardo Jequier's Barbecho from Chile. Caipirina and Quilano passed upon re-inspection and Barbecho was withdrawn; however, Chile presented five horses in total so will still have four horses competing. Mexican reserve rider Fernando Parroquin Delfin did not present Romana. All other horses passed.
Team USA jogged fifth of the 12 nations participating in the competition, with traveling reserves Liz Halliday-Sharp and Cooley Quicksilver leading off followed by Tamie Smith and Mai Baum, Lynn Symansky and RF Cool Play, Doug Payne and Starr Witness, and Boyd Martin and Tsetserleg.
Team USA:
Canada and Brazil already had their Rio Olympic qualifications in hand ahead of the 2015 Pan American Games in Toronto, but not so this go-round. They'll be battling it for a slice of sparkle pie as well, and both are represented by strong squads.
Team Canada:
Forty-two horses will compete on dressage day tomorrow, which begins at 10 a.m. We'll be along later today with a cross country course preview so do check back. Until then, Go Eventing!
A few more photos from the indomitable Shannon Brinkman for you to Peru-se (har har — you miss Jenni already, don't you):
Pan American Games: Website, Entries, Technical Manual, Dressage Individual Live Scores, Dressage Team Live Scores, Ultimate Guide, EN's Coverage
Comments