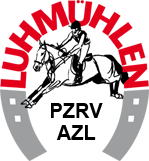 Luhmuhlen
(June 17-20) is the last chance for US riders to prove themselves at a four-star before the World Equestrian Games in September. The six US pairs that might go to Luhmuhlen are:
Will Coleman and Twizzel
Michael Pollard and Wonderful Will
Allison Springer and Arthur
Amy Tryon and Coal Creek
Jennifer Wooten and The Good Witch
Kate Ditchy Hicks and Belmont
These six pairs have applied to go to Luhmuhlen (you have to apply to compete abroad) and the USEF has accepted all six entries. All of the 6 Luhmuhlen applicants have sent in WEG applications except for Kate and Belmont. Twizzel is the one A-listed horse on the list and of course missed Rolex due to Will's broken collar bone.
Pairs accepted by to compete abroad are not obligated to go, and I would guess that not all 6 of these names will actually make the trip to Germany. Gehe eventing, da?
Comments