Galway Downs is the final Area VI competition of the year, drawing in west coast riders for a world-class competition to close out the season across CCI2* and CCI* divisions.
Madison Temkin piloted her own Dr Hart to the top of the CCI2* leaderboard at Galway Downs after a foot-perfect cross cross country performance in the 11-year-old Thoroughbred's debut at the level. The pair ride into the final phase on their dressage score of 32.7.
James Alliston and Laura Boyer's Pandora follow in second place. The 8-year-old Swedish Warmblood has a pony-like appearance, but dismisses that quickly with her incredible talent over fences. She and James also remain on their dressage score of 34.6.
Returning to the west coast after a stint east, Mallory Hogan and Clarissa Purisima are in third with a super performance under the clock. They carry 35.1 points into the final phase.
Many in the division came out of the cross country relatively untouched as seven in the 10-horse division jumped double clear, but rails tend to fall easily on the third day, and no one at the top has room for error.
The tie for first place in the CCI* remains shared between Megan Skyes and Charlotte Babbitt after cross country — both remain on a score of 25.
Megan and Classic's Mojah, a former dressage horse turned eventer, came home inside the time. The 9-year-old Oldenburg had a time of 6:54, which puts them slightly closer to the optimum time of 7 minutes 5 seconds if the tie continues after the final phase.
Charlotte and 2AM in the last combination of the CCI*

Posted by Chocolate Horse Farm on Saturday, November 3, 2018
Charlotte Babbitt and 2 A.M. looked fresh and ready in this morning's horse inspection and will be looking to finish on their dressage score in their first CCI* completion.
Asia Vedder is waiting in the wings with Isi. They carry a 26.6 penalty points for third place. Auburn Excell-Brady is in fourth with BSP Tuxedo on 27.7, and Leigh Mesher is fifth with Finally DG on 27.9.
The one-star will jump in reverse order of standing at 11:30 a.m. PST/2:30 p.m. EST, and the two-star will follow at 2 p.m. PST/5 p.m. EST. You can watch the finale live thanks to Ride On Video.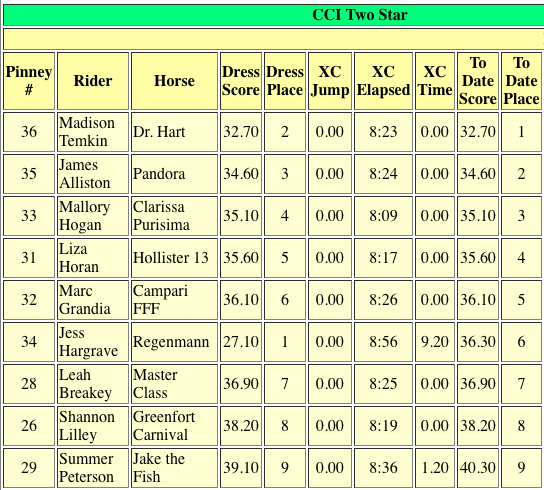 Galway Downs CCI & H.T.: Website, Entry Status, Ride Times, Live Scores, Live Stream
Comments