Top of the morning to ya! I'm about three coffees in from my very early West coast alarm today, so pardon any additional excitement I may show during today's cross country action. We're in for some spectacular eventing today with the conclusion of the CCI3*S and CCI4*S here at MARS Great Meadow International. You'll want to refresh this page periodically, as I'll be adding live updates as the day unfolds.
In the CCI3*S class, we saw some gritty riding around yesterday's Chris Barnard show jumping class. It's due to be a hot, muggy morning in Virginia, and David O'Connor surely has some tricks up his sleeve to challenge riders around his tracks today.
You can reference a map of the CCI3*S track here. The optimum time for this course is 6 minutes and 27 seconds.
Our pathfinders this morning will once again be Marley Stone Burke and LVS Dassett Charisma, who lowered one rail yesterday to remain in the top 20 on a score of 39.1. Our overnight leaders Lynn Symansky and RF Cool Play will go out of the box closer to 11 am ET. We should be seeing horses sent out of the box on quicker intervals than originally scheduled to make room for an earlier finish so that we can beat some of that nasty heat and humidity.
#MARSGMI:Website, Schedule, Live Stream, Entries, Ride Times, Order of Go, Live Scores, EN's Coverage, EN's Twitter, EN's Instagram
10:57 am ET: And that's a wrap for the CCI3*S! Lynn Symansky and RF Cool Play are your winners and we have another all lady leaderboard to add! Here's your final top 5. We'll be back with a new live thread for the finale of the CCI4*S in just a short bit!
10:51 am ET: Allison Springer and Crystal Crescent Moon activate the frangible pin at the Piedmont Equine Open Oxer at 4. A great time to remind you that the USEA Frangible Fence Fund can still use your support!
10:49 am ET: Elizabeth Teufer turns in the third double clear of the day with Belongs to Teufer. Maya Black and Maks Mojo C have a disagreement at 6AB but they're clear and showing off a lovely gallop.
10:45 am ET: A strong shot over this Brook Ledge Open Oxer for Elizabeth Bortuzzo and Belongs to Teufer:
10:45 am ET: Karen points out the importance of not allowing your foot to get behind your knee. "The horse will overpower you" at that point, so knowing how to keep your feet in front and slip the reins is an important skill and reaction to build for an event rider.
10:43 am ET: Kurt Martin and Compromise Elsewhere have unfortunately parted ways at fence 19. They both look to be fine, but still a bummer. Meanwhile, Amanda Beale Clement gives Carlson 119 a big pat after this gritty ride through 6AB:
10:41 am ET: And there's your winner! Lynn Symansky and RF Cool Play turn in an absolute masterclass of technique and fitness to take home the CCI3*S win with a time of 6 minutes 42 seconds. They'll finish their weekend on a 30.5.
10:38 am ET: Our second double clear of the day is turned in by Anna Loschiavo and Spartacus Q!
10:37 am ET: A lovely demonstration of riding out of rhythm from Lynn and RF Cool Play, owned by the Donner Syndicate.
10:35 am ET: Anna Loschiavo and Spartacus Q as well as Maddie McElduff and Spring Easy both have great clear rounds.
10:32 am ET: Buck gives Sorocaima big pats after the last. What a cool newer ride for him! We'll be keeping an eye on this one. 13.2 time penalties added to this exciting 9 year old's weekend. Now out of the box with 19 seconds in hand are our leaders Lynn Symansky and RF Cool Play.
10:29 am ET: Buck and the leggy Thoroughbred Sorocaima get a great shot over the Brook Ledge Open Oxer at 11.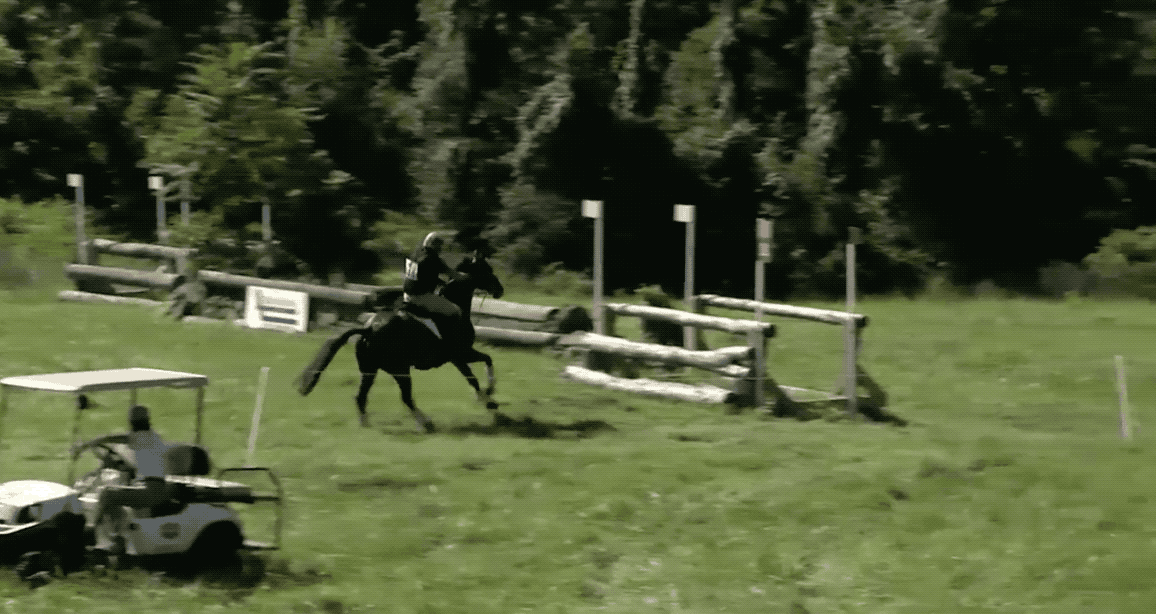 10:26 am ET: Meg Pellegrini and RF Eloquence remain our sole double clear of the day. Emma Keaton and PS Duty Calls leave a leg at the log out of the final water at Sustainability Bay but they stay on their feet.
10:20 am ET: Kimberly Steinbach and Kosmo K take a flag at the Buckeye Brush Corners but they're clear and pulling away up the hill.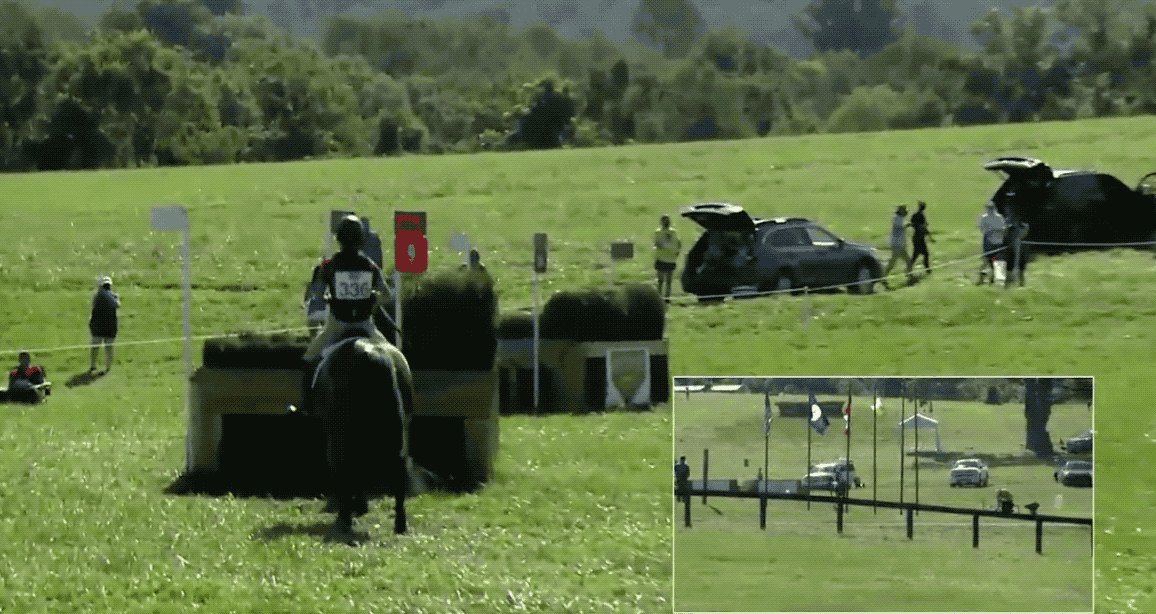 10:18 am ET: Calli Lipping and Wild Affair are home clear with 7.6 time penalties. Gabby Dickerson and Journeyman get up and around the square Buckeye Brush Table at 8.
10:15 am ET: Liz Halliday Sharp and Cooley Be Cool take the clubhouse lead for now with two time penalties added and a provisional score of 32.2.
10:14 am ET: A problem at the oxer at 4 and at the Eventing Nation Trakehner for Heather Bush and Skyfall 007. They'll retire for today and come back for another go next time.
10:12 am ET: Alex Reed turns in the second quickest of the day with a time of 6 minutes and 34 seconds aboard On Broadway.
10:10 am ET: Sinead makes a great point that every time we don't meet a fence on rhythm, it takes away from both time and fitness. Rhythm is the basis of every good, effective cross country ride. Meanwhile, Liz Halliday Sharp shows off some speed with Cooley Be Cool.
10:08 am ET: Save of the day! Alex Reed keeps her head after a strong jump into the water at 13.
10:05 am ET: Horses are looking a little tired after the long pull uphill leading to the final part of the course. The terrain at Great Meadow is superb but does require tactful riding to come home with enough in the tank.
10:02 am ET: Lisa Barry and Rosie's Aventadora show us a view of the third fence. Looking at the map, it looks like at fence three you make a sharper right turn to go away from the barns and warm-up. Perhaps this could explain some funky happenings at this fence.
9:58 am ET: Dang! Looks like Bradley Champagne has also parted ways from Wallaroo W also at the third fence. Sinead explains that after the first two fences, you turn back around to three and perhaps a nappy or herd bound horse might have some distraction here. Annie Goodwin and Mettraise almost have the course to themselves at this point, showing some grit here:
9:56 am ET: Mike Pendleton has pulled up The Fonz Himself at fence 19 the USEA Foundation FTF Table. The horse had begun to look tired a couple fences before, so this looks to be the right decision for the horse. Unfortunately it looks like Benita Strini has had a fall from Superstorm Sandy at fence 3. It sounds like the horse tried to glance off and Benita landed on her feet. Bummer for both.
9:53 am ET: Sinead talks about how fun it is to have a horse that really digs in on a good uphill gallop – The Fonz Himself demonstrates what this looks like:
9:50 am ET: Nicole Aden and Truckee Bash git 'er done at the Eventing Nation Trakehner. This turn from the trakehner to the brush is a bit blind so we've seen a few scrappy rides here.
9:48 am ET: Tim Bourke is giving the young Quality Obsession a lovely, educational go here at Great Meadow.
9:47 am ET: Meg Pellegrini and RF Eloquence are our first double clear of the day! She is inside by two seconds to show us the time is possible!
9:43 am ET: Colleen Rutledge and Confidence Game remain our closest to the optimum time with her time of 6 minutes 36 seconds.
9:40 am ET: Sydney Hagaman carries 60 penalties to finish. Meg Pellegrini and RF Eloquence are out on course with us and having a cracking go so far.
9:37 am ET: Looks like Sydney is carrying two stops now. We're also joined by Cindy Anderson Blank and Windchase Phoenix Star.
9:35 am ET: Daisy Trayford and Ermintrude go home with 14.0 time. Sydney Hagaman and Charmeur have had a runout – not sure where. Unfortunately it sounds like Phillip and Fernhill PickPocket parted ways at the last. Phillip is on his feet.
9:34 am ET: Phillip and Fernhill PickPocket are feeling themselves out there today:
9:30 am ET: Dana Cooke and FE Glamour have a runout at the Salamander Coffin Complex at 17.
9:27 am ET: 5.6 time penalties for Skyeler Voss and Argyle. Dana Cooke and FE Glamour keep their eye on the prize while navigating a little spook:
9:24 am ET: Another problem on course for Barrett and Whole Nine Yards, this time at the same brush corners that caught out Lauren Sumner. Clear on the second attempt. Natalia Neneman had a cracking round aboard Electric Lux – still waiting on her time.
9:23 am ET: Barrett Phillips has a problem at the brush after the Eventing Nation Trakehner at 6AB but they are clear on the second attempt.
9:22 am ET: A great shot to the Brookledge Open Oxer at 11 for Skyeler Voss and the lovely Thoroughbred Argyle.
9:20 am ET: Bummer. Lauren Sumner and Crossfire have two runouts at the Buckeye Brush Corners at 9AB. A third runout sadly sees them eliminated. In other news, it looks like Will Coleman has withdrawn third placed Chin Tonic.
9:19 am ET: A lovely quiet ride through the final water for Will and MTF Cooley Classic.
9:16 am ET: A couple keen gallops from Will Coleman's MTF Cooley Classic and Lillian's Dassett Olympus. Lillian came home with 15.6 time penalties.
9:15 am ET: 8.8 time penalties for Mike Pendleton and Bonito. Lillian Heard is having a lovely go aboard Dassett Olympus. Natalia Nenemen and Will Coleman are all also on course. A lot to keep up with here!
9:14 am ET: Sinead talks about using the natural lay of the ground to build a young horse's confidence. Letting them gallop and find their balance downhill and not pushing them past their balance uphill are ways to naturally induce confidence.
9:10 am ET: A quicker round for Colleen and Confidence Game, finishing with 3.6 time – a time of 6:36, nine seconds over.
9:10 am ET: 10.8 time for our pathfinders Marley Stone Bourke. Only two pairs in this division made the time last year – Marley was traveling pretty well so we'll see who can get home inside the time today.
9:08 am ET: Hey, that's our jump! Mike Pendleton and Bonito make quick work of the Eventing Nation Trakehner combination at fence 6.
9:07 am ET: Colleen sees a great shot on Confidence Game:
9:03 am ET: Marley and LVS Dassett Charisma are having a cracking round so far. Huge shout out to the ring crew and volunteers for breaking down show jumping quick enough to clear the way for horses to gallop through!
9:00 am ET: Our first pair is all set to head into the box! Marley Stone Bourke and LVS Dassett Charisma will be our pathfinders. Both CCI3*S and CCI4*S will be run in numerical order.
Comments