We're almost wrapped up here at MARS Great Meadow International, but we still have the exciting finale of the premier CCI4*S before we go home. Show jumping proved to be not quite as influential as some courses from years' past, but nonetheless we expect some movement on the leaderboard to finish out the day.
Will overnight leaders Marilyn Little and RF Scandalous hang on to take the win? Or will another pair steal the crown? The optimum time for David O'Connor's 4*S track today will be 6 minutes 45 seconds, and you can view the course map here. Refresh this page periodically to see the latest updates from the final division of #MARSGMI!
#MARSGMI:Website, Schedule, Live Stream, Entries, Ride Times, Order of Go, Live Scores, EN's Coverage, EN's Twitter, EN's Instagram
2:52 pm ET: Sinead reports that the GJ has approved the score and Liz will take home the win! Stay tuned for Shelby's full report and beautiful photos from Shannon Brinkman. Many thanks to the top tier organizing team, the commentators, volunteers, riders, grooms, and the team at Horse & Country TV for a wonderful weekend of eventing! It sure was nice to feel a little normal for just a little bit. Thanks for hanging out with me!
2:50 pm ET: "I was very happy with Off the Record," Will says to Karen. "He's still building himself back up, but I thought he had a good weekend."
2:49 pm ET: Here's the flag in question, according to the live stream. Seems fairly clear to me..
2:45 pm ET: Sinead says there is a little bit of controversy over a flag right now. Stay tuned while we get final word on this. The jump in question is fence 17, the MARS Sustainability Bay final water question.
2:45 pm ET: "I was under a lot of pressure being last to go…He's a champion and he fought for me," Liz says of the real trier Deniro Z. She says she felt the pressure of going last and that she didn't give Deniro the best ride to some of the last questions, but that he really dug deep and tried for her. "I'm going to own a couple of those little ones that could've been better, but sometimes you gotta win and it's a little bit ugly!" A gritty performance, well done Liz!
2:40 pm ET: Here's your final top 5 from an awesome day of cross country at #MARSGMI! Liz Halliday Sharp takes the win (in her first trip to Great Meadow, no less), Will Coleman in second, Erin Kanara in third.
2:39 pm ET: Shows how much I know – I stand corrected! That's a double clear and a WIN for Liz Halliday Sharp and Deniro Z! A final score of 24.2. Well done!
2:38 pm ET: I think Will's going to take the win here, Deniro looks like he might grab more than 4 seconds of time.
2:37 pm ET: A nice shot of Liz through the Salamander Coffin Complex:
2:36 pm ET: Deniro Z catches his left leg on the Beverly Feed Table at 14 but they recover nicely.
2:34 pm ET: Liz and Deniro Z show off their speed through the arena:
2:33 pm ET: Our final pair and potential winners Liz Halliday-Sharp and Deniro Z are on course!
2:31 pm ET: Phillip sees his stride several strides out:
2:31 pm ET: A look at the jump into the final water at 17, MARS Sustainability Bay:
2:30 pm ET: Clayton Fredericks has pulled up FE Coldplay, who looked to be tiring a bit. We're also joined by Phillip with his final ride and the penultimate of the day, Fernhill Singapore.
2:29 pm ET: A sharp ride through the Buckeye Brushes for Holly and Candy King:
2:27 pm ET: FE Coldplay climbs over the out of the water at 13 and kicks on. Holly Jacks Smither has a great ride through the Eventing Nation Trakehner question.
2:26 pm ET: Clayton Fredericks and FE Coldplay are clear through the big downhill question at 12. Joining us are Holly Jacks Smither and Candy King.
2:25 pm ET: Charlotte Collier and Clifford M are clear through the final water with lots of encouragement. A big "Good boy!" on the out of the last water. Sinead counsels that this pair could carry a bit more balance and speed to make things smoother.
2:24 pm ET: JM Durr and the very genuine looking Tilikum cap off a great weekend with a clear round!
2:22 pm ET: This will truly come down to the wire, as Liz Halliday-Sharp is our last to go today with Deniro Z. She is the only pair remaining who could take the win from Will Coleman and Off the Record. She will have 4 seconds of time on hand.
2:21 pm ET: Jennie wasn't quite fast enough to hang on to that top spot, collecting 5.6 time to finish on a 30.8 but still within the top 5 right now.
2:20 pm ET: Now on course are Charlotte Collier and Clifford M, decked out in their traditional pink. Jennie has finished – was it enough to be on top?
2:19 pm ET: Jennie Brannigan and Stella Artois are clear through the final water. JM Durr and Tilikum are clear through the brushes at 9.
2:16 pm ET: A nice ride through the Salamander Coffin Complex with Mik's Master C. Jennie Brannigan and Stella Artois are going for it and clear through the Buckeye Brush question at 9.
2:14 pm ET: Will Coleman and Off the Record are clear inside the time! He'll finish on a 25.9, leaving just Liz Halliday-Sharp (Deniro Z) and Jennie Brannigan (Stella Artois) left as possible winners.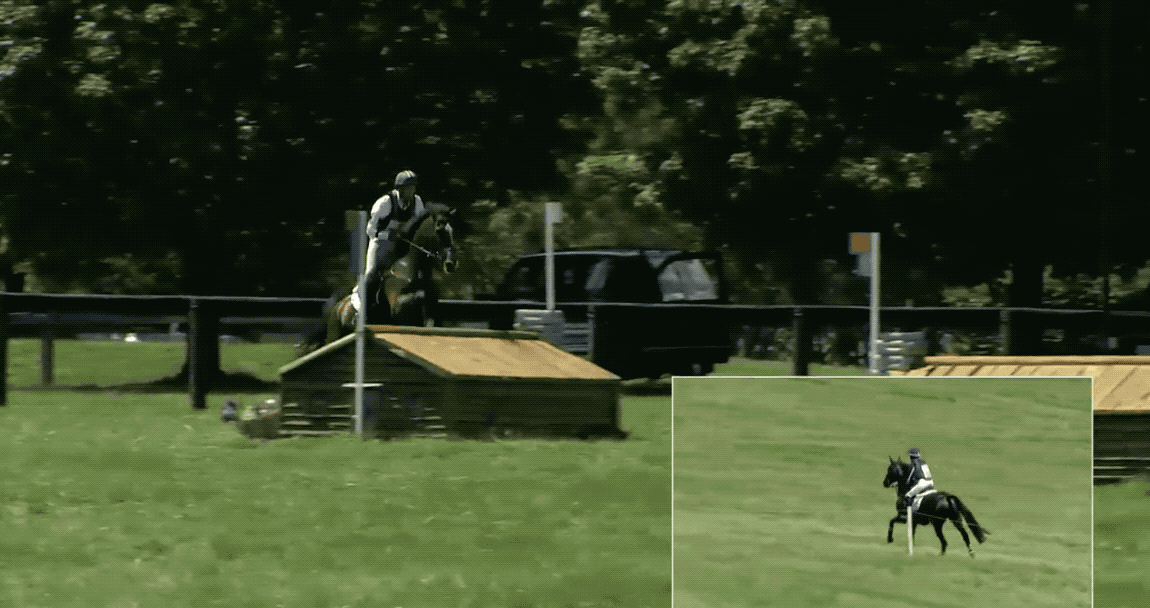 2:12 pm ET: Now joining us on course are Maya Black and Miks Master C.
2:09 pm ET: Will Coleman and Off the Record, one pair that could take the win, are certainly not wasting any time:
2:05 pm ET: Here's a look at the pairs still to come who still have a shot at the win:
2:03 pm ET: Woods will move into provisional second right now with 4.4 time added. They'll finish on a final score of 30.2. Woods is a very exciting rider for the future, you'll want to remember that name.
2:02 pm ET: Woods through the final combination:
2:00 pm ET: Allison finishes with Business Ben, who definitely wishes this was a long format, with 6.8 time penalties. We're also now joined by Will Faudree with his final ride, Caeleste.
1:57 pm ET: A good reminder from Sinead that discussions in terms of balance should happen with enough time to then allow the fence to happen. Also, Lauren Nicholson has withdrawn Landmark's Monte Carlo.
1:56 pm ET: On course now are Woods Baughman and C'est La Vie 135, currently on a score of 25.8 and one of the pairs who could steal the win today.
1:56 pm ET: Business Ben burns off some steam up the hill on the way to fence 12.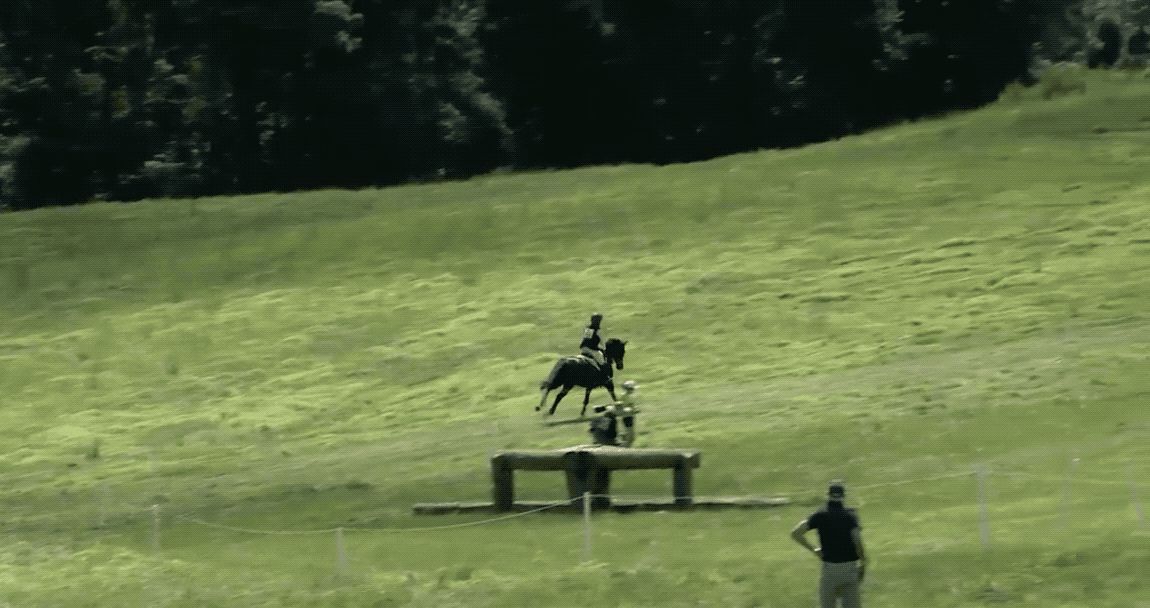 1:53 pm ET: We're back underway with Allison Springer and Business Ben.
1:50 pm ET: Many thanks as always to the crew who keep our events running smoothly! These are unsung heroes – please find a crew member and volunteer to thank at your local event this weekend!
1:49 pm ET: We're on a hold right now for fence repair.
1:48 pm ET: Phillip and Z come home with 3.6 time penalties to finish their weekend on a final score of 31.5.
1:47 pm ET: After a good start, Liz Halliday-Sharp and Flash Cooley sadly part ways at the B element of the Buckeye Angled Brushes at 9. It looked like a bit of a green moment for Flash Cooley, who didn't fully lock on to the B and slid out. Liz was on her feet right away. Bummer!
1:43 pm ET: Phillip has worked hard with Z, who struggled with rideability for the first season of their partnership, and this round is looking much smoother than those earlier rides. Z is described as having the heart of a lion out on cross country. At Kentucky last year, Phillip experimented by taking Z into a quieter warm-up rather than taking on the busy main warm-up before cross country to avoid getting him too worked up ahead of the start.
1:42 pm ET: Sinead points out that Z is "the first horse as brave is Phillip is" – he's a bold one!
1:41 pm ET: Right out of rhythm at the Attwood Sheep Shed for Katherine Brown and Victor Z 54:
1:40 pm ET: Clear with time for fan favorite Kevin Keane and Sportsfield Candy.
1:36 pm ET: Ah, bummer! Jennie comes off of Bliss III at the final combination, Annie's Angled Cabins, after the horse just couldn't make the second jump work. Jennie was on her feet immediately.
1:35 pm ET: Jennie Brannigan goes to her stick to make the final water work. This water has ridden a little long all day; the commentators and Ariel all agree that the jump in has some horses landing a bit flatter footed than perhaps riders may have anticipated.
1:33 pm ET: Ariel comments that coming into the water at 13 quieter actually paid off and allowed for a neater turn to the out, where ordinarily a nice bold jump into the water is what you're going for.
1:31 pm ET: Leah and AP Prime finish with 18.4 time; the OTTB gelding that she purchased for $800 finished looking full of run.
1:30 pm ET: Ariel Grald joins the booth after her lovely double clear round. She says coaches Bobby Costello and Erik Duvander have been working with her on really letting the big Irish Leamore Master Plan go and cover the ground more. That practice certainly paid off today.
1:29 pm ET: 7 pairs remain who could conceivably take home the win this weekend. Stay tuned!
1:27 pm ET: Lovely gallop on CharmKing, piloted this weekend by Lillian Heard for Holly Payne Caravella.
1:25 pm ET: AP Prime always makes Advanced fences look like a Prelim round. Through the Eventing Nation Trakehner here:
1:22 pm ET: Arielle Aharoni and Dutch Times have a runout at the first Buckeye Angled Brush at 9. Joining us now are Leah Lang Gluscic and AP Prime.
1:21 pm ET: Good riding from Alyssa Phillips and Oskar at the out of the water at 13:
1:18 pm ET: Well sat for Missy Miller and a big pat on the out for Quinn at the VT Marion duPont EMC water:
1:17 pm ET: A lovely shot over the big Buckeye Brush Table for Missy Miller and Quinn:
1:13 pm ET: By the way, I owe everyone who I've missed mentioning on this thread (a lot) an apology. The intervals today mean there is a lot of action happening at once, so it's a lot to keep up with! Live scores are being updated in real time here.
1:10 pm ET: "The horse didn't even burn a calorie!" – Karen O'Connor after watching this ride through the Buckeye Angled Brushes at 9ABC by Will Faudree and Mama's Magic Way:
1:09 pm ET: Emily Hamel posted on social media that Corvett started to tie up on the way back from show jumping this morning, so she has sadly withdrawn. Feel better soon, Barry!
1:05 pm ET: Ariel Grald and Leamore Master Plan finish double clear, the third of the day! They'll finish their weekend on their dressage score of 35.3.
1:00 pm ET: Leamore Master Plan and Vermiculus show off their gallops:
12:59 pm ET: Erin Kanara brings Paddy the Caddy home just four seconds over the time. Vermiculus takes a little stutter step into the water with Lauren Nicholson at 13 but finishes the rest of the question well.
12:57 pm ET: Caitlin Silliman and Ally KGO have completed.
12:55 pm ET: A nice ride through the brushes at 9 for Erin and Paddy the Caddy:
12:55 pm ET: A stop at the coffin for Caitlin Silliman and Ally KGO. They're clear on the second attempt.
12:54 pm ET: Erin Kanara is having to have some early discussions with Paddy the Caddy, who seems more interested in going fast than listening to half-halts early on. I feel you, buddy.
12:52 pm ET: Karen emphasizes the importance of practicing riding at speed. She says she can think of no reason not to practice that today with the ground as good as it is.
12:52 pm ET: A fly-by at the Buckeye Angled Brushes at 9ABC for Ally KGO and Caitlin Silliman.
12:50 pm ET: Mia Braundel sits chilly into the water with Cashmere:
12:47 pm ET: Kim and Cooley Cross Border are home clear but just a little too slow to take home the win today. It's still a win for Kim, however, who has worked endlessly hard with Crossy through the years.
12:45 pm ET: Karen gives Kim some vocal encouragement after the coffin. She and Cooley Cross Border are clear through the final water as well as Annie's Angled Cabins, the final combination.
12:43 pm ET: The gamble pays off for Phillip who turns in the second double clear of the day. Kim got herself outside of the gallop lane and had to make an abrupt circle but she's back on track. She has about 20 seconds of time in hand to take the lead, so we'll see how the rest plays out for her. She certainly isn't hanging around.
12:40 pm ET: "Crossy" takes a second to understand the angled brush at 6AB but Kim shows her experience and allows for an extra stride to get it done. Meanwhile, Phillip is taking some risks aboard "Socs" with a few flyer spots later down on the course.
12:39 pm ET: Kim Severson and Cooley Cross Border are on course! They could take over the lead with a clear, quick round.
12:36 pm ET: Phillip Dutton joins us now on the first ride of his own for this division, Sea of Clouds. Hannah Sue and Lukeswell are home clear after a great ride through Annie's Angled Cabins, named for the late and beloved Ann Haller.
12:34 pm ET: A great shot through the Eventing Nation Trakehner combination for Kaelen Speck and Sweet Rebellion:
12:31 pm ET: Hannah Sue and Lukeswell show us that sharp right turn back from fence 2 to 3, which takes you away from the hub of activity.
12:29 pm ET: Whitney Mahloch and Military Mind have a stop at the coffin and have retired.
12:27 pm ET: Whitney Mahloch and Military Mind fall victim to this course's fence 3 with a stop.
12:26 pm ET: A lovely ride through both the Salamander Coffin Complex as well as the final water at the MARS Sustainability Bay for Jennie Brannigan and the quick-footed Twilightslastgleam. This one can gallop!
12:21 pm ET: A great shot over the C element at 12 for Annie Goodwin and Federman B:
12:21 pm ET: Buck Davidson has withdrawn Errol Gobey.
12:17 pm ET: Will Coleman and TKS Cooley get a great shot over the Buckeye Brush Table at 9A:
12:17 pm ET: Holly Jacks Smither has withdrawn More Inspiration.
12:15 pm ET: Liz Halliday-Sharp gives Cooley Quicksilver some vocal encouragement through the final water as he reaches for the B and C elements.
12:14 pm ET: Our first double clear of the day! The first one in two years, in fact! This turned in by Ema Klugman and Bendigo, who had a positively smooth round.
12:11 pm ET: A tad sticky through the angled brushes at 9 for Liz Halliday-Sharp and Cooley Quicksilver.
12:08 pm ET: Lauren is giving us a lesson in quiet and effective riding here. The best riders don't distract with their bodies and even when they get in trouble find the most effective position to accomplish the job.
12:06 pm ET: Lauren Kieffer and Paramount Importance survive a buckled landing at the table at 9. Well sat by Lauren and they recover nicely to take the angled brushes.
12:03 pm ET: Phillip is back with Boyd's Rio partner, Blackfoot Mystery. These two show off their relaxed experience on the long pull up the hill:
12:01 pm ET: Marilyn Little finishes her weekend on a score of 28.2. At this point it's very much still anyone's game should they come home faster. Colleen turns in the quickest with just two seconds of time added. "Good man!" to "CR" over the last.
12:00 pm ET: Covert Rights gets a great big "GOOD BOY!" from Colleen who can always be heard encouraging her horses around every course.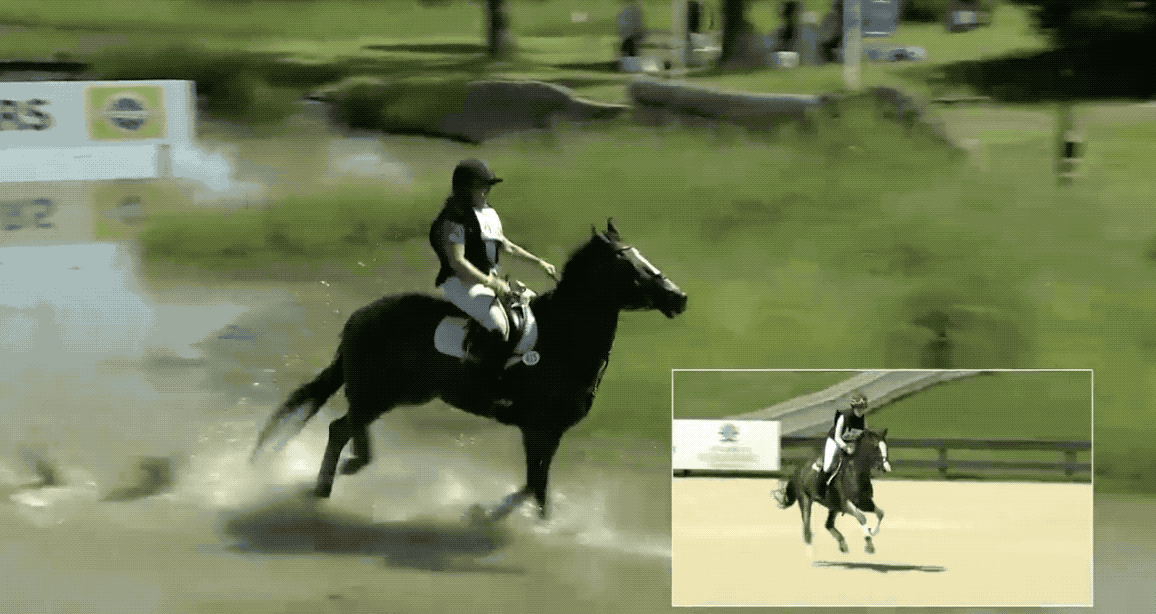 11:58 am ET: Marilyn Little and RF Scandalous are home clear with a time of about 7:17. That should open the door for Kim Severson to step into the lead with a faster round. Colleen Rutledge and Covert Rights are enjoying a quick footed round.
11:53 am ET: Lynn Symansky comments on the value of a horse that has a strong base of fitness. With this season being shortened the way it has, many riders haven't done as much intensive fitness work as they would in a full season. So a horse with a stronger foundation of fitness will always serve you well in the long run.
11:52 am ET: We're now joined by overnight leaders Marilyn Little and a keen looking RF Scandalous.
11:50 am ET: LCC Barnaby hunts the Bull Run Lincoln Logs at 7 like a timber horse:
11:48 am ET: Emily Beshear and Olney Uncle Sam have a drive-by at the first Buckeye Angled Brush at 9ABC and have retired. We're joined on course by LCC Barnaby and Lillian Heard. I could watch this horse run cross country all day long.
11:45 am ET: Victoria Garland and FE Capricino have a small problem at the rails going into 12ABC but are clear on second attempt. She had a great run through the angled brushes at 9 and gave her horse big pats up the hill:
11:43 am ET: Hannah Sue turns in a ride about 9 seconds over with Harbour Pilot. Here's her ride through the final combination at 20AB:
11:40 am ET: Hannah Sue Burnett and Harbour Pilot are having a great run; a few discussions with "William" have him looking super rideable on the second half of the course. Meanwhile, a lovely ride through the 6AB combination for Tim Bourke and Quality Time:
11:35 am ET: I Bella grinds to a halt in front of the brush out of the water at 13. They're clear on the representation.
11:33 am ET: Don Dante shows off that gallop with Will Coleman:
11:33 am ET: CCI3*S winner Lynn Symansky joins Sinead and Karen in the booth, telling us that the course rode super this morning but that the ground was a bit holding from yesterday's rain.
11:31 am ET: Will Faudree makes a quick decision to change his line to the B element of the water at 13 and is clear through there with Pfun.
11:30 am ET: Phillip Dutton and Luke 140 are home clear with 10.4 time, a time of 7 minutes 11 seconds. We're also joined by the two Wills, Coleman and Faudree, aboard Don Dante and Pfun, respectively.
11:29 am ET: Liz Halliday Sharp and the very experienced Fernhill By Night tackle the steep drop at 12:
11:24 am ET: Phillip and Luke 140 are off to a lovely start with efficient use of land and terrain. Karen warns that this angled brush combination, the Buckeye Brush Table and Angled Brush, won't ride as easy as he makes it look:
11:20 am ET: I'm seeing Phillip Dutton and Luke 140, a Boyd Martin ride, circling the box so we may have a withdrawal or at least a delay of Buck and Copper Beach.
11:17 am ET: Welcome to the premier class finale of the weekend! We're just getting set to start and waiting for the final adjustments to be made. Our first away will be Buck Davidson and Copper Beach, an experienced pair currently on a score of 35.7. Just 6.5 penalties separate the top 10, so we should be in for an exciting finish here.
Comments