Well, EN, it has been a hot dumpster fire minute since I've last done a live update for an event, and let me tell you how excited I am to be back in action. We're getting ready to kick off the live action from MARS Great Meadow International in The Plains, VA, starting with the CCI3*-S riders in the show jumping ring at 12:20 pm ET / 9:20 am PT.
You can follow along with a Horse & Country TV+ subscription (which, as a bonus, will also be streaming action from Burgham in the UK this weekend) – click here to see the schedule and learn more. If you're able to, I highly recommend tuning in to the livestream at some point this weekend. We have the privilege of Karen O'Connor and Sinead Maynard in the commentary booth, and there is always so much to learn from this duo simply by listening to their observations. In the meantime, or if you're otherwise occupied, you can reference this post for the latest action. Please refresh this page periodically, as new updates will appear at the top.
A big shout-out to organizing team David O'Connor, Darrin Mollett, Max Corcoran, Steven Symansky, Karen O'Connor, Punkin Lee, and Donna Devadas for the skills it took to coordinate the sixth running of #MARSGMI. With so many event cancelations and changes in 2020, this team has had to pivot in more ways than one to accommodate the demand for a place to compete. Hats off to you, team!
Our show jumping courses this weekend are designed by Chris Barnard. We'll be updating you on both the CCI3*S as well as the 10-horse field of the CCI3*L right here for you. Click here to catch up on the dressage report from the CCI4*S and CCI3*S. Here's a look at the course riders will be tackling:
Great Meadow International: [Website] [Schedule] [Live Stream] [Entries] [Ride Times] [Order of Go] [Live Scores]
5:31 pm ET: Thanks for hanging in there with us today! We'll be back in about 20 minutes with the first half of the CCI4*S show jumping. Here is your final CCI3*L leaderboard:
5:29 pm ET: And she's done it! A wonderful win for Sharon White and Claus 63 on a final score of 31.1!
5:23 pm ET: Fun story, I once competed against Ben Noonan. When he was about 1/3 of the size he is now, in a Starter division back home in Area IV. Now, Ben is 6'2″ and a monster of a rider and it's been such a thrill to watch him grow and develop under the O'Connor system. Ben and Keep Kitty have one mistake for a rail down and will finish on at least third place with a 35.2. Now, will see see Sharon White and Claus 63 take home the win?
5:23 pm ET: A clear for Kimmy and Bishop – sorry to keep focusing on this jump but I mean…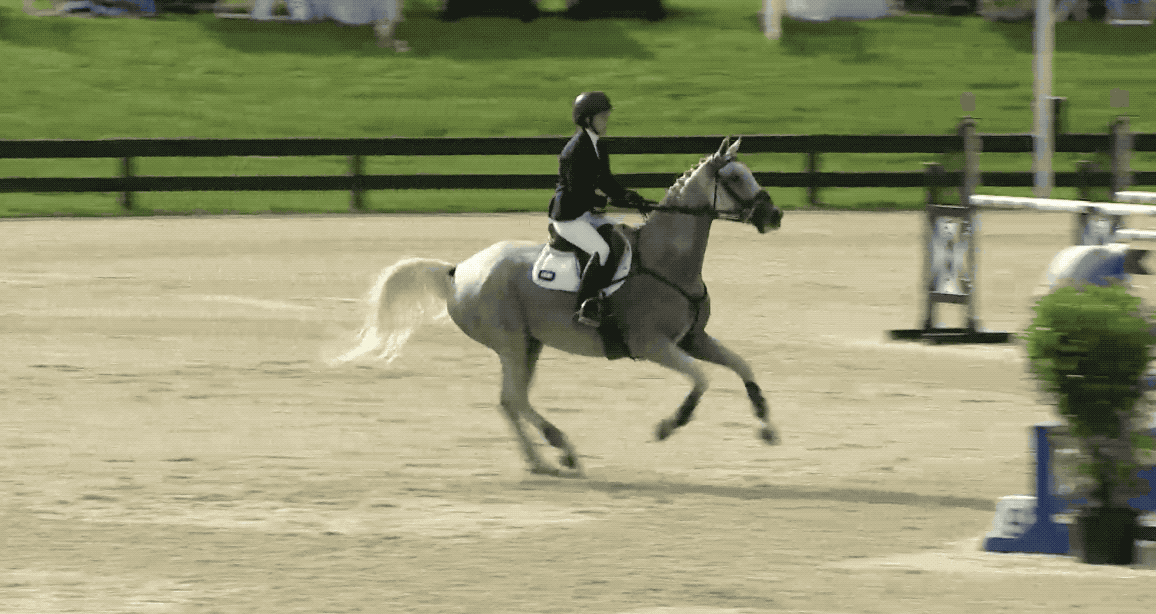 5:20 pm ET: Bummer, Katherine and Carnaby lower two of the finishing triple, but a lovely round to watch overall. Next in will be Kimmy Cecere and Bishop de Selah.
5:19 pm ET: Rebecca and Fernhill Fortitude will finish their weekend on a score of 42.7 with two rails down. Next in we'll see Katherine Brown and the 7 year old Carnaby. This pair brings forward a score of 34.2 in fourth place.
5:16 pm ET: A lovely jumping effort from Fidelius 35. One rail added to their score for a finishing score of 39.7. Karen and Sinead both agree that this is one they'd like to take a spin on. Now in the ring are Rebecca Brown and former Jenny Caras ride Fernhill Fortitude.
5:14 pm ET: A nice clear and an improvement on this horse's record for Alex and I Spye. Next in are Charlotte Collier and Fidelius 35 on a 35.7.
5:12 pm ET: A finishing score of 63.1 with one rail down for Jorgen and Northern Quest Lady's Man. Next up will be Alex Baugh and I Spye on a score of 39.9.
5:10 pm ET: Two rails down for Melanie Smith and Shakedown Street to finish their weekend on a 70.1. Now in the ring are Jorgen Olijslager and Northern Quest Lady's Man.
5:08 pm ET: We're going to stick with you here for the CCI3*L, which should be kicking off soon. We'll see 9 horses in this field – here's a look at standings following yesterday's cross country:
5:01 pm ET: David O'Connor joined the commentary booth to run through the decision making process during the thunderstorm delay today. Heat and humidity played a factor – David says the organizing team wanted to prioritize getting finished as early as possible tomorrow. Therefore, the decision to run half of the CCI4*S tonight was made in an effort to get cross country started around the same time as originally scheduled. The intervals between riders will also be reduced on cross country. Many thanks to the organizers, riders, grooms, officials, and volunteers for their hard work and flexibility!
5:00 pm ET: That will do it for the CCI3*S! Here's a look at your top 10 following cross country:
4:58 pm ET: Just the very last down for Allison and the exuberant Crystal Crescent Moon. A 36.7 for this pair to head into cross country.
4:57 pm ET: One down for Maya and Maks Mojo C for an overnight score of 37.3. Our last to see in this division will be Allison Springer and Crystal Crescent Moon on a score of 32.7.
4:53 pm ET: Samantha Tinney and Glenbrook Cooley live a little dangerously at the vertical at 5 but kick on down for a good rider over the big, square liverpool. 12 jumping and some time for this pair for a two day score of 47.9. Next in we'll see Maya Black and Majs Mojo C on a score of 33.3.
4:51 pm ET: Elizabeth Bortuzzo and Belongs to Teufer putter to a stop in front of an early vertical and have three rails down. Bummer, they'll be looking for redemption tomorrow.
4:50 pm ET: One down for Amanda Beale Clement and Carlson 119. This will drop them down on a score of 34.9, but this was one of the loveliest and most flowing rides of the day.
4:47 pm: Sorocaima takes a couple of rubs through the treble at the end, but he and Buck turn in a clear round to remain on a 33.3. Not bad for the poor guy, who had his face kicked in not even a month ago. Cheers, Buck!
4:45 pm: A lovely clear turned in from Kurt Martin and Compromise Elsewhere who will take their dressage score of 33.7 into cross country. Next up, Buck Davidson and Sorocaima.
4:44 pm ET: And we have a new leader! Lynn and "Coolio" will take the overnight lead, rain delays be damned, adding nothing to their dressage score of 24.5.
4:40 pm ET: We now will see Lynn Symansky and her 2019 Pan American Games partner RF Cool Play, who have a chance to take the provisional lead with a clear round.
4:39 pm ET: Karen talks a lot about the shape of the horse over the fence and the importance of giving them the ability to jump correctly. A tactful ride from Anna to finish with two rails and four seconds of time.
4:38 pm ET: Next up will be Anna Loschiavo and Spartacus Q on a score of 36.3.
4:36 pm ET: Another veteran five-star campaigner, Spring Easy (formerly piloted by Caroline Martin) is now in with Maddie McElduff. They're on a first day score of 38.2.
4:35 pm ET: One down for Katie and Yarrow to bring them to a two day score of 35.9. The related distances that Chris Barnard has set up has kept riders on their toes, but the time seems to be achievable without needing to go pedal to the metal.
4:33 pm ET: Next up will be Katie Lichten and Yarrow bringing forward a score of 31.9.
4:31 pm ET Emma Keahon and PS Duty Calls swim a bit through the oxer at 7. It's tough to get going again after a lengthy break. A big jump and great recovery on the re-attempt.
4:29 pm ET: We are back underway! Gabby Dickerson and Journeyman were our first in and now we see Kimberly Steinbach and Kosmo K, who lowered one pole for a score of 43.1. As an update to the schedule, we'll see the rest of the CCI3*S and the CCI3*L finale, followed by the first half of the CCI4*S. The remaining CCI4*S horses will show jump tomorrow morning at 7:30 am ET.
4:24 pm ET: Ok, we have an update! Great Meadow has just posted a new update on its Facebook page saying that we'll resume show jumping at 4:30 pm ET to finish out the CCI3*S, jump the CCI3*L riders, and then see 34 of the CCI4*S horses. No word yet on the finalized schedule for tomorrow with this adjustment.
3:51 pm ET: Thanks for hanging in there with us! Here's the most recent check on the radar. Everything on Great Meadow's social media indicates no updates on an ETA for resuming competition.
3:18 pm ET: An updated look at the radar:
2:56 pm ET: Rain shots are some of my favorites:
2:53 pm ET: Looks like we might be waiting for this next band to pass through:
2:47 pm ET: Well… just kidding. Looks like we're going to stick in a relay delay until further notice.
2:43 pm ET: We should be getting close to starting back up again. Our first to see after the delay will be Gabby Dickerson and Journeyman, bringing forward a score of 33.1 and currently in 16th place.
2:25 pm ET: Looks like we'll be getting back underway at 2:45 pm ET!
2:15 pm ET Hats off to this commentating dream team, Karen O'Connor and Sinead Maynard!
1:58 pm ET: Let's chat on Twitter! What's your best advice for getting stuck in a delay while you're in warm-up? Join the convo on this Twitter thread:
Alright EN, while we're waiting out the lightning at #MARSGMI, let's hear your best advice (we're also game for awkward or embarrassing stories…) for rain delays in the warm-up! ⛈️

— Eventing Nation (@eventingnation) August 22, 2020
1:56 pm ET: A quick look at the lovely weather we're having today…
1:34 pm ET: Here's a look at the remaining Order of Go for the CCI3*S while we wait out the lightning: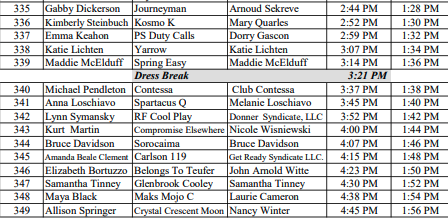 1:30 pm ET Fist bumps for Calli, who had to hang on for dear life in the slop but she and Wild Affair make a great effort. They have 5 rails down and now there will be a lightning hold for the time being while we wait for the worst of this storm to pass.
1:28 pm ET: 12 jumping penalties for Calli Lipping and Wild Affair. Next in, Heather Bush and Skyfall 007 on a score of 38.4.
1:26 pm ET: A classy round from Liz Halliday-Sharp and Cooley Be Cool. They'll turn in the seventh clear of the day to remain on a score of 30.2. Our clear rounds today have so far come from: Bradley Champagne and Wallaroo W, Natalia Neneman and Electric Lux, Lillian Heard and Dassett Olympus, Erin Kanara and Morning Glory SE, Liz Halliday-Sharp and Cooley Be Cool, Sydney Hagaman and Charmeur, and Phillip Dutton and Fernhill Pick Pocket.
1:23 pm ET: I've always really loved Erin Kanara's forward style of riding. Her horses seem to operate very much in front of the leg and you can always expect a nice, foward round from her rides. A clear round for Erin and Morning Glory SE for a 30.9 overnight.
1:21 pm ET The rain is really coming down now! A nice round from Alex Reed and On Broadway, with two down for an overnight score of 39.4.
1:18 pm ET: Karen O'Connor talks about the importance of finding "the root of the problem" when you have an issue, whether it be on course or at home. Don't just rely on heavier bits; rather, spend some time seeking out the root problem. Remember: every issue is likely symptomatic of a hole or something else missing elsewhere.
1:16 pm ET: Our fourth clear from Bradley and Wallaroo W! Bradley does a wonderful job with this big, rangy horse, who has quite an unorthodox jumping style but plenty of scope to burn.
1:14 pm ET One down for Benita Strini and Superstorm Sandy for a two phase score of 36.5. A lovely rainy round! Next in, Bradley Champagne and Wallaroo W, bringing forward a score of 34.6.
1:11 pm ET Katie Lichten and Sapphire Blue B turn in a great ride in the rain. I saw one rail fall – apologies as scores have fallen a bit behind so I may not be the most accurate at the moment!
1:09 pm ET: Annie Goodwin and former Erin Kanara ride Mettraise bear the misfortune of going in right as the rain starts pelting. Three down for this pair
1:05 pm ET: The Fonz Himself shows off some quick footwork to leave this vertical rail up midway through with Mike Pendleton. They do have one down but an otherwise workmanlike round for a score of 32.9. We're starting to get some heavier rain now.
1:04 pm ET: Nicole Aden and Truckee Bash have three down.
1:00 pm ET: Karen O'Connor points out that there were just 10 clear rounds in the 2019 running of the CCI3*S here. Will we beat that number today? We have two clear rounds so far with plenty of pairs left to give it a whirl.
12:59 pm ET: One down and a lucky rub for Tim Bourke and Quality Obsession. This gives the pair a 43.6 to take into tomorrow's cross country.
12:57 pm ET: A single down for West coast transplants Meg Pellegrini RF Eloquence for a 36.6 two-phase score.
12:55 pm ET: One down for overnight leaders Will Coleman and Chin Tonic. This will put them on a score of 27.9. This will move Phillip and Fernhill Pick Pocket up and leave Lynn Symansky and RF Cool Play in defense of the lead.
12:51 pm ET: A couple of rails midway through for Cindy Anderson-Blank and Windchase Phoenix Star will put this pair on a score of 38.7.
12:50 pm ET: Sydney Hagaman and Charmeur have a lovely round for the fourth clear of the day. This pair will be no worse than fourth going into cross country tomorrow on a score of 28.1.
12:48 pm ET: Phillip wastes no time and turns in our third clear of the day.
12:46 pm ET: Daisy Trayford and Ermintrude have two down. Next in is third placed Phillip Dutton with Fernhill Pick Pocket, coming in on a score of 26.0.
12:44 pm ET: Lots of Thoroughbreds this weekend! Barrett Phillips and Whole Nine Yards have three down for a two day score of 53.7. Dana Cooke and FE Glamour have two down for a 47.2.
12:39 pm ET Skyeler shows her experience with Argyle, who wanted to take a look at some of the banners on the rail, settling in for just one rail down to finish strong.
12:37 pm ET: Lauren Sumner and Crossfire leave a few rails on the ground and will look for a redeeming cross country tomorrow. Next in we'll see Skyeler Voss and Argyle.
12:34 pm ET Natalia Neneman and Electric Lux turn in a super round with no penalties. A great example of how to ride a forward, sensitive horse without interfering.
12:41 pm ET: Lots of Thoroughbreds to be seen this weekend! Barrett Phillips and Whole Nine Yards have three down for a two day score of 53.7.
12:32 pm ET: Lillian and Dassett Olympus turn in the first clear round of the CCI3*S! Lovely ride!
12:30 pm ET: Mike Pendleton and the very enthusiastic jumping Bonito also have two down. Now in are Lillian Heard and Dassett Olympus.
12:28 pm ET: Two down for Colleen and Confidence Game. Chris Barnard's tough but fair courses have a great reputation for testing riders, and we've seen plenty of those lessons learned already today. But, this Thoroughbred stallion of Colleen's certainly isn't lacking in scope:
12:25 pm ET: Two down for Will and his first ride for this division. We'll see him back on overnight leader Chin Tonic a bit later on. Next in are Colleen Rutledge and a keen looking Confidence Game.
12:23 pm ET: Just one down for Marley and LVS Dassett Charisma. They'll take a 39.1 into tomorrow's cross country. Next up, we have Will Coleman jumping out of order with MTF Cooley Classic. This pair brings forward a score of 34.4.
12:21 pm ET: And we are underway! Our first pair to see is Marley Stone Bourke and LVS Dassett Charisma, coming forward in 26th place on a dressage score of 35.1.
Comments