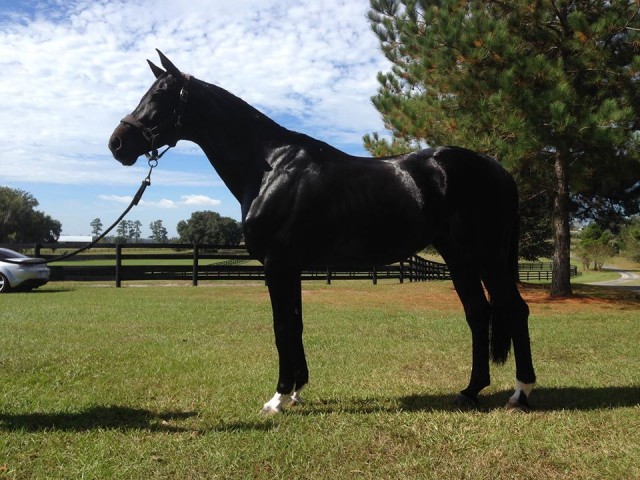 Michael Pollard certainly came to win this weekend at the Rocking Horse Winter I Horse Trials. Michael had six horses going this weekend, five of which finished third or better across the Intermediate and Preliminary divisions. Michael is understandably elated with the results this weekend, and is looking forward to beginning 2014 in earnest with a string of horses teeming with depth and talent.
Michael won the Intermediate B division this weekend quite handily aboard Halimey, a 9-year-old Trakehner stallion. "(Halimey) came to me about a year ago with some confidence issues on cross country, so I've taken it quite slow with him," Michael said. "This time out, he was quite confident on cross country. He's a great mover, and being half Anglo-Arab I hope to breed some stamina for distance into his offspring." Halimey is beginning to show the makings of an Advanced horse if Michael can continue instilling confidence in the young stallion. "He has a lot of good blood, and if we can continue on this trajectory, he can be a top horse." Michael hopes that selecting the right events will help Hamiley eventually get to the 2* and Advanced levels as their partnership continues to develop.
Songline was another winner this weekend in the Open Preliminary A division. Songline is stunning 10-year-old Trakehner stallion that Michael acquired the ride on last May. A talented horse, Songline was previously under the care of Andreas Dubowski, who took him to the CIC3* as well as a win in the Young Event Horse Championships as a 6-year-old. After being brought to the US, Songline had some downtime where he was not getting much in the way of training, and now he and Michael are forging a new relationship. "He's getting back into full work now. He had an old injury, so we've spent a lot of time ensuring that his tendons and ligaments are strong," Michael said. "He will hopefully move up to Intermediate next, and he is another possible Advanced horse for us."
The third winner of the weekend was Kyra, who finished on her superb dressage score of 22.70 to win the Open Preliminary C divison. Kyra holds a special place with the Pollard Event Team, as she is sired by the late VDL Ulando H, who passed away in the tragic trailer accident that claimed several Pollard horses. Michael took over the ride on the now 7-year-old Kyra in 2013, and the "red dragon" has turned heads everywhere she goes.
"She's beautiful on the flat, and she jumps just about as good if not better than anything else in the barn right now. I don't know what more you could want in a good, young horse. She is a wonderful horse to ride every single day."
Michael's goal for Kyra this year is to have a solid season at Intermediate and possibly a 1*.
Michael's had nothing but good things to say about the remaining three rides this weekend. Good Measure and Tsetserleg finished in second and third respectively in the Open Preliminary B division. Michael commented that both horses had better dressage tests in them, but was nonetheless pleased with their scores and their double clear cross country and stadium rounds. "They were probably the most improved on cross country out of the group, so I was really pleased," he said of his more inexperienced rides.
Michael's other Intermediate ride, Carmac, is a brand new partnership. This event was the pair's first run together, and Carmac added only 2.00 time penalties to his dressage score to finish in 11th place overall. "He is very fun. There is still a lot of work to do there, but he seems to be making some good progress so I'm excited to see what will happen with him this year." Carmac formerly campaigned at the Advanced and CIC3* level before coming to Michael. You can check out Carmac's stadium round below.
Michael agrees with every other opinion that we've seen so far on the weekend: the courses were "fair and appropriate" and were just right for this time of the season. Many horses are coming out expecting to move up at the next event, so Rocking Horse is a perfect pipe opener for these horses and riders.
Michael plans to take his other uppel level horses such as Mensa, Schoensgreen Hanni, and Ballingowan Pizzaz on a spring campaign that includes Red Hills, Southern Pines, and The Fork. Mensa will aim for Rolex, if all goes according to plan, so never fear, Pollard fans — there may be a sighting in Kentucky this year!
Congratulations to the entire Pollard Eventing Team on their winning weekend at Rocking Horse. To keep up with the Pollards as they take 2014 by storm, check out their Facebook page.
Comments