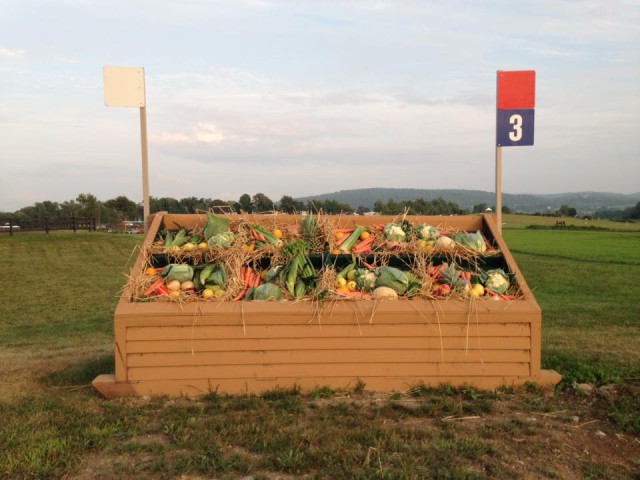 Good morning from Millbrook! It's predicted to be another scorcher of a day here in New York as the remainder of the 57-strong Advanced division completes dressage. EN's data analyst Maggie Deatrick and her barnmate Madeline Backus — both of whom are competing in the Advanced division — scoped out the course last night and kindly sent along photos.
Tremaine Cooper kept many of the Millbrook staples on this year's course. The first loop of the course has been revamped, and last year's infamous tree trunk skinny is back again. Tremaine said he shaved quite a bit of wood off the inside of the trunk, so there shouldn't be any bashed knees this year. The first combination at fence 4 features a new airy hanging log with brush to an angled house that will get horses and riders on their toes.
Last year riders jumped into the water complex, out over an up bank and finished through a keyhole at the C element. This year riders will jump into the water and stay there as they hold their line to a log and duck at the B and C fences. The keyhole has been relocated to the top of tHe steps at fence 21A. (Click here to see last year's course.)
The most notable addition on course is the coffin complex at fence 18ABC, which has been on the Intermediate course for the last few years and now returns to the Advanced course. No one made the time on course last year or the year before, so cross country is always a true race against the clock at this event. Check back to EN later today for more comments from Tremaine on the course.
Will Laine Ashker and Anthony Patch win it for a third year in a row? Will her coach Buck Davidson clinch his fourth Millbrook win with Ballynoe Castle RM? Will a new combination emerge to break up the monopoly these two pairs have had on the trophy for the past five years? Stay tuned to EN as we bring you the latest news from the always exciting Advanced division at Millbrook.
#Millbrook: Website, Schedule, Ride Times, Live Scores, Entries, EN's Coverage, Instagram
Comments