Good lord, WHAT a team final that was! Not only did Great Britain storm their way to their first team gold since 1972, we also saw a new individual leader in the clubhouse in Julia Krajewski and Amande de b'Neville. We're moments away from getting under way with our top 25 individual riders — so buckle up, baby, and let's have at it. Here's the course, which will now be set at 1.30: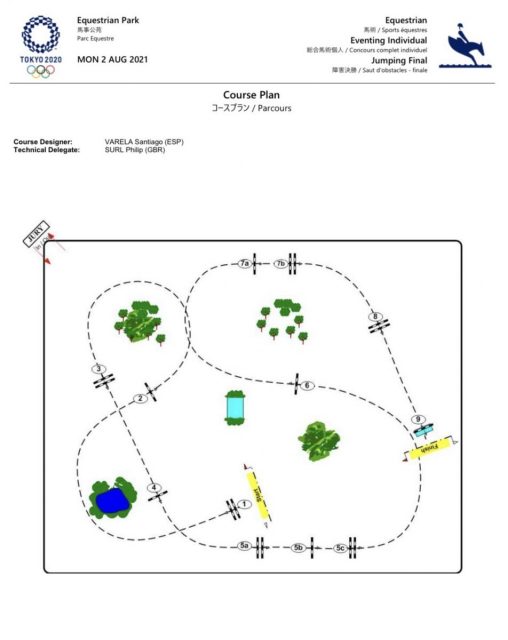 Tokyo 2020 Olympics: Website, Latest News, EN Olympic Digest Newsletter Signup, EN's Instagram, EN's Twitter, EN's Coverage, The Ultimate Guide to Tokyo, The Form Guide: Team Edition, The Form Guide: Rider Edition

Want to stay in the know with all things Olympic eventing? We're getting ready to kick off daily editions of our Olympic Digest starting Wednesday, July 28. You can sign up for free right here.
13.51: 
13.46: Right, I'm back from leaping around my house crying like a lunatic to pass along the news of the full individual podium:
Gold goes to Germany's Julia Krajewski, who just overcame all the odds to become eventing's first ever female Olympic individual gold medallist
Silver goes to Tom McEwen and Toledo de Kerser, who pick up just 0.4 time in a beautiful round
Bronze goes to Australia's Andrew Hoy in his eighth Olympics — a testament to longevity!
and in an honourable mention, fourth place goes to Japan's Kazuma Tomoto, who has been incredible not just this week, but for years in the lead-up — and what a tough spot to finish in.
13.39: SHE DOES IT! SHE ABSOLUTELY FRICKIN SMASHES IT! A GOLD FOR JULIA KRAJEWSKI, OUR FIRST-EVER FEMALE GOLD MEDALLIST! She's come back from losing two top horses, and the sad passing of her father, and she's just won the Olympics on an inexperienced horse — oh my god, what an utter legend!
13.38: Last in is Julia Krajewski and Amande de b'Neville in now, fighting to become the first-ever female individual gold medalist.
13.37: One rail and 0.8 time to add for Oliver, which drops him below Kazu and off the podium entirely.
13.36: That's bronze at worst for Tom. Oliver Townend in and jumping for second place — and the first rail goes!
13.35: Clear with 0.4 time to add for Tom — he just stays ahead of Andrew!
13.34: Tom McEwen in now on Toledo de Kerser — one of the best jumpers in the sport.
13.33: That'll be our first three-phase, two-round FOD for Andrew. Impressive! And he was yesterday's fastest clear.
13.32: Clear and inside the time for Andrew and Vassily — just our second of the day to manage that! They'll be no worse than fourth.
13.31: Andrew Hoy and the excellent Anglo-Arab Vassily de Lassos in now for Australia. Not jumping extravagantly but they were clear earlier.
13.30: If this isn't a sign of how tough this course is, I don't know what is: Laura and London 52 pull the final two fences. This horse's showjumping record is nearly impeccable.
13.29: Beautiful through the treble there for Laura and London 52.
13.28: Team gold medallist Laura Collett returns with the super jumper London 52 after a surprise rail earlier.
13.28: Just the final element of the treble falls for Christo. He drops below Kazu, who's the current leader and will be no worse than sixth.
13.26: Christopher Six and Totem de Brecey back now. They've been one of the great dark horse combinations of this Games but fans in Europe know he's been excellent for a while — he was fourth at the Euros in 2019.
13.25: CLEAR! CLEAR FOR KAZU! Just 0.4 to add in what has been the most stunning round of the day so far. I am SHAKING. Let's get this man on the podium!!!!
13.24: Kazuma Tomoto in now with Vinci de la Vigne. Japanese hopes riding on his shoulders. Hits fence three hard but it stays up. Clear through the treble!
13.23: The back rail of the double falls when Chipmunk hits it behind. I'm sure he wishes he could swap his two jumping rounds.
13.22: Right, let's see what Michi Jung and Chipmunk do with this. This has historically been the horse's weak phase — but he jumped a bittersweet clear earlier.
13.21: 1.2 time penalties to add for Jonelle and Grovine de Reve.
13.20: Fence four falls, and the first part of the treble.
13.19: Jonelle Price up to bat now with Grovine de Reve. Hopefully she can rally after a disappointment for both Jesse and Tim.
13.18: Bit of a flyer to the double but he gets through — and that's our first clear inside the time for Nicolas!
13.17: Nicolas Touzaint back with his creative, but wildly effective, jumping style. Absolut Gold HDC still looking reasonably fresh and picks his way through the treble without issues.
13.16: Staying on Australia as we look at Kevin McNab and Don Quidam. The second part of the treble falls, which is a real shame as Kevin is moving at a decent clip here. A second rail falls, and then the final fence. Bugger.
13.15: Just the one rail for Shane, who finishes inside the time.
13.14: Shane Rose comes in with stalwart campaigner Virgil. First part of the treble falls.
13.11: Karim Laghouag and Triton Fontaine in now and looking well. Clear through the treble and looking super — but then it goes badly wrong at the double. They have to cat leap the first element after the horse considers stopping, and then the same happens at the second element. Frankly, they're lucky not to have had the stop, and Karim's lucky to have stayed on. Very honest horse, and Karim's balance is pretty impressive, too.
13.10: Two early rails but clear through the treble and double for Mélody. The penultimate fence falls, too, and they add 1.2 time penalties. Anyone else feeling a bit sick?
13.09: We're hearing of some drama in the warm-up for Karim Laghouag and Triton Fontaine. They're okay and cleared to compete. Switzerland's Mélody Johner in the ring now with Toubleu du Rueire, who she's been riding for just a year.
13.08: The penultimate fence also falls. They cross the line with three rails and 1.6 time penalties.
13.07: Boyd Martin and Tsetserleg in now. The first part of the treble falls — then the second. It's not the USA's week.
13.06: Five down and 1.6 time to add for Tim Price and Vitali. This is an inexperienced horse, so it's understandable and hopefully educational — but that won't make it any less heartbreaking for poor Tim.
13.05: Poor Tim Price and Vitali had a tricky time in their first round, with three down — and the first in this round comes down, too. They're tapping their way around now. Middle part of the treble goes, too.
13.03: Great to see 22-year-old Lea Siegl and DSP Fighting Line back for a crack at the individual leaderboard. They've been impressive for a while now but how cool to see them step onto the world stage — especially representing Austria, a country that's very much a developing eventing nation. Two to add — she chips in to the last and nearly gets jumped out of the tack. The middle part of the treble came down for them, too, but she's another who comes home without time penalties!
13.02: The middle part of the treble comes down, but that's it — and Austin is the first rider to come home inside the time!
13.01: Here's a sub who truly smashed it this week: Ireland's Austin O'Connor is best of his countrymen with Colorado Blue.
13.00: Phillip's two seconds over the time of 60 seconds, too, so will add 8.8 penalties.
12.59: Z knocks the first part of the treble, though it stays up — but the second two elements come down. This is carnage so far.
12.58: Onto Phillip Dutton and Z. Come on, Big P-Dutty, put your foot down!
12.57: Doug's not hanging around. The second part of the double — a big, wide oxer — comes down, though. He lived life on the edge and it nearly paid off. 4.4 total to add after coming in a second over the time, too.
12.56: No one has beaten the clock yet. Now our first US rider — Doug Payne and Vandiver make their move.
12.54: China's Alex Hua Tian and Don Geniro come forward for their individual round. The first part of the treble at 5ABC comes down, followed by fence six. Argh — now the final fence falls. Don looks a little weary.
12.53: What a shame — the final fence falls for Susanna! She also picks up 1.6 time — the clock could be a huge influence here today. Five-stars have been lost on showjumping time penalties before, after all.
12.51: Italy's Susanna Bordone and Imperial van de Holtakkers jumped a fast clear in the first round — can they do it again? They hit the second hard but it stays up.
12.50: New Zealand's Jesse Campbell comes forward with Diachello. This horse really tired yesterday, but jumped well — though slowly — this morning for 0.4. He has the first part of the treble in this round, which is a pretty big effort for these horses who've worked so hard. 7A also drops and they add a further 1.6 time penalties.
12.49: The oxer out of the double is MASSIVE. Felix adds 1.2 time and a rail at fence 8.
12.47: Three down and 0.4 to add for Fouaad. This is going to cause a lot of problems — it's a shortened course, but bigger and even more technical. Switzerland's Felix Vogg in now with Colero.
12.46: First of our 25 pairs is India's Fouaad Mirza and Seigneur. The first rail comes down for them, but Fouaad is regrouping. Ahh — now the middle of the treble falls. Bugger.
12.45: