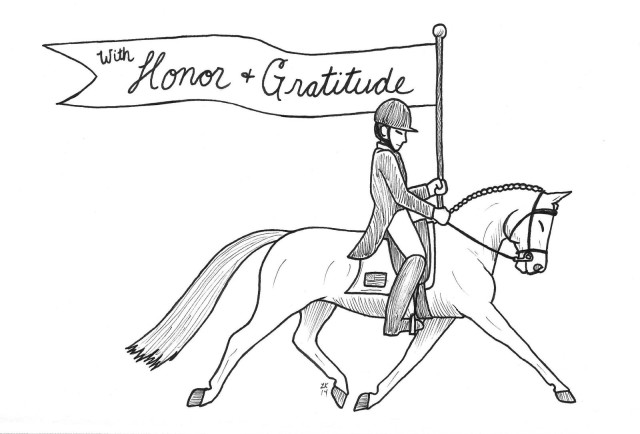 Happy Memorial Day, EN! Today we remember all those who have fought and continue to fight for our freedom in America. Thank you to all those who serve. Enjoy the holiday!
If you stroll through the barns at any event, you'll see all manner of ingenious MacGuyvering. From coat-hanger sweat-scrapers to bailing-twine air-vest links, this ingenuity is part of an eventer's DNA. Sometimes it's successful, other times it isn't. (My husband refuses to let me forget the time Stephanie and I spent about two and a half hours trying to break in to her car with a coat hanger and some wedge pads that the farrier loaned us.) Either way it makes for a good story and some big smiles at the end of the day. Here's to eventer-ingenuity!
Oh, also —  OMG OMG OMG ENTRIES FOR THE EVENT AT REBECCA FARM OPEN TOMORROW!  
Saumur Links: [Website] [Final Scores] [Saumur FB] [Saumur YouTube] [Instagram]
Weekend Results:
Virginia CIC2*/CCI* and H.T. [Website] [Final Scores]
May-Daze at the Park H.T. [Website] [Final Scores]
The Spring Event at Woodside [Website] [Final Scores]
Corona del Sol Spring H.T. [Website] [Final Scores]
Flora Lea Spring H.T. [Website] [Final Scores]
Mystic Valley Hunt Club H.T. [Website] [Ride Times]
Coconino Spring H.T. [Website] [Final Scores]
Paradise Farm H.T. [Website] [Final Scores]
Equestrians Institute H.T. [Website] [Final Scores]
Events Opening Tomorrow:
Event at Rebecca Farm (MT, A-7) Coconino Summer I H.T. (AZ, A-10) Powder Basin H.T. (WY, A-9) Chattahoochee Hills H.T. (GA, A-3) Champagne Run at the Park H.T. (KY, A-8) Roebke's Run H.T.(MN, A-4) The Maryland H.T. at Loch Moy Farm I (MD, A-2) Huntington Farm H.T. (VT, A-1) Cosequin Stuart H T. (NY, A-1) 38th Annual Whidbey Island H.T. (WA, A-7) Riga Meadow H.T. (CT, A-1)

Monday News and Notes: 
With the unfortunate reality of semi-regular EHV-1 scares, biosecurity in the barn is more important than ever. Vaccinations are just part of the way to help prevent the spread of disease. Disinfecting a barn is a challenging task but can be done. The folks over at thehorse.com have some tips! [More from thehorse.com]
Some strong words have been exchanged over the BLM's suggested round-up of approximately 200 horses in southern Utah. Iron County commissioners say that the number of horses that are planned for round-up will easily be replaced by the foals to be born this spring. [More from ksl.com]
It's long been known that horses have a therapeutic quality. Most recently a study at Ohio State University has found that this therapeutic benefit extends to dementia patients. The study found that individuals with Alzheimer's showed improved moods after interacting with horses. Additionally, they were less likely to resist care or become upset later in the day. [More from dispatch.com]
The century club has some new members! Joan Smith and her gelding Marley are two of the latest inductees. The century club was founded in 1996 and currently boasts over 159 members. The club's goal is to encourage older riders to stay active in Dressage. [More from pamplinmedia.com]
With the WEGs around the corner, we're starting to hear all sorts of interesting stories about some of the stars in each discipline. One such star is British vaulter Joanne Eccles. For Eccles, Vaulting is a family affair. She occasionally competes with her younger sister Hannah. Her father is her lunger. [More from cnn.com]
Four men who are believed to have been responsible for the theft of the world's smallest horse have been arrested. They are accused of breaking in to the pony's stable. The pony was found about a week later about 300 kilometers from where he was taken. The four men will face charges of theft, extortion and receiving stolen goods. [More from thelocal.it]
Monday Video: An oldie but a goodie…
http://www.youtube.com/watch?v=lTUsXaUFR-Q
Comments