The virtual shopping experience is certainly new when compared to the traditional trade fair environment at a horse show – but in a lot of ways I almost prefer it. It's also quite dangerous in terms of limiting spending, but we don't need to talk about that right now.
Each day this week, we'll be bringing you our top picks from the variety of deals available in our 2nd Annual Virtual Vendor Village. Of course, it's hardly a fair choice as there are ample discounts in this year's line-up (and many deals will change out each day, so you'll want to pay attention and snap up a good one when you see it!), so we'll be sure to get to all the brands who have partnered with us in subsequent Editor's Picks.
To view ALL Monday's Virtual Vendor Village deals, click here.
Up first, let's face it: horses are a bunch of sensitive Sallys (and yes, I've been called one myself several times. I blame my parents for picking the name Sally). There isn't much worse than dealing with pesky skin irritations that just won't soothe themselves. Enter Banixx.
Whether you're caring for a wound, managing fungus, or trying to keep skin sensitivity to a minimum, Banixx's line of care products work magic for all sorts of ailments. You can read more in our product review here – and then head over to Valley Vet Supply, where you can save 20% on the full line of Banixx. Tip: Banixx also works well on other pets!
While we're at it, horses are also expensive eaters. If you're a huge fan of Nutrena or Pro Elite feeds and supplements, you'll want to download these $10 off coupons for your next stock-up trip to the feed store: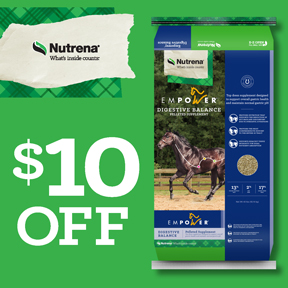 Lucky for us eventers, neck straps are a key part of our cross country day attire. Through Wednesday only, you'll get a free Tapestry Equine Products neck strap with any order over $200. Just use code LR200 while you shop Tapestry Equine Products' full line-up of gear, which includes the popular Tapestry Comfort girth (read our product review here and here) and the gentle but effective Spursuader (read our product review here).
Click here to shop Tapestry Equine Products (code: LR200).
I am a huge fan of the vibes over at Mare Modern Goods, a boutique retailer that sells everything from unique apparel, to stationary and home decor, to saddle pads. Personally, I'm a huge fan of the "Live" section of products from Mare Modern Goods, which feature adorable greeting cards, phone cases, dog jackets (yes, my little dog is getting one this week – thanks Vendor Village!), and so much more. This week, you'll save 21% on your order from Mare Modern Goods with the code KLREN21.
Finally for today, don't forget to stop in and enter SmartPak's Fly Gear Raffle, entries for which close today. Up for grabs is a Fly Gear Package containing a SmartPak Deluxe Fly Sheet, SmartPak Deluxe Fly Mask, and SmartPak Fly Boots. Personally, I am a huge fan of SmartPak's line of tack, equipment and apparel. The quality is great and the cost is very competitive – music to the budgeting rider's ears! You can sign up for this raffle (no purchase necessary) here.
To view more Virtual Vendor village content, click here – and don't forget to check back tomorrow morning for new discounts and deals!

Comments