View this post on Instagram
The Land Rover Burghley Horse Trials draw has been revealed ahead of this year's renewal (August 31 – September 4), and once again, multi-horse entrant Oliver Townend will be first out of the start box. Though he's been drawn in the first position with either 2017 winner Ballaghmor Class or former Andrew Nicholson ride As Is, the former has been named to next month's World Championships team, and so As Is will hold the pathfinder position. Oliver has three other rides entered, and can ride a maximum of three: Tregilder takes 38th position, while Swallow Springs or Lukas will be the last horse in the line-up.
With 68 horses currently on the list, Burghley's line-up is looking pretty stacked — reigning champion Pippa Funnell has two horses entered in Majas Hope (63) and Billy Walk On (4), while 2018 winner Tim Price brings forward Bango (3), Tokyo mount Vitali (37), and former Chris Burton ride Polystar I (66). 2019 Badminton winners Piggy March and Vanir Kamira have drawn number 22, followed closely behind by 2018 Badminton winners Jonelle Price and Classic Moet (27), which will give both Thursday dressage times.
Other highlights from among the list include 2021 European individual bronze medallists Sarah Bullimore and Corouet (30), William Fox-Pitt and Oratorio II (48), Kitty King and Vendredi Biats (60), and 2019 European individual bronze medallists Cathal Daniels and Rioghan Rua (64). A solid US contingent is entered, too: Woods Baughman will be first up to bat for the Americans with C'Est la Vie 135 in draw number 11, followed by Cornelia Dorr and Daytona Beach 8 in number 14. Draw number 23 goes to Meghan O'Donoghue and the ex-racehorse Palm Crescent, while Emily Hamel and Corvett will put a cap on their season abroad in number 29. Boyd Martin has drawn number 46 with Tsetserleg TSF, but is unlikely to run as the pair have been selected for the World Championships. British-based American Tiana Coudray will take number 57 with Cancaras Girl, who took a top-ten finish at Bramham this year, while US-based Aussie Clayton Fredericks sits pretty in draw number 10 with FE Coldplay.
Here's the full draw: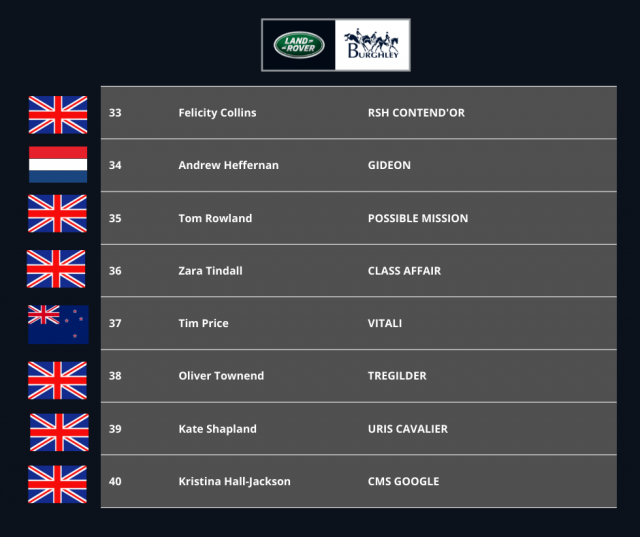 Or, to put it simply:
THE @LRBHT_Official DRAW IS OUT AND OLIVER TOWNEND IS THE PATHFINDER AGAIN! HE'S NOT GOING TO BE HAPPY, BUT WHEN YOU'VE ENTERED SO MANY HORSES IT WAS KIND OF INEVITABLE AND IF HE GOES CLEAR INSIDE ON THE FIRST HORSE IT WILL PUT HUGE PRESSURE ON EVERYONE ELSE! pic.twitter.com/coTKLgALMZ

— Nico Morgan (@nicomorgan) August 19, 2022