This week's coverage of Pau on EN is brought to you with the support of Kentucky Performance Products. We couldn't do much of what we've done these last few years without the support of sponsors such as KPP — which, by the way, is a horses-first, women owned and operated company based in, you guessed it, Kentucky — and without you, our readers! So as we head into this final hurrah of our season, too, we thank each and every one of you.
Just 36 competitors will head into the final phase at Les 5 Etoiles de Pau this afternoon following a dramatic final horse inspection, held before the ground jury of President Sue Baxter (GBR), Anne-Mette Binder (DEN), Xavier Le Sauce (FRA).
Four horses ultimately went to the holding box, with two of those returning for a successful re-presentation: Italy's Pietro Sandei and his stalwart Rubis de Prere (28th) and the USA's Matt Flynn and Wizzerd (30th) were given the go-ahead, while British debutante Xanthe Goldsack was first asked to trot again with a looser rein in her initial presentation of Hi Tech, then sent on to the holding box. She opted to re-present, but was sadly eliminated — likely an aftereffect of a lost shoe on course yesterday, where she was clear but with 48.4 time penalties for overnight 34th place. Her fellow British rider in the holding box, five-star barrister Max Gordon and his Redwood Clover (35th after cross-country), chose to withdraw, which marks the second time that the pair have seen their five-star end on Sunday morning.
Two further horses were asked to trot again immediately in their initial presentation, both as a result of some misbehaviour on the jog strip: both third-placed Karim Florent Laghouag and Triton Fontaine and Harry Meade and Tenareze (26th) had a job on their hands to deal with the huge atmosphere from the packed grandstands, but both were given the nod after those cursory second trot-ups.
Here's another look at the top ten going into this afternoon's showjumping finale, which commences from 3.00 p.m. local time (2.00 p.m. British/10.00 a.m. EST). With less than a rail separating the top five, and with Pau's reputation for building the toughest five-star showjumping courses in the world — there's just a 17% average clear rate here — it'll be a seriously exciting bit of sport: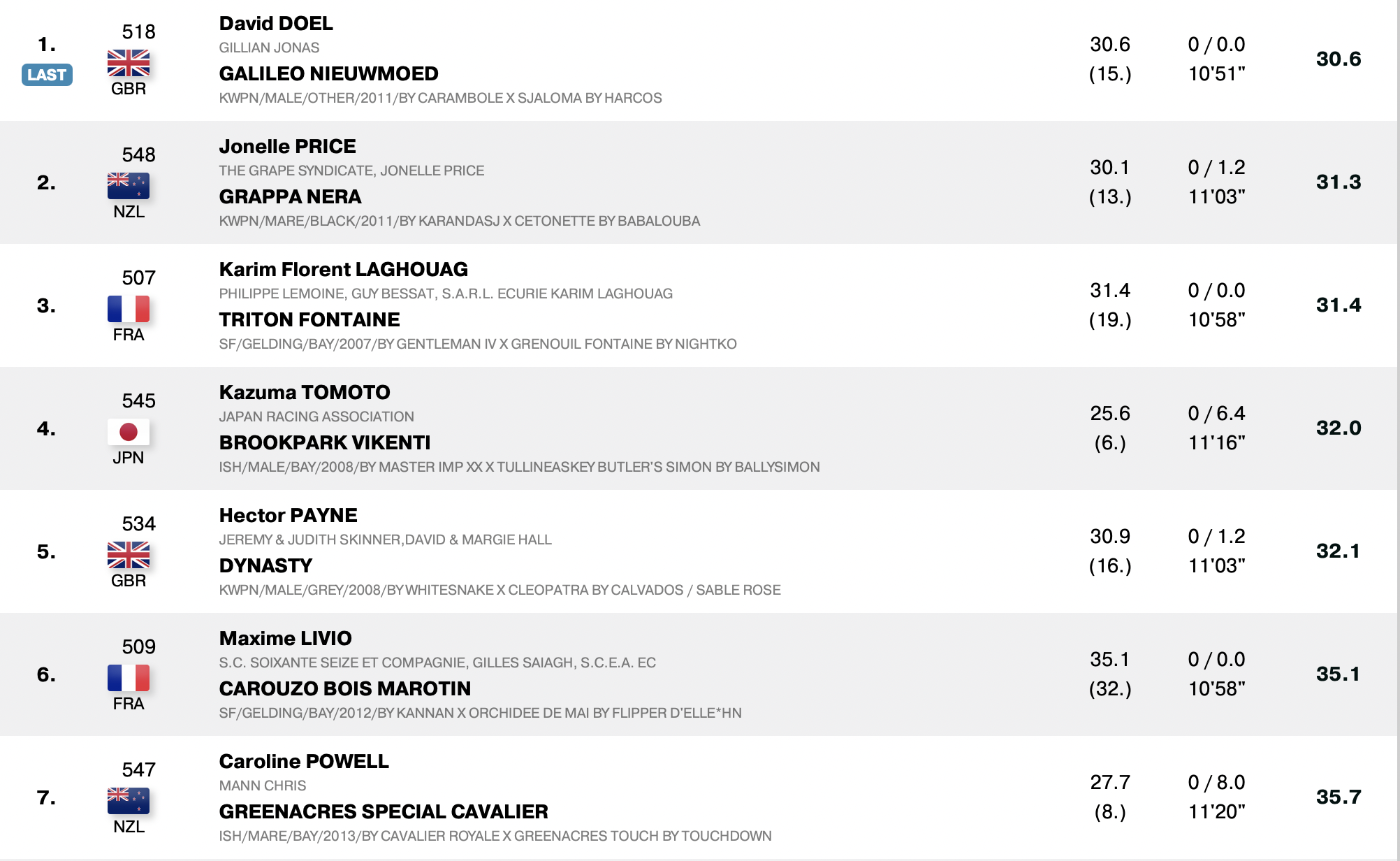 Les 5 Etoiles de Pau: [Website] [Entries] [Schedule] [Timing & Scoring] [H&C+ Live Stream *Use code PAU2022 for 15% of H&C+ Annual!*] [EN's Coverage] [EN's Ultimate Guide to Pau] [EN's Instagram]