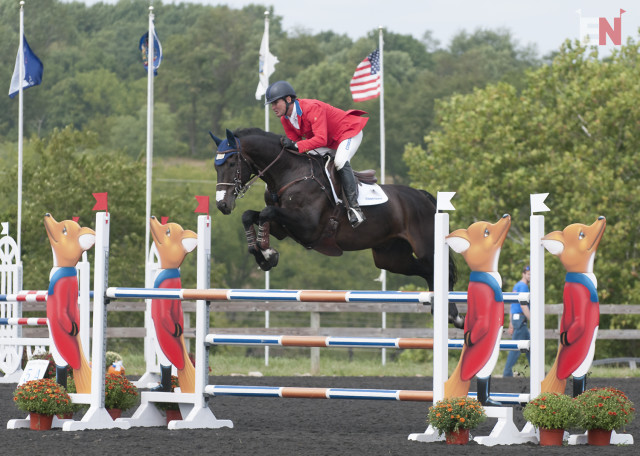 The top three remain unchanged after show jumping in the Plantation Field International CIC3*. Phillip Dutton rode all three of his horses in the division to double clear rounds, maintaining first and second place overnight with I'm Sew Ready and Mr. Candyman. Ryan Wood and Powell jumped clear with one added time penalty to hold third.
Show jump course designer Chris Barnard is becoming a familiar face at many of the country's premier events, setting the tracks this year at Pine Top, The Fork, Virginia Horse Trials, Rebecca Farm and Plantation Field, among others. While our top placed competitors made today's test look easy, there was no shortage of rails to influence the standings and time was tight for some.
"It was a very fair course. Chris did a good job. It was demanding right to the end. It wasn't overly big but there was a good crowd and a good atmosphere for the horses," Phillip said. "I thought it tested all types of training and made sure the horses stayed responsive and adjustable and it was generally a forward riding course, which I like."
Phillip produced double clear show jumping rounds on all four of his FEI rides today. "I'm on a bit of a roll with my show jumping coach (Richard Picken) and want to keep it going. The horses are show jumping really well."
"(I'm Sew Ready) is an incredible jumper and very careful. He wouldn't be the easiest to get to the jumps. He sees the jumps and makes a bit of a bid, but he's a fun horse to have because when he's in the ring you know he's going to try hard at every jump. My job was just to get him there with enough power and a decent distance for him," Phillip said.
Mr. Candyman is a very different type of ride, but Phillip was obviously elated after the horse's clear round. "This was one of the best rounds he's ever done," he said. "He tends to get in there and get a little bit hesitant and not jump as high. We jumped this week at Boyd's and I was very aggressive, a bit more like on cross country. It's definitely the way to go. He needs confidence in the ride up to the jump."
John and Kristine Norton's I'm Sew Ready and Mr. Candyman, owned by Ann Jones, Bridget Colman, Caroline Moran and Tom Tierney, hold the top two positions in the three-star on a 43.4 and 46.9 respectively. Z, owned by Tom Tierney, Suzanne Lacy, Simon Roosevelt, Caroline Moran and Ann L. Jones, moved up from tenth to sixth on 52.4 in the same division. In the CIC2*, Liz Bond's Enough Already's clear round boosted him up to third on 42.7.
We also have to send a great big shoutout to Phillip's daughter Olivia on completed his first one-star cross country course today with Amy Ruth Borun's Santa's Playboy. Is this a proud dad or what?
Ryan Wood had to work for his clear CIC3* round on his and Summit Sporthorses, Ltd.'s Powell but said it got better as they went. "He's a big boy. He's got a massive stride but he can collect very easily. It's just about finding the right balance with him. He was very good and careful and left them all up. I was happy with that."
Ryan took the blame for one rail down with his and Curran Simpson's Woodstock Bennett, which dropped them down to tenth place. Fernhill Classic, he said, struggles to stay focused in the arena at Plantation Field, despite several consecutive years of competing here. Ryan and Classic picked up eight penalties. However in the Advanced division, Ryan and Heather Sinclair's McLovin jumped double clear, moving them up to third place overnight.
Plantation Field is the last run for Ryan's horses before their fall three-days, so he plans to set out at a good pace on tomorrow's cross country and ride a bit by feel. "I want to make sure they finish as confident and feeling as bulletproof as I can make them so they go into Boekelo and Fair Hill feeling good," he said.
"Riding around Advanced or three-star you've got to have the right mindset to be riding forward. If you set out too careful with the time you can end up being tentative and backward, which is never good. I'll set out strong and read how the horses are feeling or reacting to decide how much I'll push them along."
Boyd Martin holds the overnight lead in the CIC2* with Christine Turner's Kyra, a mare produced to the two-star level by Michael Pollard. Boyd and the 9-year-old Canadian Warmblood jumped a cracking double clear to go into the final phase on 37.8 with just under 4 penalty points of breathing room over Lauren Kieffer and Landmark's Monte Carlo.
"She's a beautiful horse. She is a lovely mover and obviously a super jumper," Boyd said. "It's taken me a little bit of time to get the hang of her; she wouldn't be the easiest horse I've ever had…she's a feisty redhead…I think she could be a big time horse. She seems like she has what it takes."
Tomorrow's course is big and technical but it encourages forward riding, Boyd said. However with a long term partnership in mind with Kyra, he expects to pick up a few time penalties in exchange for a solid round.
Erin Sylvester was another to retained her lead after show jumping. Frank McEntee's Irish Thoroughbred Paddy the Caddy jumped out of his skin for Erin and gave a celebratory buck or two at the end of his clear round in the Advanced.
"He likes to be presented with a challenge and try his best, and when he does a good job he's so full of himself," Erin laughed. "He doesn't normally jump in footing that soft so he almost felt like he was just a little unsure about how it was pinging him off the ground, so it was a little more difficult to keep a rhythm and see a distance than normal but it didn't hinder him at all."
The Advanced entries will tackle much the same cross country course as the CIC3* tomorrow. It will be a strong test for Paddy, who has one three-star under his belt but has been competing at both Intermediate and Advanced throughout the year.
"He feels really confident right now and has been schooling really well, so I think it will be a good experience for him. I'll really be able to tell when I'm out there. He's a fast horse so I can make up time over the gallop fences but will definitely need to take my time at the combinations so he reads them and understands what he's doing and not running through doing it blindly. He's not a slow horse and he's really nifty, so in giving him an educational round I may be able to not be too slow."
Erin expressed sincere praise for Jamie Hicks and the rest of the grounds crew that have been working tirelessly on the cross country footing. "I ran it in the one-star this morning and I wouldn't question running any of my horses," she said. "To think about what it felt like on Wednesday and the difference they made in two days is amazing."
Cross country gets underway tomorrow at 9:00 a.m. EST. We'll start with the CIC2* followed by CIC3* and then the Advanced. Remember to tune in and watch the CIC3* cross country live on USEF Network with our very own Jenni Autry commentating alongside Karen O'Connor and their guests. Show jumping for the CIC* starts at 9:15, but not before an early morning horse inspection at 7:30. Stay tuned for more from the Best. Event. Ever.
#PlantationField: Website, Entries, Ride Times, Competitor Schedule, General Schedule, Live Scoring, USEF Network, EN's Coverage, Twitter, Instagram