Witnessing a flawless wire-to-wire victory always feels like a special privilege: a highly competitive dressage test, and impeccable communication across the jumping phases exemplifies what the upper echelons of our sport should be made off. With that said, we've even exceptionally lucky this weekend to enjoy two such victories, in both of the CCI3* sections at the Equi-Trek Bramham International Horse Trials.
THIRD TIME'S A CHARM FOR JULIA KRAJEWSKI
"It's a really long way for us to come to Bramham — we wouldn't come just to ride," smiles Julia Krajewski, who won the CCI3* at Bramham International Horse Trials today after two failed attempts to start the competition in years prior.
Her winning week began on Thursday, when she and ten-year-old Chipmunk FRH delivered an exceptionally good first phase score of 19.4 to take a significant lead going into the highly influential cross country. Here, they needed no margin for error, executing a swift and clear round with nary a hiccup over Ian Stark's bold, attacking course. This gave her a pole and a time penalty in hand going into the showjumping – and as the day went on, and the leaderboard changed dramatically under the ministrations of Di Boddy's difficult course, it looked as though she would need it.
"When I was walking to the showjumping I thought, it would be really nice if he jumps clear – he doesn't always," she explains. "What I didn't realise was that I actually had two rails in hand. I knew I had one, but I thought one and a time penalty wouldn't be good either, so I had to try to go clear. Jumping has always been his question mark but he jumped very well today."
Go clear she did, despite the fact that only 15 of the 47 starters managed to do so, with plenty clocking up over 20 faults over the coloured poles. It was France's Karim Laghouag and Entebbe de Hus who had afforded her the buffer, pulling a rail to drop from second to fifth.
Julia was delighted to top the final leaderboard, leaving her dressage score immaculate and producing what may be the lowest finishing score Bramham's history.
"Bramham is such a nice competition from start to finish," she enthuses. "I like to go to England – it's so friendly here – and so I try to pick one or two competitions over here each year."
Julia's win sees her in the enviable position of having two exceptionally well-proven horses in contention for WEG selection later this year – Chipmunk's stablemate Samourai du Thot won Luhmuehlen CCI4* last year.
Second place went to Andrew Nicholson, who climbed from fourth place with a faultless showjumping round aboard the talented grey Swallow Springs. His second ride of the day was mercifully uneventful, after his first round aboard Yacabo BK,  was disrupted by a loose dog chasing them along the course. His eight faults in the final treble were then rescinded by the ground jury, as the dog overtook horse and rider and broke their rhythm from the landing side.
Andrew was pleased with the ten-year-old Irish Sport Horse's performance throughout the week, and will now aim him at Burghley for his four-star debut.
"He did a very nice dressage, and then on the cross country, he felt superb," he says. "He had time faults, but that was my fault – he's a very fast horse, and I was happy dobbing along and enjoying myself. He's come a long way since last year, when I fell on cross country; he can jump well, and he felt much more grown-up and secure today than he has in the past."
Australia's Bill Levett climbed from tenth after dressage to finish third in the competition aboard Lassban Diamond Lift, a horse whose talent he credits his wife, Jenny, for spotting early on.
"Jenny has been his biggest fan since he was a five-year-old – she always thought he was a big-time horse," he says. "It's great to produce them to this level from that age, because if you're lucky, you get to feel them change with experience. This horse keeps getting better and better."
Lassban Diamond Lift came to Bramham after a third place finish in the CIC3* at Tattersalls last week, and 15th in the CIC3* at Chatsworth earlier in May.
"He looked after me pretty well for running this weekend, as well – I was ten seconds up [on the clock on cross country] pretty early on, and then I just sat there, mostly. I had to slow him down in the end! Today was the most pleasing, though, because he can have an easy rail at a one-day event where he's a bit keen. Today he was much more settled, and showed what he can do."
Lassban Diamond Lift will also be aimed at Burghley this autumn, as, says Bill; "I'm not really thinking about the WEG."
Kitty King finished best of the British aboard Vendredi Biats, while further down the lineup, Gemma Tattersall made an impressive climb aboard comeback queen Santiago Bay. They climbed from 38th place after dressage to finish in eighth after adding nothing throughout the jumping phases.
EMILY KING LANDS NATIONAL UNDER-25 TITLE
Bramham's CCIu253* has long been considered a jumping-off point for successful careers at the senior level, with previous winners including Zara Tindall (nee Phillips), Tina Cook, Will Coleman, Piggy French, Tom McEwen and Astier Nicolas. Following the same track as the main CCI3*, it's no easy feat to claim the win, and with it, the title of Under-25 National Champion. This year, our winner lead from pillar to post, never missing a beat in any of the three phases to finish on her dressage score of 25.5.
Emily King may have spent the early years of her career better known for being the daughter of eventing legend Mary King, but the last few seasons have seen her slowly build and develop her own brand and business, posting some impressive results along the way, including 4th place in her four-star debut at Pau about Brookleigh in 2015.
This week, her victory came atop the striking chestnut 10-year-old Dargun, with whom she completed a season at the three-star level last year. Although the jumping-bred horse's record at the three-star level is somewhat patchy – he has completed twelve of his sixteen starts, but has gone clear across the country in just three of those – he showed an impressive maturity in his work across all three phases.
"He felt amazing when I got on in the warm-up," says Emily. "He was actually really fresh, and bucking and squealing, which is really good for his spring and attention if he's a little bit jolly. It worked to his advantage. He's a horse that, I think, if there's a big atmosphere and crowd it helps him, rather than distracts him. The fences here are very spooky, which helps him to focus, too."
I'm over the moon with him – he just jumped his heart out. I can't describe what it means to win this class; it's such an amazing feeling. I've been here since I was a kid with mum, helping her and watching her, and I've always dreamt of riding here myself. Three or four years ago I rode here for the first time, but this is the first time it's gone to plan and come together, so that's an amazing feeling."
Emily's win comes as she relocates her business from her family yard in Sidmouth, Devon, to boyfriend Sam Ecroyd's Chester base.
"For anyone to have a big win as a rider, it just boosts your confidence so much, and your belief in everything, so it's fantastic. It really helped the horse, too, because he competed at Houghton and then went back to Sam's rather than travelling all the way down to Devon, so he arrived here much fresher and much happier."
France's Thibault Fournier scooped second place aboard Siniani de Lathus, fitting the prestigious competition into a hectic period of university revision.
"I have an exam in two days, so I'm a bit busy," he laughs. "It's been a really good challenge for me to do both university and riding."
"I think you should have stayed at home this week!" quipped third-placed Sam Ecroyd to the first-year Physiotherapy student, who fits his string of six horses in around this, his second degree. This is Thibault's second attempt at this class with the twelve-year-old Selle Francais; in their first, last year, they were eliminated when Thibault fell across the country. Together, they also finished 15th at Boekelo's CCI3* at the end of last season, but haven't contested an international competition since.
"He's a really good jumper, but I don't know him very well after a long cross-country. Sometimes they can be a bit tired, but he jumped very well for me today."
Sam Ecroyd, for his part, was second on Cooley Currency and fifth on Master Douglas going into the final phase, but a clear round pushed his lower-placed horse into third place. The tension was palpable as the jumped the penultimate round aboard Cooley Currency, but two poles down at the very end of the course moved him down into sixth.
"I was really happy with them both. Master Douglas has always been a fabulously talented jumper, and he's always had a real rocky road of soundness and getting fit at the right time – he's had one run prior to this, at which I fell off!"
"Great preparation," injects Emily wryly.
"Yes – one-and-a-half runs in two years, so to come here and do this, well, he's a really special horse," says Sam. "With the Currency horse, I never would have thought we'd come here and go inside the time across the country, as he's so green at this level still, and it was quite a push to get him to this. He jumped really well, I thought, and for a big horse like him to go in ten-and-a-half minutes yesterday, and then jump a course of twelve fences today, [knocking fences] can happen."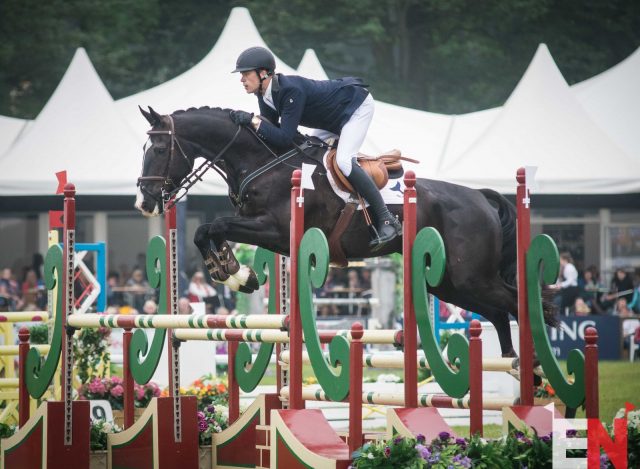 Sam regards the 17.1hh gelding as one with enough talent to take him all the way.
"Once he gets a bit stronger he'll be able to put it all together," he says. "He's a very, very talented jumper, but to be that tall and to have to do tight courses like that can be quite difficult. He's got no problem with anything, he's brave as a lion, and he's a great jumper, but he's a sensitive horse, so it's just about putting all the pieces together. He's got huge ability."
The lone remaining US competitor, Caroline Martin, was the first to tackle the course aboard The Apprentice, but an early rail seemed to cause a domino effect in their round and they added 29 penalties to finish 16th. Danger Mouse lowered three rails and finished in 13th place. Caroline hopes to now aim both horses at Pau this October, alongside fellow Karen Stives Grant winner Hallie Coon.
The showjumping proved influential, as designer Di Boddy's tracks tend to here at atmospheric, spooky Bramham. Only five of the sixteen starts produced fault-free rounds, and Emily King and Dargun were the only pair to finish on their dressage score.
CIC3* WIN COMES DOWN TO THE WIRE
The field in the CIC3* competition was a tale of two halves: one of them full of inexperienced horses and riders at the level, and the other well-stocked with experienced upper-level contenders. It was the latter horses who came to the fore in the jumping phases of the competition, which saw a seriously influential showjumping track completely rearrange the leaderboard, with only 15 clear rounds out of 57 starters.
Ros Canter and No Excuse, who had led after the dressage, toppled a rail to drop to third, and as predicted by Ros, couldn't quite make the time across the country. His 8.4 time penalties provided a useful education, but not a top five finish – he was ultimately ninth on the overall leaderboard.
This opened the door for experienced, fast horses to fight for the win, and when Nicola Wilson withdrew Luhmuehlen-bound Bulana, sitting in first place after showjumping, the race was on.
Izzy Taylor and her Blenheim CIC3* winner Be Touchable were third from last to leave the start box, and though there were two riders ahead of her who could beat her, Izzy produced a trademark clear inside the time. Then, all she could do was wait.
As Ros' round quietly accumulated its handful of time penalties, France's Gwendolen Fer set out aboard her 2017 Pau winner, Romantic Love. They were the only pair who could beat Izzy – but their 0.4 time penalties, for coming in a second over the optimum time, put them on an equal score with her. The tiebreak went to the British rider, for her fault-free round.
"Be Touchable hasn't been out since Blenheim, so I wasn't sure what to expect from him mentally," admits Izzy. "But he was very professional – he did a good enough test, probably a bit quieter than I would expect from him, and I maybe rode him a bit safely. It was annoying to have the first part of the treble down in the showjumping – though I was annoyed at myself for that – but he just felt class on cross country and never deviated from his line. It's good to have him back – he's a fragile horse, and very exuberant, so he takes a bit of looking after."
Gwendolen plans to aim Romantic Love at Aachen next, formulating a plan for the rest of the season thereafter.
"My horse is super today. He jumped very well this morning and proved himself again cross country," she says. "He's quite fast normally and it's the first time I've ever lost a win for a second over!"
Japan's Toshiyuki Tanaka and Talma D Allou produced the only FOD of the section to move up to third place from an initial fourteenth, while Ben Hobday, in fourth aboard his 2017 Le Lion d'Angers contender Shadow Man II, climbed up from 15th at the start of the competition. His other mount, Ciletto H, rounded out the top ten, having added just 4 time penalties to his dressage score of 35.3 to climb an impressive 28 places through the week.
Eleven of the 68 starters didn't complete the cross-country, while 20 of the 57 finishers added jumping penalties. While the water complex once again exerted its influence, it was fence 11 – the coffin – which was most influential, claiming 10 competitors.
That's it for us from this year's Bramham International Horse Trials – it's been a wild and woolly week up here in the north, and we hope you've enjoyed following along with our coverage (alongside that of the rather less wild and woolly Bromont). It might not have been quite the week we hoped for for our brilliant American representatives, but we're so excited to see what both of these exceptionally talented ladies do next, and we were, as always, delighted to see how easy they can make difficult situations and tricky questions look. All of us at EN wish them both smooth sailing (and/or flying) as Hallie Coon and Celien make their way to Ireland to prepare for Millstreet and Pau, and as Caroline Martin heads home to the US with The Apprentice and Danger Mouse.
Until next time – see you on the other side (of the motorway), readers!
Bramham Links: Website, Start Times & Results, EN's Coverage
Comments