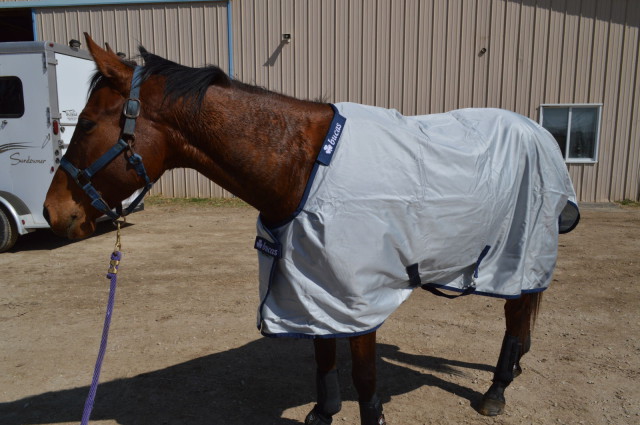 I recently moved my horse from a barn where he was stalled at night to a barn where he lives outside 24/7. It was a great decision for him as he tends to get just a little stall sour and I like my Thoroughbreds to have a place to exercise their, well, "Thorughbred-ness" when I can't be there to ride. He's been so happy in his new home, and he's got a handful of acres to graze on with just one other pasture buddy now. I couldn't have picked a better place.
Blanketing became a whole new project when I moved him, though. I come from a familiarity with stable blankets and maybe a sheet and a turnout to throw in, but I've never had a horse who lives out all the time. Being the paranoid horse mother that I am, I immediately began perusing the web for the best blanketing options — surely he needs one in every weight and style, right?
Ok, I didn't go that overboard, but trust me I wanted to. I told my lovely barn manager to use her discretion when blanketing, because I knew if it were left in my hands I might go a bit nuts. With the spring weather approaching, I knew I needed to find an option for my guy for the chilly nights without putting him in something that would keep him too warm.
Since he lives in turnout, I also needed something weather resistant and worthy of turnout, so that eliminated the stable sheets I had been looking at. I had heard great things about the Bucas line and had eyed their lovely looking blankets when I was at AETA this year, so when I had the opportunity to try their Power Turnout blanket, I thought it would be a perfect option.
I elected to try the Power Turnout in the lightweight version, since I already have a medium turnout for colder days. I liked the option of the lightweight blanket because it would protect Jesse from a windy or rainy day or a chilly night without giving him too much bulk if he kept it on the next day.
The first thing I noticed about the blanket was its exterior. The material almost reminds me of a fly sheet, but much more soft and pliable to the touch than you might initially expect. The silver with navy trim is really sharp looking, and I would imagine that the lighter color also helps deflect light to keep a horse cool if the temperature starts to climb.
There is also a very nicely designed velcro patch on either side of the neck to which you can affix a hood attachment if you'd like. While you aren't using it, the velcro is neatly covered by a logo, which really makes the blanket look professional while still being multi-functional.
Another really neat feature of the Power Turnout is the lining. The lining is called Stay Dry and is silky and soft to the touch, much like a cooler. The intent of this lining is to wick moisture if the blanket is put onto a wet horse. 
I had the opportunity to chat with Claire Nulty from Bucas, who was happy to give me some more insight on the Bucas blankets. "The Stay Dry lining helps wick moisture so that it evaporates off the top," she said. "The Power Turnout as well as the Smart Tech will have this lining."
There are two types of Stay Dry lining that Bucas offers. The red lining, which is pictured in this article, features anti-bacterial properties which can help prevent fungus and any other funk that can accompany a soggy horse. "It's quite handy in big yards with multiple horses," Claire explained. "It helps prevent any fungus there is from spreading."
There is also a black Stay Dry lining, which has the same moisture wicking properties but does not have the anti-bacterial feature.
Another feature that caught my eye was the front closure of the Power Turnout. I really appreciated the attention to detail here. The closure is protected on either side by material to prevent rubs, and the front flap helps ensure that the horse does not catch himself on the clasp. The extra padding is also meant to protect horses who may have a tendency to push up against gates or fences.
"Very rarely will the front ever rub the horse," Claire said. "Sometimes when they have the rugs on, they push against a gate or a door, not realizing it, and the blanket helps protect them in that case."
The outer shell is made from a ballistic nylon to help the blanket hold up to playful turnout friends — something I am definitely grateful for with my horse! The material is very robust and seems like it can take a good swipe from a playful horse and not have any damage.
I've been very happy with Jesse's experience with the Power Turnout. This blanket fit him true to size, eliminating any guesswork for future orders. He is able to move freely (and roll in the mud, of course) thanks to the shoulder darts, and I have also found that dirt and grass are pretty easy to just brush off. I don't feel like I have to worry so much about the blanket getting wet or muddy because it seems to be designed to hold up to the elements despite it's light weight.
I'm definitely impressed with the top quality of the Bucas Power Turnout and think it's a great match for my horse. You can find more information on this line, as well as search for a retailer, here.
Go Bucas!