Welcome to EN's Product Review series! Who doesn't love shopping… especially when the object of your search is new gear for yourself or your horse? As an enthusiast of all products equine, I LOVE trying out new gear. Which is why I'm thrilled to have the opportunity to try out products, so that I may share my many adventures with all of you! Please join me as I narrate my personal journey of trying out all of the products featured. While I will make no recommendations, I hope that you simply have fun and find entertainment while reading about my many adventures of trying new products, and that hearing about my personal experiences might help give you factors to consider when you are on your own quest for new gear!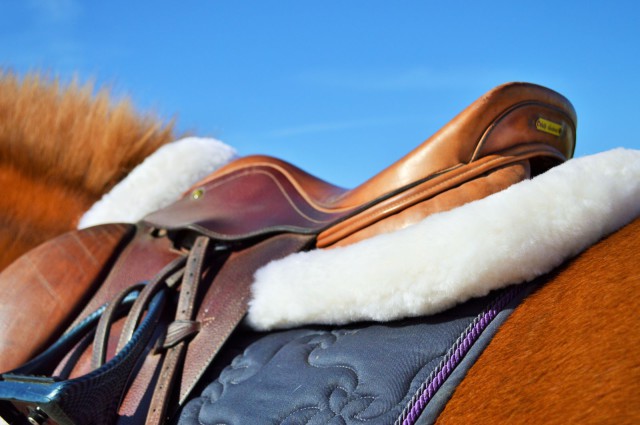 The search for the perfect half-pad is always a frustrating one. With so many options on varying price points, boasting different benefits, it's quite easy to get overwhelmed with the options. All we want is for our saddle to fit our horses correctly so that they can comfortably do their job. Not asking anything unreasonable, right?
I spent much of my life in hunter/jumper land, where Beval pads (which are now being replaced by Ogilvy) reign supreme. I held onto that dang Beval pad for years, even though I came to realize it was doing nothing for saddle fit, especially when it came to riding multiple horses. So in the interest of education and finding something new, I began looking for a new half pad.
Enter the Total Saddle Fit Six Point Sheepskin Half Pad. This half-pad is advertised to have the ultimate comfort and protection for your horse's back and comes with six shim pads that can be inserted as needed. There are three pockets on either side of the spine in which you can insert the shims.
Common saddle fit troubles come in several forms: rocking/bouncing, bridging, lateral shifting, twisting, and low behind or in front. The shims pockets are placed strategically to allow the rider to use their discretion on what problem needs to be fixed.
The first thing I noticed about the pad upon unboxing is how stylish and low profile it is, while still promising plenty of cushion with its thickness. I ride multiple horses throughout the week between my lesson program and my own horse. I was excited to see how I could improve my saddle fit on each horse, and was pleased to find that it was easy to insert or take out shims as needed to achieve that nearly custom saddle fit that we all crave.
During my rides, I noticed that the pad offered a lot of support, even with paired with two different saddles and various saddle pads. I used it underneath a close contact, a monoflap close contact, and a dressage saddle with no trouble with fit or displacement.
On a horse ridden in lessons, I used a shim pad on either side in the middle pockets to help alleviate some minor bridging. The shims are thin enough to not be obstructive, but thick enough to create enough of a difference to where I felt the saddle fit more correctly.
When used without shims, as I did on the horse I was leasing, the pad still fit correctly and did not interfere with an already secure saddle fit. I don't know about you, but sometimes I feel that as long as a half-pad does not make the saddle fit differently, even if the saddle fits right without it I feel that the extra cushion still helps with comfort. I was pleased to find that the Total Saddle Fit pad worked well with both a well-fitted saddle and in situations where some extra help was needed.
Versatility is always important when it comes to riding multiple horses. Nothing is more frustrating that having to have different tack combinations that work for each horse. In the interest of efficiency, I was quite happy to find that the Total Saddle Fit pad met all of my needs with very little extra work on my part.
This pad is fancy enough to use for competition and versatile enough to use every day. I'll most likely be purchasing another to save for competitions, as I've found a pad that works in every scenario for me. Ensuring my horse's comfort and ability to work is paramount for me, and this pad helps me achieve those goals.
Total Saddle Fit offers a 110% money back guarantee with their products, so you can try this half-pad without risk. You can view more information on fitting your pad in this handy video:
Go Saddle Fitting. Go Fancy Half Pads. Go Eventing!