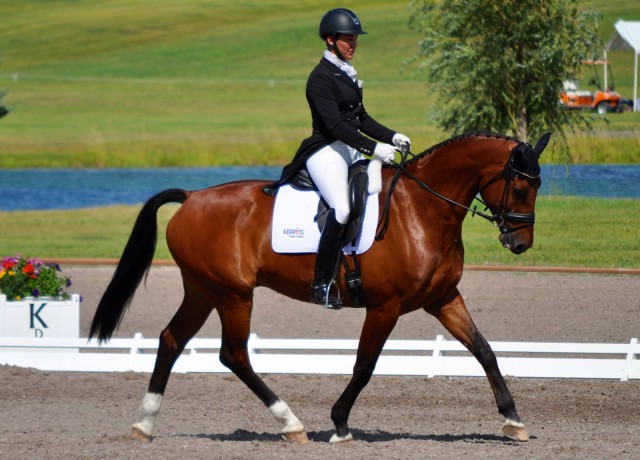 It's been a great beginning to competition here at Rebecca Farm! It was a busy day of riding, and the first complete day is officially in the books. We also can't forget about the Future and Young Event Horse divisions who competed yesterday, so here's the full scoop on day one.
In the CCI* this afternoon, Kelly Pugh has overtaken the lead aboard Corazon, a relatively new ride owned by David Garrett. An 8-year-old KWPN gelding, Corazon was originally campaigned by New Zealand's Lucy Jackson through the two-star level. In their first start together, Kelly and Corazon placed fourth in the Prelim at Shepherd Ranch in June.
Kelly and Corazon earned a 41.3 to take the lead in a strong field going into the cross country portion of competition. Lying in second after the dressage are Tamie Smith and Under Wraps, her second ride of the CCI*.
Owned by Beth Lendrum, Under Wraps is an 8-year-old KWPN gelding making his FEI debut after most recently winning his Open Prelim division at Copper Meadows last month.
Rounding out the latest top three in the CCI* is Auburn Excell Brady and her second ride, Pinotage. A 7-year-old Hanoverian gelding owned by Lo Olbin, Pinotage is also a CCI* first-timer, having most recently coming fourth in the Open Prelim at Copper Meadows.
Tamie and Auburn now have two rides each in the top five, so Saturday is sure to bring some exciting moments as the leaders duke it out for the eventual winnings.
All of the Novice divisions, excluding the Three Day divisions, who rode dressage only, completed their dressage and cross country competition today. The Novice course is definitely a true Novice course, with plenty of challenges and tricky questions.
What caught my eye the most was the final water complex, which features jumps for every other division as well. This made for a lot of navigating through the various fences to reach the Novice question, and it was really neat to see the riders and horses figuring it out (and making it look easy!).
Your Novice leaders after the first two phases are as follows:
Senior Novice
A: Karen O'Neal and Briena 21.8)
B: Shari Peterson and Oliver Money (26.5)
C: Lauren Boriotti and Slingshot (28.0)
D: Leigh Mesher and Finally DG (24.0)
E: Robyn Fisher and Erusa (23.0)
Junior Novice:
A: Genevieve Kirsch and Fleeceworks Cinco (21.8)
B: Lilly Linder and Pele (23.3)
Your Novice Three-Day leaders after dressage are:
A: Taress Hsu and Gideon (26.8)
B: Kathryn Canario and Ringwood Little Imp (20.5)
Some of the Training divisions completed their dressage tests (can you tell it was a busy day today?) and will move on to cross country tomorrow, beginning with the Three Day divisions in the morning.
Your Training leaders following dressage are:
Senior A: Bonner Carpenter and Darkside (20.2)
Training Three Day:
A: Erin Kellerhouse and Rondelet (25.3)
B: Katelyn Grubich and Kaptain Jak (27.2)
C: Dana Todd and MMS Amadeus (26.2)
Earl McFall and Let's Go DF are your Four Year Old YEH winners, earning a total percentage of 78% throughout the three sections of Conformation/Type, Dressage and Jumping/Potential.
Let's Go DF, a Holsteiner/Thoroughbred gelding by Linaro out of Rani D, was bred by Dragonfire Farm and was the West Coast 3-year-old Future Event Horse champion in 2014 — suffice it to say this one is one to keep your eye on!
Kelsey Horn and Tomlong Ratatouille, a Thoroughbred gelding owned by the Pinnacale Syndicate LLC, earned the top marks in the 5-year-old Young Event Horse class with a final percentage of 81.4.
Catie Cejka and Clarity Redefined are the sole entrants in the Future Event Horse Yearling division and they earned a solid 78.2% for Conformation and Type. In the Future Event Horse Two Year Old division, it's Marc Grandia and Quantum Theory who will take home the top honors with a total percentage of 79.3.
We'll be adding photos to this post from the day, so refresh this page for a better look at the day's action! Much more to come tomorrow, as the remaining FEI divisions commence their dressage.
Many thanks to Rebecca Farm, Ride On Video and Frankie Thieriot Stutes for the great coverage from each day of competition. Check out day two's coverage here:
#RF: Website, Schedule, Ride Times, Live Scores, EN's Coverage, Instagram, Twitter