Spectators couldn't have asked for a prettier Saturday at the 2020 Red Hills International Horse Trials, home to the mecca of Tallahassee tailgating. Horse enthusiasts and eventing regulars alike crowded around water jumps to whoop and holler for their favorite combinations.
Kyle Carter and Gaillard Lancer 9-year-old KWPN (Diardo x Urlanto) emerged as the leaders of the CCI3*-S division after battling David O'Connor's cross country.
"I brought him here last year to do the one-star and we didn't get around the course," Kyle laughed. "So we had a lot of regrouping to do last year. Coming into this the plan was to go out on cross country today and not help him as much and try to let him see the combinations and deal with them a little more on his own."
Luck was more on their side this year. They jumped clear with 4 time penalties to take control of the division on a score of 32.6. Gaillard Lancer is owned by Savannah Blackstock, who is currently sixth in the division with GarryNdruig Albie. The horse is now going on the market, but Kyle confirmed to EN that his dream would be to put together a partnership to keep the ride.
"We bought the horse for her, but she's just a bit strong and cheeky, so I started riding him and he pretty much went from strength to strength," Kyle said. "I think he could win a medal at the Worlds or Olympics."
Christina Henriksen is second on a score of 33.9 with her own JTH Zest, a 9-year-old British Sport Horse (Zamboucca x Maybee Baybee). Lauren Nicholson was third and fifth with Landmark's Monte Carlo and Vermiculus, respectively.
Photo by Shelby Allen.Liz Halliday-Sharp had a classic switcheroo in the CCI2*-S division. Her dressage winner Cooley Seeking Fortune, a 7-year-old Irish Sport Horse (Heritage Fortunus x Jade des Cotes) owned by Ocala Horse Properties, dropped into second, by her second-placed Cooley Be Cool, a 7-year-old Irish Sport Horse (Heritage Fortunus x HHS Carlota) owned by Ocala Horse Properties and The Monster Partnership, took over the lead.
Red Hills International: Website, Ride Times, Live Scores, EN's Coverage, EN's Twitter, EN's Instagram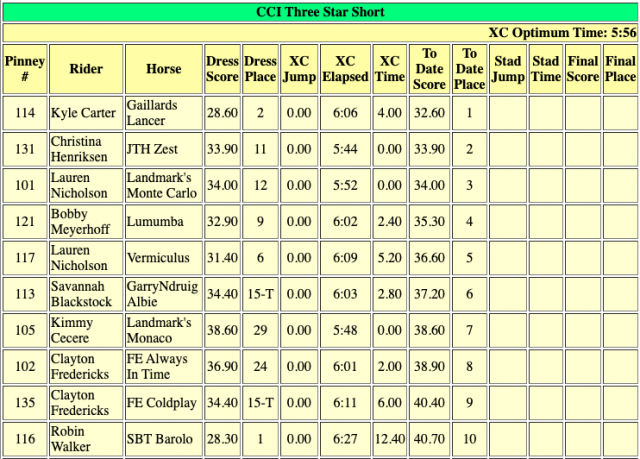 Comments