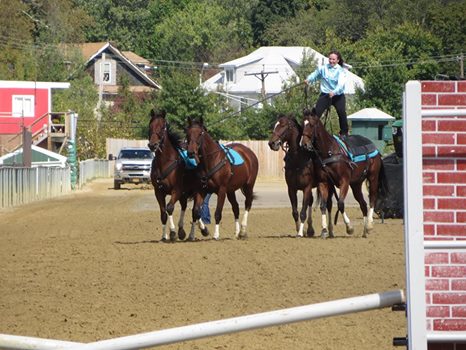 The Retired Racehorse Project's Thoroughbred Makeover expo and competition will conclude today with the announcement of the winner of America's Most Wanted Thoroughbred.
The festivities kicked off yesterday with demonstrations on everything from dressage to Roman riding featuring ex-racehorses. Today, the Thoroughbred Makeover continues with forums in the morning and demonstrations beginning at 1 p.m. EST.
At 9 a.m. EST, the discussion forums kick off with an Open Forum to facilitate discussion on the future of the OTTB. A second will feature a Q&A session with the 10 trainers from the America's Most Wanted competition, as well as Laine Ashker.
This afternoon, the demonstrations will include what we've all been waiting for: eventing! Laine Ashker, Jennie Brannigan, and Phillip Dutton will be on hand to strut their stuff. Don't forget that Phillip's mount, Icabad Crane, is one of the horses vying for the Most Wanted title!
There's still time to vote for your favorite OTTB in this year's competition, as a second and final poll will be opened up at 1 pm EST. You can vote for your favorite by visiting the poll here.
A live stream of today's demonstrations and awards will be available via Blood Horse, which can be found here, complete with a schedule. You can also follow along with updates from the day on the RRP Facebook page.
Go OTTBs!