As was widely expected, reigning World Champions Sandra Auffarth and Opgun Louvo are leading the way for Germany at the 2016 Olympic Games in Rio de Janeiro after the morning session on the first day of dressage.
While their score of 41.6 has the 14-year-old Selle Francais gelding sitting in first, the score is far off their average of 35.1 and definitely has potential implications from a team and individual medal standpoint. They've left the door open for another dressage powerhouse to step up here in Rio.
""I was too laid back going into the first change and he did not quite know what to do. That was my mistake. Normally the changes are his strength," Sandra said.
"I had a great feeling and if the scoring is different, then that is that. I will finish my competition as best as I can and in the end we will see where we stand. Nothing is lost yet. We have just started the competition. There is a lot more to come and we still have all the chances."
That said, Sandra looked elated with Opgun Louvo after their final halt and salute, giving him a big hug and pat and beaming from ear to ear. With the internet collectively banding together during the Olympics, using the hashtags #TwoHearts and #JoinTheJourney to generate excitement for equestrian sports, those moments are what it's all about.
Astier Nicolas and Piaf de B'Neville scored right on par with their average for France, with a mark of 42.0 slotting them into second place just behind Sandra. The 13-year-old bay Selle Francis gelding won Pau CCI4* last fall and also clinched the Chatsworth leg of the Event Rider Master series early this year, so he's very much on the radar for a top finish at these Games.
Sam Griffiths and Paulank Brockagh are rounding out the top three at the lunch break on a score of 46.3 for Australia, which is a bit higher than their average of 42.62. You have to wonder how the heat is affecting heavier horses like "Brocks," a 13-year-old Irish Sport Horse mare. While there's a pleasant breeze blowing here at Deodoro, it's still a very warm day with temperatures currently hovering in the mid-80s.
Looking to our North American contingent, Boyd Martin squeezed every possible point out of his test with Blackfoot Mystery, a 12-year-old chestnut Thoroughbred gelding owned by the Blackfoot Mystery Syndicate. They bested their score from Rolex Kentucky by five marks to currently sit in seventh place on a personal best 47.7.
"My horse is the greenest on the team, but a good, fast galloper, so it made sense to put him first," Boyd said. "I think we can expect three better scores from the U.S. after my guy, but I couldn't have asked for much more. It's about where he is in his training. He's still on the more inexperienced side of things, and he did get a little bit excited with the cheering, but he kept his cool and did a good job."
Blackfoot Mystery is one of just two off-track Thoroughbreds competing in eventing at the Olympics, which has delighted OTTB enthusiasts from all around the world. (The other is Carlos Parro's mount Summon Up The Blood for Brazil.)
"He's an amazing creature because he wasn't bred to do this necessarily," Boyd said. "He's got the mind for it, and he's got a fair bit of movement for the dressage and a good enough jump. He's obviously brave and a good galloper. I definitely feel like we belong here. If I see another one that looks like him, I'll buy him too."
Jessica Phoenix and A Little Romance were first out this morning and knocked it out of the park for Canada, delivering a personal best score of 52.0 for "Blue," plus a personal best score for Jessica at an Olympics. They're currently sitting in 10th place.
As for how it felt to be the first down centerline at the Olympics, Jessica said: "What an honor. Oh my gosh! Opening up the Rio 2016 Olympic Games was a huge honor for A Little Romance and I. … I'm just extremely proud of what she did in that ring today. She relaxed, she enjoyed every minute of it, and it was a lot of fun."
Canada's road to Rio has been a rocky one, with multiple changes to their team due to appeals and soundness issues, but Jessica said the team camaraderie has been very strong, and they are all very focused on the task at hand.
"I can tell you that we are an extremely close knit group of people," she said. "The girls that we are riding here with are second to none. They're some of my closest friends. I'm just extremely thankful to have the group of people that we have here, and the vibe we have going is really fun."
Kathryn Robinson and Let It Bee will be the first out after the lunch break for Canada at 1:30 local time/12:30 p.m. EST. We also have some heavy hitters coming up in this next group in Chris Burton and Santano II, William Fox-Pitt and Chilli Morning, and Tim Lips and Bayro. You can read up on their average scores in Maggie's detailed dressage powerhouses analysis.
If you're just tuning in to EN, you can catch up on what you've missed so far in our open thread at this link: http://bit.ly/RioDressageDay1. I'm also live tweeting ringside @eventingnation and adding photos to EN's Instagram, so there are plenty of ways to follow along. And, of course, you can watch live!
#Rio2016: Website, Dressage Ride Times, Individual Scores, Team Scores, EN's Ultimate Guide to Rio, How to Watch Live, EN's Coverage, Twitter, Instagram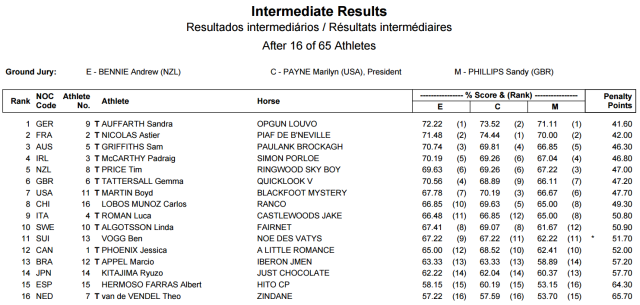 Comments