EN has teamed up with our friends at Banixx Horse Care to give away FIVE goody baskets full of products ($120 value) that will help get your horse on the path to a healthy skin and coat.
How to enter: Share a photo of your muddy and/or itchy horse, who could benefit from Banixx! You can share it in the Facebook comments of this post or email it to [email protected] Entries are due by midnight on Friday, July 3.
Included in the goody baskets:
Banixx Horse & Pet Care Spray 16oz
Absorbine Show Sheen 32oz
Bronco Fly Spray 32oz
Epona Grooming Comb
Big Body Sponge
Ultimate Hoof Pick
Uncle Jimmy's Brand Horse Treats
Banixx Hand Towel
Many thanks to Banixx for sponsoring this fun contest. Go Eventing!
Brought to you by Banixx – The #1 trusted solution for equine and pet owners! Learn more about Banixx  by clicking here: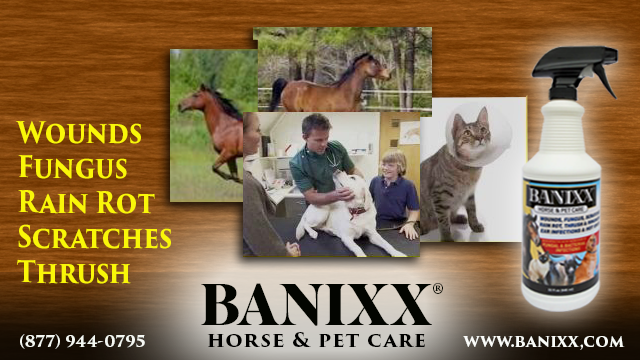 Comments