There are a whole lot of stars in the sky out here in Montana. Some beam down big and bright like Christmas lights, some swirl in glittering clusters, and every now and again one goes sprinting across the chalkboard black sky. It's an impossible performance to rival, but you could at least string together an impressive constellation — if not a small galaxy — with all the stars on the FEI records of this year's NAYC mounts.
The Area II CICOY2* team, in particular, is backed by serious horsepower. The squad includes two Olympic veterans, Mr. Medicott and Flintstar, plus 2017 USEA Horse of the Year Cambalda and three-star horse Ideal Contini. They sit atop the NAYC CICOY2* leaderboard after dressage on a combined score of 97.9, ahead of the 2nd placed mix team from Area I, IV and VIII (101.8) and 3rd placed Area VI (113.2).
The riders of these veterans, however, want you to know they aren't just pushbutton ponies. They have button(s), plural, plus a complicated dashboard of various dials, gears, levers and blink-y lights that take time to figure out and skill to navigate — and hair-trigger alarm systems that go off when you get it wrong.
The top placed Area II rider is Tayler Stewart with Ideal Contini, who sit 2nd on a score of 31.2. This is Tayler's second time contesting NAYC with the 2003 Westphalian gelding (Contini x Riviera Wonder) owned by herself, Emily and Tyler Stewart — they placed 7th in the CCIJ1* in 2016.
Prior to his partnership with Tayler, Ideal Contini was competed through the three-star level by Sally Cousins. Moving from a professional's multi-horse program into the center of a young rider's universe was a big shift for the horse, but Tayler believes it was a positive one.
"It's a very unique relationship," she says. "We built a relationship that is so much trust. When I make a mistake he helps me out, and I have to know when he's not feeling his best. He was meant to be a Young Rider horse. He loves it."
Of their test today, Tayler says she was thrilled, especially after she saw the score. "I never quite know what I'm going to get when I go in the ring — he can lay down a good score or a not-so-good score — but I think I prepared as best I could for this test. He was just really steady and really game today, and he's not always that way, so I was really proud of him and myself for riding smart and not just trying to get through it."
Alexa Lapp has the ride on Cambalda, a 16-year-old Irish Sport Horse gelding (Balda Beau x Cathy's Lady), who developed into one of the best three-star horses in the biz with Jennie Brannigan. They scored a 32.6 today to sit 3rd heading into cross country.
"I'm so lucky," Alexa says. "He was really good. I think we had a couple miscommunications … he was really lead-change happy, he ended up doing one in the mediums, and he walked a little early, but he was just trying to be good. I think sometimes I ask too early for things because I'm used to a greener horse and he's kind of sharp."
It's fun to watch Alexa ride — she looks like a mini-Jennie in the tack. And Ping's owners Tim and Nina Gardner are here at Rebecca to cheer the pair on, to Alexa's delight: "They're the bomb!"
This is Alexa's second time on an Area II Young Riders Championship team, having contested the CCIJ1* in 2016 with her horse Paprika. Having such an accomplished partner this go-round might make it seem like there are higher stakes, but she says they've all taken comfort in the team experience.
"I think we've had a bit of pressure as a team, but it's really been nice though because we all have even amounts of pressure," she says. "I'm on a really good three-star horse, and they are on Olympic horses, and Tayler's horse is really experienced, but everyone has been super supportive of each other. It's been really really cool. I love all the girls on the two-star and one-star teams and everybody is cheering each other on."
Olivia Dutton is competing Mr. Medicott, a 19-year-old Irish Sport Horse gelding (Cruising x Slieveluachra) owned by the Mr. Medicott Syndicate, whose track record includes the 2012 Olympic Games with Karen O'Connor and a 4th place finish at Kentucky last year with Olivia's father Phillip. Olivia and "Cave" sit 6th after dressage on a score of 34.1.
"A lot people think that since they've done four-star and everything that they're so easy to ride, but they're really hard!," Olivia says. "But they have so much experience and they teach you so well. I'm having so much fun learning from Cave."
Of their performance today, Olivia says, "It's taken me quite a bit to learn what buttons to push but he really listened to me today. I thought he was going to be a bit strong, but he really came back to me, so I was really happy with him."
Rounding out the Area II crew is Ryan Keefe and her partner Flintstar,  a 2000 New Zealand bred Thoroughbred gelding (Zabalu x Croftlea Firequeen) owned by Rumsey Keefe. Flintstar was competed through the four-star level by New Zealand's Jonelle Price, with a resume that includes the 2012 Olympic Games in London.
The pair scored a 35.4, good enough for 8th place. "It's not really a secret that dressage isn't his favorite, but he was actually really good today and he kept it together and I felt like I could ride him a bit more instead of just going through the motions," Ryan says.
Cross country, on the other hand, is Flintstar's wheelhouse. "He's given me a lot of confidence after my last horses that weren't as reliable. I know I can give him a few pulls around course and kick him and he'll go as long as he sees it — or even if he doesn't see it until the last stride," Ryan says with a laugh.
The Area II Young Riders team is coached by Holly Payne-Caravella with chef d'equipe as Meg Kepferle. The Area II YR coordinator is Chris Donovan.
Area II's all-important groom roster is comprised of Caitlin O'Roark, Dylan Phillips, Zoe Bruno, Colette Leber, Cori Jarman, Anna Fitzhugh and Ella Braundel.
"I think we're very lucky this year with Area II that we have a very strong support system behind us," says Tayler.  "They really do believe in us, and it's not just that our horses are great, but they believe in us as riders, too. We have this pressure and we can take it on."
Leading the NAYC CICOY2*division individually is Alexandra Baugh and Ballingowan Pizazz — another veteran turned Young Rider star. "Mango," a 16-year-old Irish Sport Horse gelding (Obos Quality x Rocklea, by Leabeg) owned by Altorac Farm, was Shannon Lilley's mount for the 2011 Pan Am Games in Guadalajara, after which Michael Pollard competed him through the three-star level.
For most of their dressage test, Alexandra's face was a picture of concentration. But when the pair began their final 10-meter half circle onto the centerline, a big grin crept onto her face as it sunk in that they'd nailed it.
"He was absolutely perfect," she says. "That was definitely one of our best tests to date. He's been a bit of a challenge, I've had him for two years, and I feel like we've finally gotten to know each other more and figured it all out.
Alexandra and Mango are representing the mixed team of Area I, IV and VIII. This is their third trip to the NAYC — the pair finished 2nd here in the CCIJ1* and were 4th the year before that, when NAYC was held at Colorado Horse Park — and we wish them and all this year's NAYC competitors the best of luck this weekend!
NAYC 2018 continues tomorrow with CCIJ1* dressage, followed by cross country Saturday and show jumping Sunday.
NAYC CICOY2* Team Standings After Dressage:
Area II (97.9)
Area I, IV & VIII (101.8)
Area VI (113.2)
NAYC CICOY2* Top 10 After Dressage: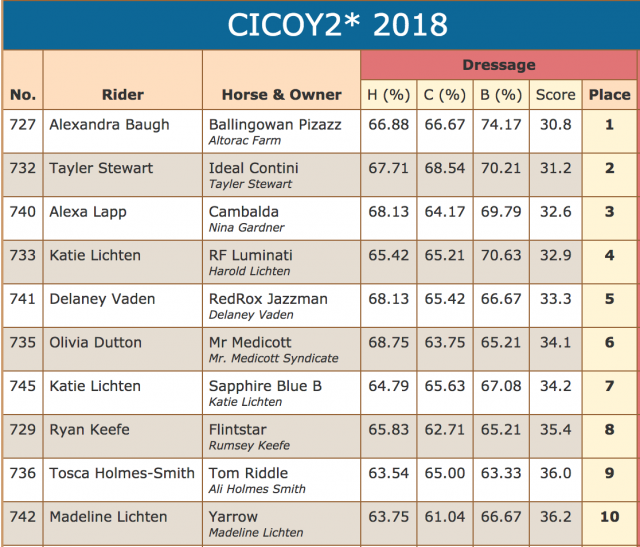 The Event at Rebecca Farm: Website, Schedule, The Event at Rebecca Farm Ride Times & Live Scores, NAYC Ride Times & Live Scores, The Event at Rebecca Farm Live Stream, NAYC Live Stream (use code NAYCE18 for a free fan membership), EN's Coverage
Comments